TikTok stars can make bank by wearing makeup in the videos that they share on the app, thanks to their potential to land lucrative sponsorship deals with cosmetics companies. As the platform's top earner at the time of this writing, Addison Rae has even used her popularity to found her own makeup line called ITEM Beauty. According to Forbes, Rae's various methods of monetizing her TikTok fame helped her rake in over $5 million in 2019 alone.
You might think that influencers who hawk cosmetics on TikTok would always want to look like they spent hours in a makeup artist's chair, but sometimes they don't hide their flaws underneath pricey foundation with a flawless finish. What many of the biggest TikTok stars have in common is that they weren't famous before they started using the app, and going makeup-free on occasion helps them remain somewhat relatable. This is an important trait to have in a world where teenager Charli D'Amelio, a former competitive dancer, can boast having tens of millions more followers than a longer-established celebrity, like reality show star and beauty mogul Kylie Jenner.
Going makeup-free is also an important component of the ever-popular transformation TikToks, which sell the idea that anyone can go from being barefaced to looking glam in a flash with a hair flip and a smooth transition between video clips. Keep on scrolling to see what some of the biggest TikTok celebrities look like without makeup.
How Charli D'Amelio's makeup line is connected to her past as a competitive dancer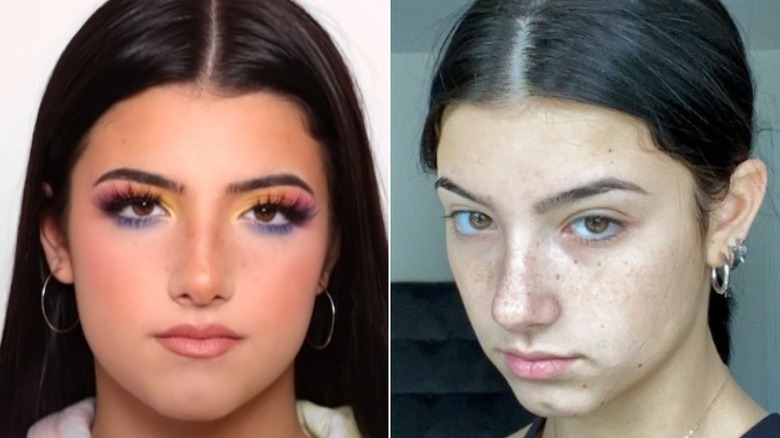 Charli D'Amelio first gained a following on TikTok by performing choreographed dance routines that were simple enough for her fans to mimic. She became the app's most-followed creator in 2020, but she didn't let fame change the way she presented herself to the world. Charli's beauty looks are usually pretty understated, and she often appears to have on no makeup at all. This showcases her famous freckles, which some fans apparently believe are created using cosmetics. "Y'all really believe my freckles are fake," Charli tweeted that April.
Speaking with Today that August, Charli revealed that she was just beginning to get interested in makeup when she became a TikTok star. "So I feel like throughout this journey of being on TikTok, I've also been learning how to do makeup properly and what looks good on my face and how to apply certain products," she said. One application trick she learned from beauty vlogger James Charles was to "wet her Beauty Blender" sponge. Charli has improved her beauty game so much that she and her older sister, Dixie D'Amelio, are now the faces of the Morphe 2 makeup line. Charli revealed that she became a fan of Morphe back when she was getting glammed up for dance competitions.
 "No one wants to be doing a five-year-old's makeup at six in the morning, so I learned how to do my own makeup very quickly," Charli told Glamour.
TikTok star Addison Rae got beauty advice from Kourtney Kardashian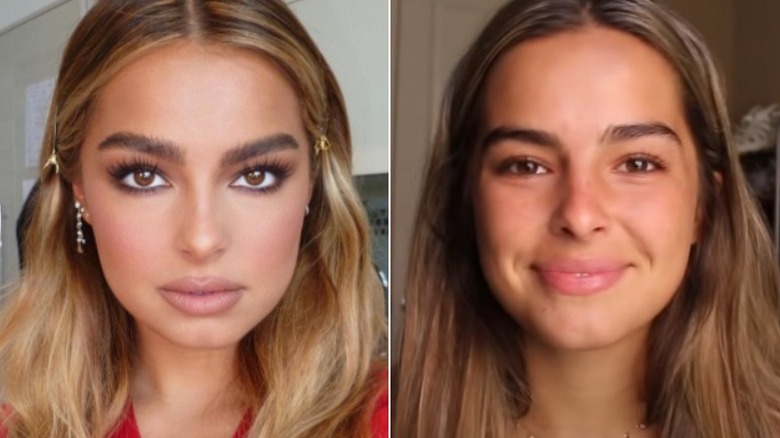 Addison Rae's TikTok talents include dancing, lip syncing, and looking fabulous while doing both. And when she's not creating content, the "He's All That" star is busy building a beauty empire that should have Kylie Jenner shaking in her thigh-high Balenciaga boots. Creating her own cosmetics line was a natural fit for Rae, whose mother is a makeup artist. "I loved her love for makeup and it, it really just fueled my love for makeup," she told Allure.
Learning the art of makeup application was a necessity for Rae when she was dancing competitively. In a 2020 Vogue video, she described her flashy stage makeup as "super fun." While the TikTok star spoke, she demonstrated her beauty routine. Rae began with a bare face and made sure to point out the blemishes on one of her cheeks. To go makeup-free with confidence, good skincare products are a must, and Rae credited pal Kourtney Kardashian for introducing her to something she was missing: sunscreen. "She told me about it and said it was just really good for your skin to have sunscreen on it at all times," Rae stated.
As the Chief Innovation Officer for ITEM Beauty, Rae ensures that her brand's products also help keep skin healthy. "I want to be able to put something on my face that I can feel good about — clean products with ingredients that are good for my skin and enhance, not mask, my features," she told E!.
TikTok changed Bella Poarch's attitude toward makeup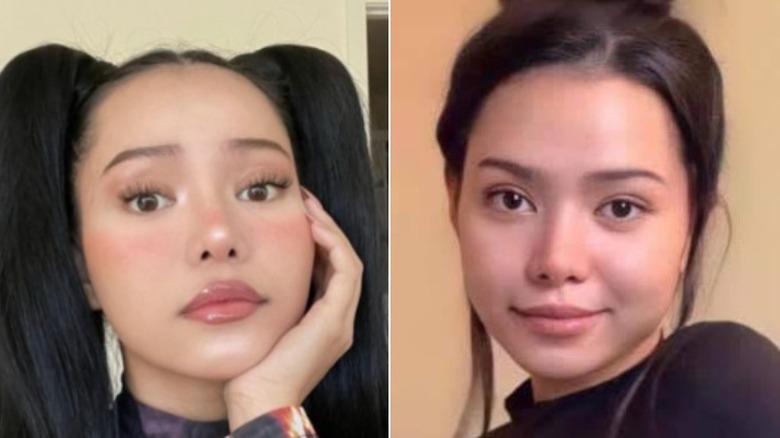 Bella Poarch did little more than bob her head to become one of TikTok's most-followed content creators. She created her account in April 2020, and by that September, the Filipino-American U.S. Navy vet had the most-liked video on the app: footage of her lip-synching to Millie B's song, "M to the B" (via In The Know). Its success turned her into an instant internet celebrity and a sought-after partner for brands like Eos, which awarded her with her first gig promoting a beauty product. "We feel really fortunate that she wanted to work with us," the company's CMO told Glossy.
Poarch achieved beauty influencer status by creating a distinctive makeup look that's meant to mimic the "rosy" red cheeks of anime characters. However, during a May 2021 Vogue interview, she noted that her signature dusting of blush beneath her eyes can also make her face look sunburnt if she's not careful. The "Build a B***h" singer also said that she "wasn't allowed to wear makeup in school" when she was growing up, but later became so obsessed with it that she couldn't bear being seen without it looking "perfect." 
"I went through this really weird phase where I would be uncomfortable taking pictures with fans when I didn't have my makeup ready and I would later see those pictures online," she told Vogue. Poarch credits TikTok for helping her change this view, stating, "Take the filters away and I'm still happy being me."
Dixie D'Amelio was disinterested in makeup before TikTok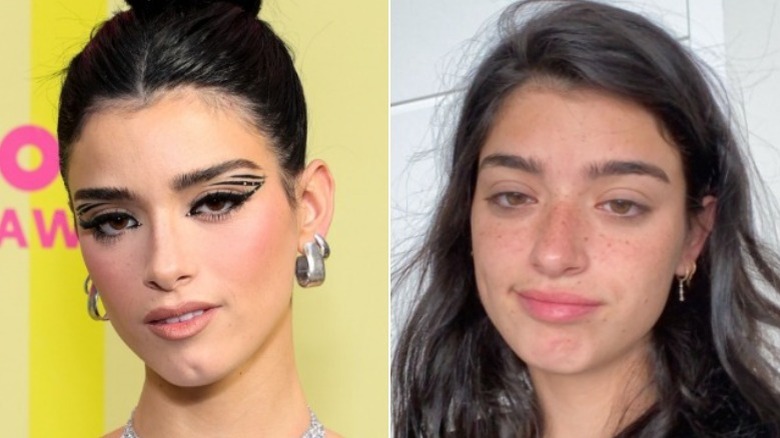 Much like her younger sister, Dixie D'Amelio didn't join TikTok to share her beauty advice with the masses. According to The Guardian, she only created an account because she told Charli D'Amelio that she would if her little sis reached one million followers. Dixie used the platform to launch a singing career, and her entire family eventually scored their own reality series. 
Throughout her journey to becoming a Gen Z idol, she hasn't changed her authentic, girl-next-door look, and Dixie told Glossy that she turns to TikTok when she needs beauty advice and credits the app for making her more interested in cosmetics. "I used to not really care about doing my makeup, but now I love trying out the trending products that I see on TikTok to see what works and what doesn't for me," she stated.
Some of the makeup Dixie uses is from the Morphe 2 line that she and Charli are the faces of (obvs), and one of her favorite products makes it look like she barely has on any makeup at all: the Hint Hint Skin Tint. "It's a foundation, but it doesn't cover my freckles, so I really love it," she told Today. While speaking to Allure, Dixie revealed that she and Charli prefer a more natural look. "We don't hide anything on TikTok and this line feels very aligned with what we stand for. We want to show that blemishes and acne are okay," she said.
How makeup helped Loren Gray during a dark time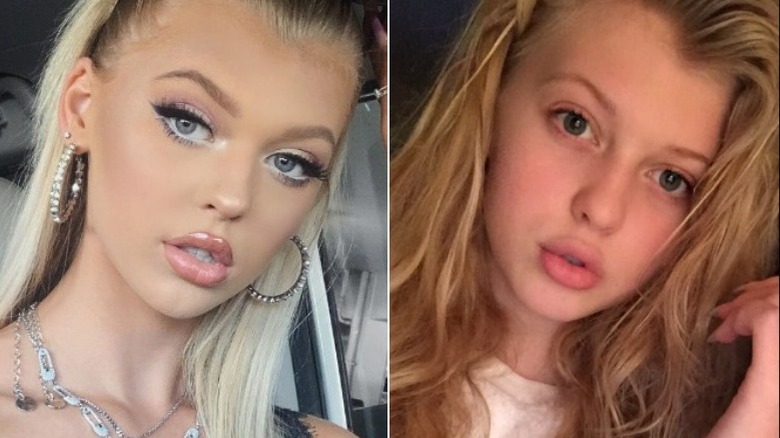 Loren Gray's love of makeup is evident in her TikTok videos. Fans have watched the "Glow Up" host grow up on the app, and they might find it hard to believe that she once said that she was no makeup pro. "I'm not a beauty guru. I don't claim to be," she stated in a now-deleted 2018 YouTube video (via Tiger Beat). This hasn't stopped fans from turning to the "Queen" singer for beauty advice. She shared her step-by-step makeup application process in a 2019 YouTube video, which has been viewed over 6.7 million times, as of this writing, and it showed the dramatic difference between what Gray looks like barefaced and made up.
In 2021, Gray told PopSugar that she developed an appreciation for makeup when she was going through a difficult time. She got "bullied" at school so badly that she decided she'd rather be homeschooled, and the TikToker used the transition to create some free time to spend online. "I would finish my work early, and then I would practice makeup. I was just a really sad kid, but watching makeup tutorials and building my confidence through makeup made me feel good," she explained. 
Gray created a Musical.ly account in 2015 (via Seventeen), which allowed her to connect with other teens even though she was stuck at home. Before long, she was creating her own makeup tutorials, and she also gained enough confidence to regularly film and photograph herself with no makeup on.
Baby Ariel's fans have mixed feelings about her makeup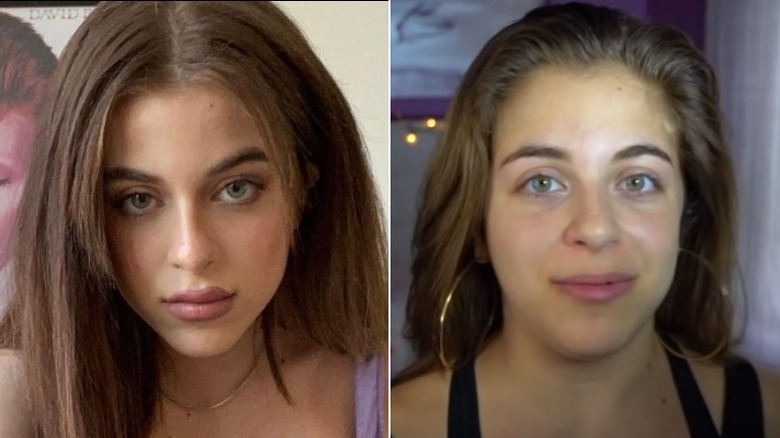 Baby Ariel burst onto the social media scene back when TikTok was still called Musical.ly. For her first video, the performer, whose real name is Ariel Martin, decided to film herself lip-syncing to a Nicki Minaj song. She would later collaborate with the rapper (via Metro). Ariel capitalized on her large fan following by pursuing a career as a singer and actor, and she found success as both — the music video for her debut single, "Aww," has been watched over 55 million times, at the time of this writing, and her acting credits include a role in the Disney Channel original movie, "Z-O-M-B-I-E-S 2."
Ariel is also popular on YouTube, where she's tried her hand at creating a makeup tutorial. She clearly enjoys using cosmetics and told Us Weekly in 2018 that her beauty must-haves are false eyelashes and lipstick, which she "won't leave the house without." However, like many entertainers, she has a complicated relationship with beauty products due to her fans' differing views on makeup. "I will never understand haters on Instagram," she tweeted in 2018. "Makeup on: 'ugh! you wear too much makeup!' No makeup: 'ugh! take care of yourself! put some makeup on!' LIKE WHATHWNWNW." 
The lesson here is that you can't please everyone, so do as you please. By July 2021, she'd learned that it's best simply to ignore her haters. "Now, I'm focused on just being myself and pursuing my own dreams," Baby Ariel told Vanity Teen.
Avani Gregg was just clowning around before she became a bona fide beauty influencer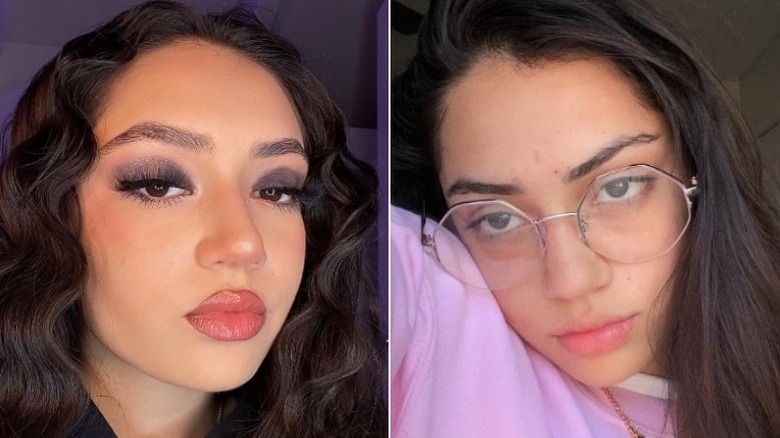 Original Hype House member Avani Gregg gained fame for rocking clown makeup in her TikTok videos, which was an eye-catching way to show off her skills as a budding beauty influencer. "I was known as 'clown girl.' Not really a good thing to be known for, but it's fine. I understand," she told Hollywire in 2020. Gregg also revealed that "scary makeup" was her specialty at the time.
Before her social media career took off, Gregg worked as a lifeguard. However, she had to quit because too many people started recognizing her. These days, the TikTok star has her own makeup collab with Morphe, and her collection is loaded with vibrant products befitting an artist who loves working with color. She told Glossy that her inspiration included "spray-painted art, neon lights, bright colors and retro-themed pictures." In a video for Vogue, Gregg revealed that her mother taught her how to do makeup, and she also credits her for encouraging her to improve her skincare routine. "When I started doing makeup, she really wanted me to make sure that I was taking care of my skin. Because if I was being posted on social media and stuff like that, it would be nice to have clear skin," she said. 
However, Gregg is comfortable enough in her own skin to share photos of her face when it's not blemish-free, which just seems to make her fans adore her even more.
Malu Trevejo's fans think she looks amazing without makeup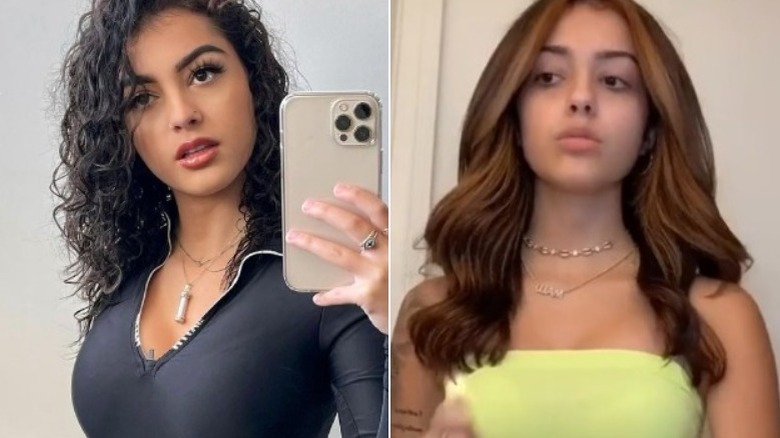 At the age of 12, Cuban-born singer Malu Trevejo moved to Miami (via Popdust) and later made her debut on the Billboard charts in 2017 when she was just 14. Before "Luna Llena" became her first hit, she found fame on Musical.ly. Trevejo was also popular on Instagram, where her first viral post was a video of herself dancing to the Rihanna song, "Work" (via Vix). "I started getting followers and started doing more music videos and videos of me dancing," she told People. 
By 2019, Trevejo had performed at Lollapalooza and released her first EP, "Una Vez Mas." However, she never forgot her roots and remained active on TikTok. Her posts are a mixture of lip-syncing videos, viral challenges, and bite-sized belly-dancing routines. She usually wears makeup in her videos, but not always — and in addition to Trevejo showing her followers what she looks like when she wakes up without it on, she also went barefaced while participating in a dance challenge. "No makeup don't judge," she wrote. 
That said, Trevejo's relationship with social media hasn't always been positive. "Sometimes I get depressed with comments or rude posts people make about me," she told Ones to Watch in 2019. And while Trevejo couldn't stop her fans from judging the makeup-free look that she rocked for a June 2021 Instagram photoshoot, the verdict was positive. "More than beautiful without makeup," read one response. "The best all natural," wrote another admirer.
Liza Koshy mastered multiple social media platforms and became a makeup mogul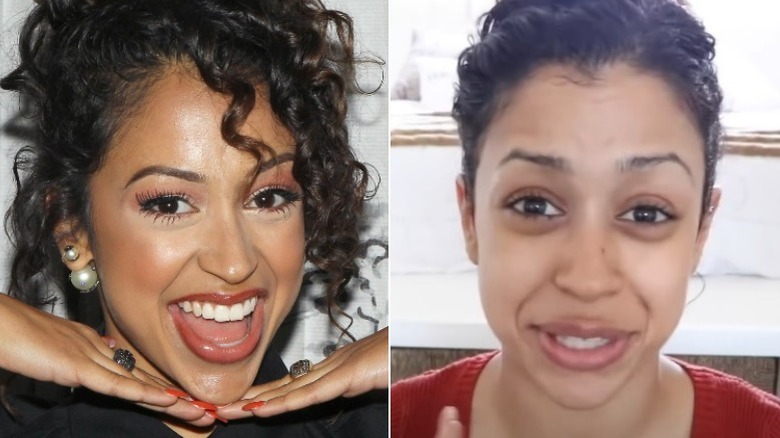 Liza Koshy has conquered the conventional acting realm by scoring roles in various projects, including the movie, "Work It." But even before her acting career took off, she spent years in front of the camera, giving her plenty of time to perfect her beauty look. She got her start on Vine in 2013 and later took her comedic talents to YouTube and TikTok. On the former, she demonstrated "how to achieve [a] light, greasy hot potato look sponsored by butter" in a "no-makeup tutorial" video. 
But Koshy is just as passionate about makeup and skincare as she is about her career. In 2020, she partnered with the beauty brand, C'est Moi, to create her own collection called One of One. It included skincare products and makeup that were all Environmental Working Group-verified. "My best friend just had a baby. I sent her the line and she said, 'I could dunk my baby in this if I wanted to because I know it's so safe,'" Koshy told Allure. During an interview with Cosmopolitan, she revealed that she became interested in skincare when she was young, saying, "I had a lot of skin issues and breakouts as a kid, and it made me feel really insecure."
Meanwhile, on her TikTok page, Koshy promoted her line's eye pencils in an unconventional way: by using one to transform herself into the bald character, Aaang, from "Avatar: The Last Airbender" and twerking.
TikTok beauty artist Abby Roberts doesn't need makeup to 'feel any more beautiful'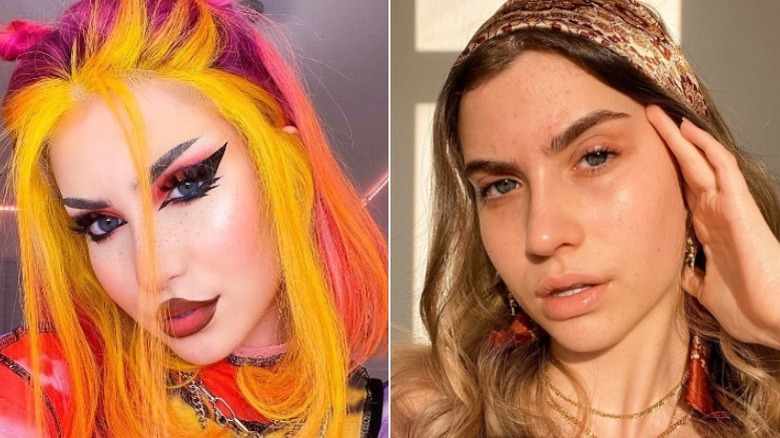 Abby Roberts is one of TikTok's most popular makeup mavens with over 16.6 million followers, as of this writing. The British beauty guru dazzles her fans with her transformation videos, which often begin with her rocking a bare face. She's used makeup to become the spitting images of Lana del Rey, Lady Gaga's "American Horror Story" heiress, and scores of other celebrities and characters. Her talent and the social media fame it helped her attain led to lucrative partnerships with brands including Morphe, Maybelline, and Charlotte Tilbury, per Glossy.
Roberts is self-taught and credits YouTube tutorials for helping her master her craft — and while she first began showcasing her own work on YouTube, she credits TikTok for her status as a top content creator. "It just blew up, and in the first few months of me having the app, I gained millions of followers," Roberts told Glamour in 2021. "I remember refreshing the page and I couldn't believe the numbers." She might possess a true talent for making her skin look flawless and even, but she doesn't try to hide her flaws from her fans — they know what her skin looks like when she's suffering from a breakout. 
The artist also has a refreshing attitude about her medium. "Makeup doesn't make me feel any more beautiful, I'm happy to go out without it," Roberts said.
Does Paige Niemann still look like Ariana Grande without makeup?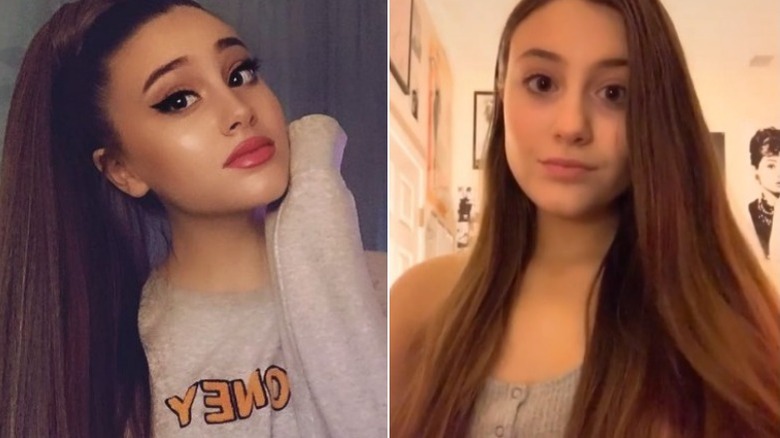 While some of TikTok's biggest beauty influencers use makeup to metamorphose into dead-ringers for many different celebrities, there's only one star whose appearance Paige Niemann cares to emulate: "Thank U, Next" singer Ariana Grande. In 2019, the then-15-year-old TikToker went viral for styling her hair and makeup so that she looked almost identical to Grande (via Teen Vogue). Niemann's on-point ponytail and impeccable winged eyeliner helped her get so much attention that her idol eventually noticed her. Grande seemed a bit bemused by a video of her doppelganger mimicking her "Victorious" character, Cat Valentine. "I am sure she is the sweetest sweet sweetheart forreal !! but it's definitely bizarre seeing people blend the two worlds lmao," the pop star tweeted.
Niemann is made up like Grande in almost all of her TikTok videos, but she did do a dramatic "no makeup reveal" that was a testament to her makeup application skills. "She looks NOTHING like ari now," read a reaction from one of her followers. "You go girl you don't need to be Ariana you are way better naturally," another fan wrote. 
Speaking with ET, Niemann revealed that Grande contacted her and said that she was "flattered" by her impersonation. But after Grande threw some shade at her legion of TikTok look-alikes in 2020, Niemann renounced her idol (via BuzzFeed). "It's kind of why I'm not a fan of her anymore, honestly," she said during a livestream.
TikTok star Mikayla Nogueira is a proud 'catfish'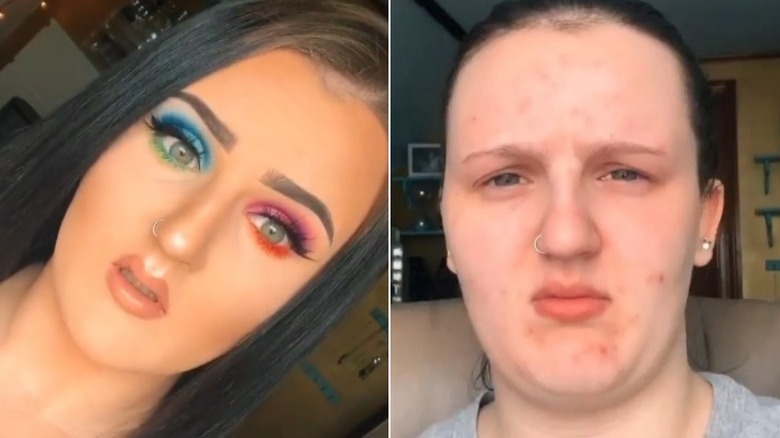 Mikayla Nogueira shot to fame when she participated in the viral "Catfish Challenge." TikTokers got the challenge's name from the MTV reality series, "Catfish," which tracks down netizens who use fake photos to attract potential partners on the internet. While the titular word has negative connotations, Nogueira and other beauty gurus used it to celebrate their artistry. In 2021, she told Vogue that it was rare for her to show people what she looks like without makeup on, but stepping outside her comfort zone for a before-and-after "Catfish" video paid off. "Shockingly, the video blew up," she said. 
Nogueira had just lost her job working at Ulta, and TikTok gave her something to do with her free time. She told The Boston Globe that "doing [makeup] every single day is the best part of my day," so filming daily content for TikTok was a breeze for her when there was suddenly a demand for her content. All of that practice paid off when she won the Emerging Makeup Artist of the Year award at the 2020 American Influencer Awards.
However, the Boston native got into makeup when she was just 10 years old for a sad reason. She told Vogue that she was bullied for her appearance "and would do everything and anything to appear more 'feminine.'" Thankfully, Nogueira developed a better relationship with makeup when she began viewing it as an art form, saying, "Makeup has become my 'healthy' obsession and my absolute world."
Some of Brooke Monk's TikTok followers thought she was two different people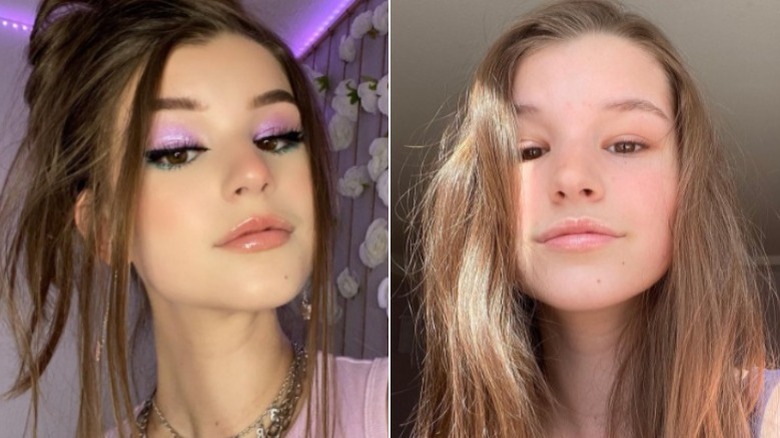 Brooke Monk is one of TikTok's rising stars with over 16.5 million fans, as of this writing. Like many of the app's success stories, hers didn't begin with years of trying to make it big — it took her less than 24 months to reach the top tier of content creators. Monk began building her following by simply being authentic. Her wholesome, comedic videos are usually centered on aspects of the teen experience, like relationships, school, online bullying, period problems, and sibling struggles. She also shares beauty content on occasion, but her makeup has unfortunately received some negative feedback.
Monk has addressed her followers' comments about her makeup numerous times. "I've gotten some comments on my videos saying that me after I put on makeup isn't actually me and there are two different people," she wrote in one post. "But it's me… I just like to wear a lot of makeup." Monk used video clips filmed at different points during her makeup application process to prove that she was telling the truth. She's also shared other mean comments about her makeup, including one describing her as "99% makeup and 1% girl." 
Fortunately, Monk doesn't let her haters get her down and keeps showing off her natural beauty. She's even poked fun at herself by joking that she can pass for a 12-year-old without makeup, and she's mocked guys who claim that they prefer girls who don't wear makeup.
Kristen Hancher returned to TikTok and went makeup-free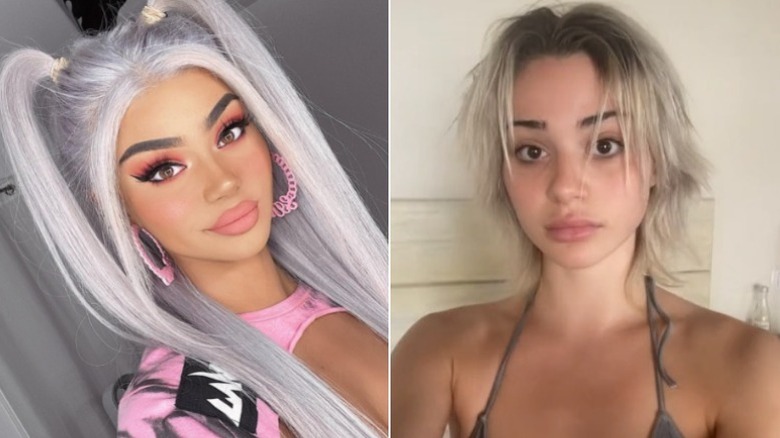 Kristen Hancher is an egirl who gives off a manic pixie dream vibe by rocking colorful cosmetics and using contour or some other form of makeup magic to give her face elfin angles. She was a muser before Musical.ly became TikTok, and she remained popular on the rebranded platform. According to Seventeen, Hancher had 23.5 million followers in April 2020. However, the model lost them all in January 2021 when she was banned from TikTok (via Distractify). She later created a new unverified account and explained what happened, saying that she had promoted her OnlyFans page in one of her videos. Even though Hancher only referred to it using the abbreviation "O.F.," she was slapped with what was supposed to be a permanent ban.
Hancher has since shared a handful of videos on her new account, including one that was a response to a fan's request to see what she looks like without makeup. Her admirers can also check out her makeup tutorials on YouTube, like her instructions for achieving her signature egirl look. For another video, she used makeup to transform into a Kylie Jenner doppelganger.
According to BuzzFeed, skipping makeup and foregoing filters on TikTok became a big trend in 2021. With so many of the platform's biggest stars joining in and daring to bare their skin, perhaps they'll help alleviate the pressure that their fans often feel to look perfect on social media.
Source: Read Full Article