It seems like it's Jose Canseco's word… against ex-wife Jessica Canseco's on the allegations she cheated with Alex Rodriguez while he was still together with Jennifer Lopez!
The author took to Twitter on Tuesday to finally clear the air about claims made by her former husband, revealing she had to re-download the app just to speak her piece.
Video: Ellen Takes Credit For Alex Rodriguez & Jennifer Lopez's Engagement!
Denying having an affair with A-Rod, Jessica wrote:
"Those false accusations Jose is making are not true!??I have known Alex for many years and haven't even seen him for over 5. I certainly did not sleep with him. I am friendly with both him and Jennifer. As for Jose he can keep playing with his Alien friends??‍♀️"
Well, that's pretty clear!
And the 46-year-old continued, addressing she last saw the former Yankees player when he was still dating Torrie Wilson before their split in 2015:
"In fact I don't even get on twitter had to download app again and don't watch tv and had no idea any of this was going on. Last time I saw Alex he was with Torrie and I brought my boyfriend over for dinner. We are just friends my god?‍♀️?‍♀️"
You can see her tweets (below):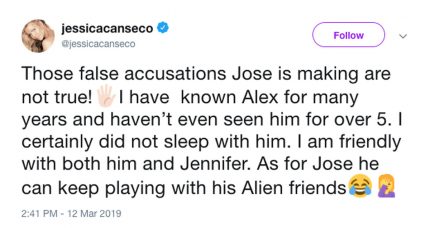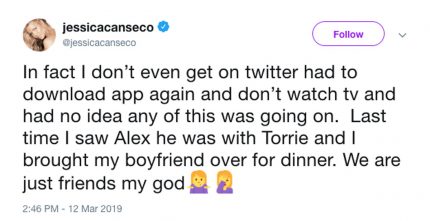 So, we guess the real question here is… why would Jose publicly accuse the former MLB star of cheating on the Second Act songstress??
Especially one day after the couple celebrated their beautiful engagement! Side note: we're still thinking about that MASSIVE rock on Jenny from the block's ring finger!
In case you missed it, the controversial 54-year-old athlete first tweeted out:
"Watching World of Dance watching J.Lo text Alex Rodriguez little does she know that he is cheating on her with my ex-wife Jessica poor girl she has no idea who he really is"
He continued:
"Alex Rodriguez stop being a piece of s**t stop cheating on Jennifer Lopez"
And later ended his rant with:
"I am willing to take a polygraph to prove that what I'm saying about Alex Rodriguez is 100% accurate"
While Canseco also wanted to challenge Rodriguez to a MMA fight, neither he or Lopez have responded to the accusations.
And we highly doubt they will now!
Of course, we have a feeling we haven't heard the last from Jose, especially now that his ex-wife has come out against him and his "Alien friends."
We'll continue to keep you updated.
Do U still believe there's any truth to the former baseball player's accusations?? Sound OFF on the drama (below)!
Source: Read Full Article