Brighton teenager Gabby Kanizay, 19, has become the youngest Australian to climb Mount Everest after she scaled the summit with her mother on the weekend.
"It was just an incredible feeling. We're the highest people in the world and we've finally done it and we've done it here together as well, which is amazing," she told the ABC.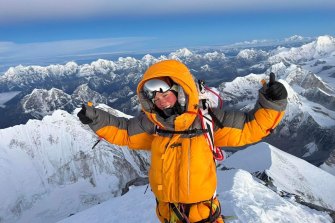 Brighton teenager, 19, Gabby Kanizay is the youngest Australian to climb Mount Everest.
Kanizay and her mother, Jane, reached the peak of the world's highest mountain together just before sunrise on Saturday.
Aged 19 years and 68 days when she hit the summit she is a few months younger than the previous record holder, Alyssa Azar, was when she completed the climb of the 8849-metre mountain in 2016.
Jarrod Kanizay said that his daughter had nominated scaling Everest as a goal when she was 14 and had been working ever since to achieve it.
"In our home, we've got the famous photo of Edmund Hillary and Tenzing Norgay climbing Everest," he said. "We talk about big goals in the family."
Gabby (right) with her mum Jane (left) after making the summit together.
After four trips to the Himalayas in 2018 and 2019 for acclimatisation climbs, Gabby was ready to make the climb in 2020 when she was 17. But those plans were put on hold due to the COVID-19 pandemic.
"These things don't happen to many people, it's a once-in-a-lifetime opportunity not only for Gabby but for all of us to enjoy and to be proud and to be a part of," Jarrod Kanizay said.
He wept "tears of joy" when he spoke with his wife and daughter after they completed the remarkable feat.
"We all share in that success and we're all blessed that it happened," he said.
"I don't know what drives her."
After descending from Everest, Gabby wasn't finished. The day after she went and climbed its neighbour, Lhotse – the world's fourth-highest peak at 8516 metres.
"It's right there. Why not?" she said.
Cut through the noise of the federal election campaign with news, views and expert analysis from Jacqueline Maley. Sign up to our Australia Votes 2022 newsletter here.
Most Viewed in National
From our partners
Source: Read Full Article