If you're a human person who has been on the internet in the last few years, you probably know that 13 Reasons Why has attracted plenty of controversy, mostly for depictions of suicide and sexual assault that many viewers found to be overly graphic. Those two backlash moments happened in seasons 1 and 2 respectively, and though season 3 got off lightly by comparison–as in, there was no single moment that ignited quite the same kind controversy as those first two–there was one new character who proved to be extremely divisive.
That character was Ani Achola, a new British transfer student who was awkwardly wedged into the main ensemble as what felt like a misjudged replacement for Hannah Baker. Let's be clear that the problem with Ani had absolutely nothing to do with actress Grace Saif, who was subjected to such repulsive bullying from viewers after the third season that she reportedly deleted some of her social media accounts. (Great job distinguishing fiction from reality, guys!)
The biggest problem with Ani was that her character simply made no sense. She was introduced as the narrator for season 3 (a role previously filled by Hannah) and despite being the new girl in town, she immediately seemed to have formed deep and trusting relationships with everybody from Clay, to Bryce, to Tony. She also knew everybody's secrets, to the point where the only logical explanation was that she had binged seasons 1 and 2 on Netflix right before transferring to Liberty High.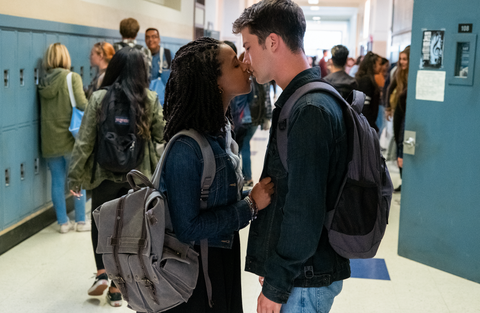 Nobody likes a know-it-all, and nobody likes a character who's written to fill a plot function rather than being written like a human being. So Ani already had an uphill battle to get viewers on her side–and that was before she decided to hook up with Bryce Walker. Admittedly, season 3 did a decent job of humanizing (though not redeeming) Bryce before his death, and Ani forming a relationship with him while her mother worked for the Walker family was believable. But becoming romantically involved with Bryce, even after she discovered he had violently raped one of her best friends? That's a truly incomprehensible choice that the show glossed over in a way that made Ani look terrible. Basically, how was anyone supposed to like this girl?
Season 4 makes a point of addressing both problems. The narrator this time is not Ani, but Clay, who's honestly long overdue for his turn on the ol' voiceover. Ani is still around, but she's no longer put in this weird corner of knowing everybody's business. Her romance with Clay gets sidelined fairly quickly–mainly because Clay is a little too busy having hallucinations, blackouts and periodic mental breakdowns to be a good boyfriend, but also because Ani is maybe moving to Oakland.
Ani's most significant relationship in season 4 is her friendship with Jessica, which is developed nicely and builds up to a scene in which they finally address the Bryce-shaped elephant in the room. "What I did, with Bryce, is unforgivable," she tearfully tells Jess, admitting that she's worried she ruined their friendship forever by being "a stupid kid." She continues by saying, "I was lonely, and I didn't think about the consequences." She also admits that while things are clearly very broken, she's "not the person to put them back together', which is a refreshing change from the weird, semi-omnipotent role she was playing last season.
Later in the same episode, there's even a scene where Ani seems to acknowledge how strangely she was acting before. During her college interview, she's asked how her friends would describe her, and starts giving a predictable answer about how she's loyal and dedicated–then stops herself. "The truth is, I don't think my friends would have any idea how to describe me," she says. "When they look at me, they only see what I want them to see, just like you're only seeing what I want you to see. Which, frankly, isn't the real me at all." When the interviewer asks who she is, Ani admits: "I don't know." That seems like the most realistic thing ever said on the show. Of course she doesn't know who she is. She's 18 years old!
Ani's sudden honesty and vulnerability finally made her an appealing character. If only it could have happened in season 3, too.
Source: Read Full Article