Anna Duggar does not appear on Counting On very often, but fans still eagerly keep up with her and her family on social media. Anna and her husband, Josh, are in their early 30s and are following in the footsteps of his parents — Jim Bob and Michelle.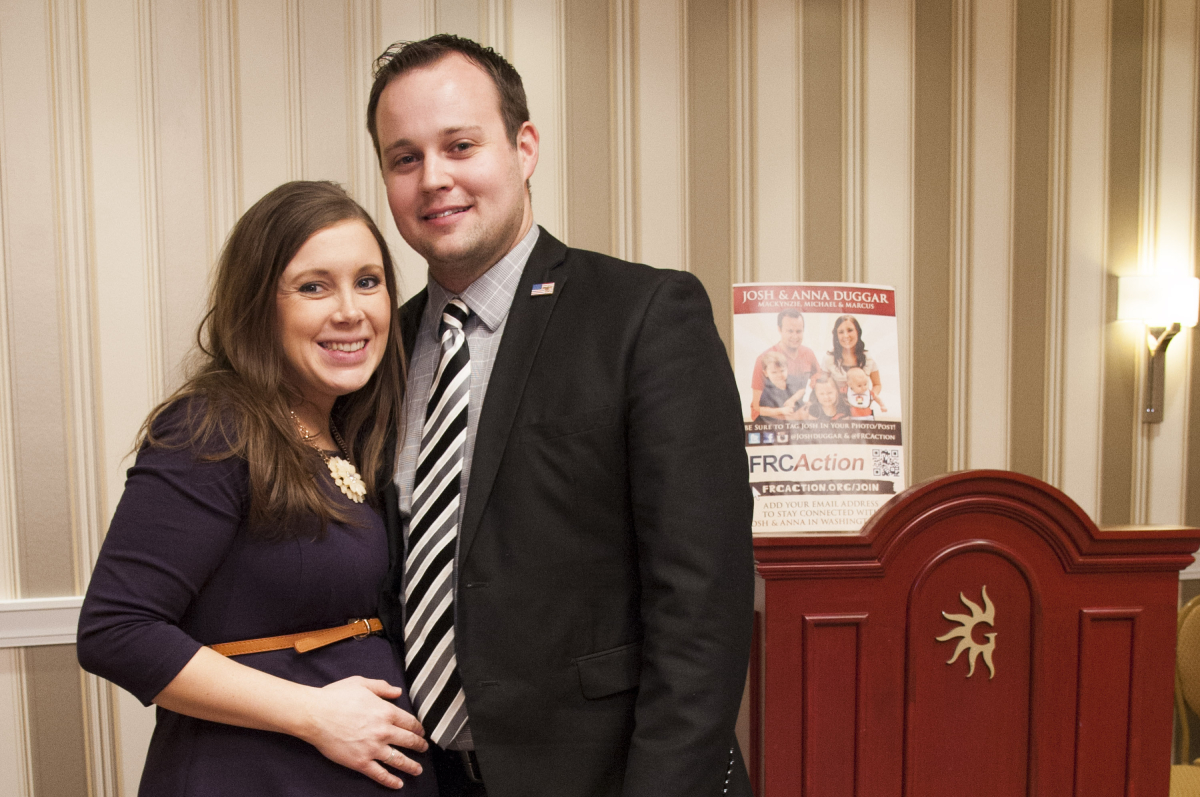 The couple already has six children. And when Anna isn't obviously expecting, fans are always looking for hints that she is. According to a comment Anna recently made on Instagram, she and Josh are planning for baby number seven.
The 'Counting On' stars have had six children during their first 12 years of marriage
Josh is Jim Bob and Michelle's oldest child, and he was the first one of the Duggar kids to tie the knot. He married Anna in 2008, and it didn't take long for the couple to make their first pregnancy announcement. During their first 12 years of marriage, Josh and Anna have welcomed Mackynzie, Mason, Meredith, Michael, Marcus, and Maryella.
Josh and Anna's youngest just celebrated her first birthday, and Anna marked the occasion on Instagram by posting a series of photos from Maryella's first birthday party.
"Little Maryella turned one last Friday! Can you believe it's already been over a year since she arrived?!" Anna wrote in the caption. "Each day she gives us a thousand reasons to smile — we love you Maryella!"
The decorations at the toddler's first birthday party included pink and clear balloons and a banner that read "one." Maryella enjoyed her birthday cake by digging in and eating it by the handful.
Anna Duggar surprised fans with her 5th and 6th pregnancies
As Cheat Sheet has previously reported, Josh and Anna went through some major hardships in their marriage back in 2015. Sexual abuse allegations from the early 2000s against Josh resurfaced, and he was also caught cheating on Anna when his accounts showed up on the Ashley Madison website.
After admitting that he did molest five girls as a teenager – four of which were his sisters – Josh admitted to having a porn addiction. The scandal and the cheating resulted in Josh going to a faith-based treatment program and he was in therapy for two years.
In 2017, Josh and Anna surprised fans when they announced they were expecting another baby. Considering the fact that Josh's scandalous past featured sexual abuse of minors, it didn't sit well with many that he and his wife were having another baby. Their fifth pregnancy resulted in the arrival of their son, Mason.
Two years after Mason arrived, Anna surprised everyone again when she announced baby number six was on the way. Maryella was the couple's first daughter to arrive after Josh's sexual abuse history came to light. This caused even more outrage with fans.
The 'Counting On' star drops hint that she's planning on baby number 7
Starting in 2009, Anna has had a baby every other year. With 2021 on the horizon, fans are expecting another pregnancy announcement anytime soon. The topic of pregnancy and babies is a common one on Anna's social media, and earlier this month an Instagram follower asked Anna if she gives birth naturally.
The Counting On star replied, "So far! I keep saying, 'Next time I'm getting an epidural!'"
The pregnancy chatter has surrounded Anna for a few weeks, so the comment does put the rumor to rest (for now). But it does make it clear that Anna and Josh are planning on having baby number 7. In November, when one fan commented that "6 is enough" when Anna posted a pic of her family, Anna didn't really agree.
"Well, we will have to wait and see," Anna said. "Right now we are enjoying our 6 littles! As the 5th child in my family, I'm so glad my parents didn't stop at 4."
Counting On is currently on hiatus. New episodes are expected to return to TLC in 2021.
Source: Read Full Article