Al Roker received a warm welcome from his colleagues at Today on Friday as he returned to the NBC daytime show following time away due to illness.
MOST READ: Everything Gwen Stefani has said on baby number four
The beloved weatherman wasted no time in joking around with his friends on set, and even teased a new addition to the show in a hilarious social media post shortly after his day back.
Taking to Instagram, the dad-of-three shared a photo of himself sitting on the couch with his co-stars and his wife, ABC News host Deborah Roberts.
VIDEO: Today's Al Roker's wife shares surprising revelation about star's hospitalization
In the caption, Al wrote: "Can't thank @debrobertsabc enough for getting me through this medical crisis." He then added: "And now that she's here at @todayshow maybe she might stay? Just kidding!!"
MORE: Hoda Kotb hosts Today alone as she delivers heartbreaking news
POPULAR: Jimmy Fallon's unique living situation with his family revealed
Deborah was one of the first to comment on the post, writing: "I'm doing fine across town at ABC. But thanks."
Al had been absent from Today for almost two months after he was admitted to hospital twice in a short space of time due to blood clots traveling to his lungs.
But on Friday, the TV favorite looked happy and healthy as he resumed his duties, much to the delight of both his co-stars and viewers watching at home.
https://www.instagram.com/p/CnEzo1iOXYR/
A post shared by Al Roker (@alroker)
Al Roker made a joke about his wife Deborah Roberts joining Today
Minutes into the start of the program, Al appeared with Savannah Guthrie and Hoda Kotb and the emotions were running high. "The tears are already flowing – Al Roker is back," Savannah said, adding: "Al, to say we have missed you doesn't even begin to describe it."
MORE: Dylan Dreyer brings fans to tears with emotional update on Al Roker
TRENDING NOW: Amy Robach's estranged husband's current relationship status on social media revealed
"I have missed you guys so very much, you are my second family," Al replied, before joking: "And it's nice to be wearing pants."
After Al presented his first weather segment, he received a huge cheer from the studio floor and told Savannah and Hoda: "It was fun. It's been weird, I've been sitting at home drinking coffee watching Dylan do it. It's hard."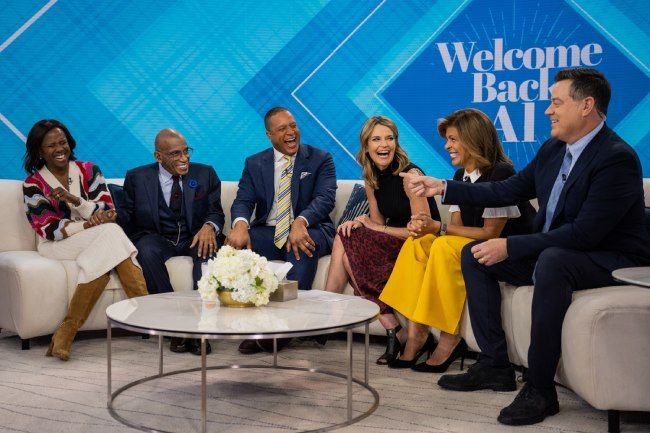 Al Roker was joined on Today by his wife Deborah Roberts
Al returned home to his family just before Christmas and was reunited with his wife Deborah and his three children.
MORE: Today Show surprises with live wedding ceremony on program
MORE: David Muir pays tribute to special someone in heartfelt message
The star shares oldest daughter Courtney with ex-wife Alice Bell, and children Leila and Nick with Deborah. Al and Deborah live in New York City, and became empty nesters in September after their youngest child left home to attend college.
This made Christmas all the more special when Al was back from hospital and all of his children were there with him.
Read more HELLO! US stories here
Source: Read Full Article