With a host of significant cultural and historic sites, excellent access to famous and awe-inspiring natural beauties, reputation for good eats, and stunning architectural triumphs, the city of Tokyo is a choice destination for travelers across the world.
Related: 10 Most Expensive Hotel Rooms in India
Although Tokyo might have a reputation for micro-sized hotel rooms, these 10 suites don't skimp on space (or luxury!). These expensive suites feature high-class amenities like indoor Japanese Zen gardens, sweeping panoramic views, and dining rooms fit for 12. Scroll down to check out the 10 most expensive suites in Tokyo.
Click the button below to start this article in quick view
10

The Tokyo Station Hotel, Maisonette Suite, $1,322 per night
Throughout its hundred year history, the stunning Tokyo Station Hotel has been revered for its luxury and its famous clientele. Built in 1915, the Tokyo Station Hotel was severely damaged both in the 1923 Great Kanto Earthquake and in World War II. Since the hotel has gone many renovations to keep modern and up-to-date with current luxury trends. A stay in this historic landmark doesn't come cheap.
Its Maisonette Suite gives travelers a luxurious two floors of living space and sumptuous European-style furniture. Staying in the Maisonette Suite will set you back $1,322.
9

Aman Tokyo, Corner Suite, $3808
The sleek Aman Tokyo is located right in the heart of Tokyo's bustling financial district. However, the hotel's serenity and clean lines make it a perfect urban oasis.
Related: 10 Most Expensive Restaurant Meals in Japan
The suites at Aman Tokyo draw heavy inspiration from traditional Japanese design elements. Each room is outfitted in luxe materials like wood, washi paper, and stone, and features stunning views of the Imperial Gardens, Tokyo Skytree, and Mount Fuji. To wake up in Aman's spacious Corner Suite will set you back $3,808.
8

Four Seasons Tokyo at Marunouchi, The Chairman Suite, $4,600
The Four Seasons is a worldwide hotel chain whose name has become synonymous with luxury and opulence. The Four Seasons Tokyo at Marunouchi, unlike some of its other counterparts, is a boutique hotel, with only 57 beautifully appointed rooms.
The high-tech suite Chairman Suite has a separate living area, a dining area with a spacious table that seats up to 10. Its living area is furnished with a sofa, a coffee table, an executive desk, and wall-mounted 52-inch 3D television. Travelers looking for a place they can relax and enjoy movies can stay in The Chairman Suite for $4,600 a night.
7

The Capitol Hotel Tokyu, Garden Suite, $4,612 per night
The Capitol Hotel Tokyo's suites boast generous square footage, stunning panoramic views of Tokyo, and three world-class restaurants in a tranquil setting.
The Capitol Hotel Tokyo's cheapest rooms are still steeply priced. Staying in their Deluxe King will cost a traveler $830. Staying in their luxurious Garden Suite is steeper still. To lounge in this luxurious 1,135 square feet suite costs $4,612. With a view of the tranquil the gardens and Sanno Groves of Hie Shrine, guests can enjoy the best of the city while still having time to unwind.
6

Grand Hyatt Tokyo, The Presidential Suite, $9,384
The Grand Hyatt in Tokyo is known for its luxury, elegance, and prime location. The Grand Hyatt is directly connected to Roppongi Hills, and its 200 shops and restaurants, cinema, art museum and observatory.
Related: The 10 Most Expensive Train Journeys You Can Take In 2019
The top floor Presidential Suite is outfitted with a private heated outdoor pool and a sundeck with sweeping views of Tokyo, an indoor Japanese Zan garden, a dining room that seats eight, and a luxurious master bedroom. A stay in the Grand Hyatt's Presidential Suite, costs a whopping $9,384 per night.
5

 Park Hyatt, The Presidential Suite, $10,000
The Park Hyatt garnered international fame after it served as the setting for the Oscar-winning movie, Lost in Translation. However, with its dramatic lighting, moody and sensual atmosphere, and spacious rooms, the Park Hyatt is celebrated for much more than its role in movie magic. Situated right in the center of Tokyo's trendy Shinjuku district, the Park Hyatt offers visitors excellent access to Tokyo.
The $10,000 a night presidential suite has original paintings and ceramics by acclaimed Japanese artists Yoshitaka Echizenya and Mieko Yuki, a baby grand piano, and a library of 1,000 hardcover books.
4

The Mandarin Oriental, The Presidential Suite, $11,725
This luxury five-star hotel in the center of Tokyo offers its visitors stunning panoramic views of Tokyo, excellent technology, and unparalleled service.
Related: 10 Perks You Can Only Experience In Luxury Hotels
The priciest escape offered is their Presidential Suite for $11,725. The presidential suite takes its inspiration from nature and hopes to evoke the feeling of strolling through the park. This pricy oasis features a living room with several unique seating areas and a library room. The dining room features art made of branches.
3

Ritz-Carlton Suite, The Ritz Carlton Suite, $18,449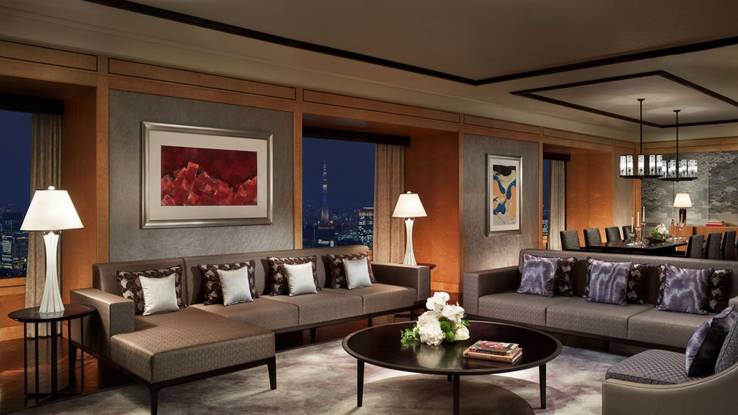 The luxurious Ritz Carlton boasts 53 floors of glamour, elegance, and panoramic views. Visitors can enjoy the hotel's glamorous French restaurant, its Michelin star rated Japanese restaurant, and a top-notch spa.
The Ritz-Carlton's signature Ritz Carlton Suite is the height of opulence. The room, designed in a contemporary East-Meet-West interior style has breathtaking views that include a sweeping panoramic of the Imperial Palace Garden. A stay in the most expensive hotel room in Tokyo doesn't come cheap. One night in this luxurious room will cost a traveler $18,449.
2

The Peninsula Tokyo, The Peninsula Suite, Price Upon Request
Tokyo has a reputation for small hotel rooms, but visitors to the Peninsula Suite surely won't want for more space. At 3,730 square feet, the Peninsula Suite has a private living room, tea ceremony room, grand piano, and private balcony with stunning views of the Imperial gardens. The price is only available on request. But, with the next most expensive room going for $2,094 a night, chances are a stay in the Peninsula Suite doesn't come cheap.
1

Shangri-La Hotel, The Presidential Suite, Price Upon Request
The luxurious five star Shangri-La Hotel is renown for its luxury. Named best hotel in Japan by Travel Advisor in 2012, this sweet spot contains over 2,000 pieces of art, chandeliers in its elevators, and handsomely outfitted rooms. The Presidential Suite is so exclusive (and so expensive!) that the price is not publicly available. The most costly suite listed on their website, the premier suite, costs a whopping $1,791 per night.
With 2,896 square feet of luxury, a one-bedroom suite with separate living area, and sky-high ceilings, this suite certainly doesn't come cheap.
Next: 10 Most Luxurious Hotels Near Machu Picchu
Home
Travel
10 Of The Most Expensive Hotel Suites In Tokyo
Tags:Japan
Source: Read Full Article