It has been a very busy week when it comes to Britney Spears' conservatorship. 
On July 5, Spears' longtime manager, Larry Rudolph, resigned, stating that he hadn't spoken to Spears in more than two years, and that he was told that she is considering retirement, according to Deadline. While Rudolph was not directly involved in Spears' conservatorship, his decision came just two weeks after the pop star spoke in open court about being mistreated by her family and her management team. 
On July 6, TMZ reported that Spears' court-appointed lawyer, Sam Ingham, requested to resign from his position. If approved, the request will be in effect as soon as new counsel is brought on. And while there were reports that Spears' temporary conservator Jodi Montgomery was set to resign, her lawyer told People magazine that she's staying in place at Spears' request. "Ms. Spears as recently as yesterday has asked Ms. Montgomery to continue to serve. Ms. Montgomery will continue to serve as a conservator for as long as Ms. Spears and the Court desire her to do so," the statement read, in part. On July 7, Page Six obtained a copy of some paperwork that was filed by Spears' mother, Lynne Spears, and it suggests that more changes — perhaps good changes — could be on the horizon. Keep reading to find out what Lynne Spears has requested.
Lynne Spears just stuck up for Britney in a major way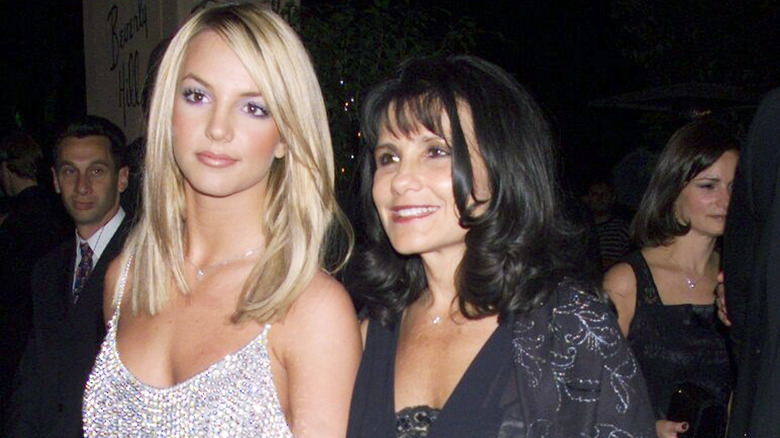 Britney Spears' mother hasn't said too much publicly about her daughter's conservatorship over the years. It is believed that Lynne Spears isn't directly involved in the conservatorship, but the current status of her relationship with her daughter is unclear. It does seem, however, that Lynne is trying to do right by her daughter, especially given her latest court request. According to Page Six, Lynne Spears has asked the court to allow Britney Spears to choose her own lawyer after Sam Ingham's resignation. Lynne Spears has urged Los Angeles Supreme Court Judge Brenda Penny to "listen to the wishes of her daughter" and allow her to "hire her own private legal counsel."
According to the full transcripts of Britney Spears' June 23 court appearance supplied by CNN, Britney Spears told Judge Penny that she's never been allowed to hire her own lawyer. "I haven't really had the opportunity by my own self to actually handpick my own lawyer by myself. And I would like to be able to do that," Britney Spears said.
In her petition, Lynne Spears called her daughter's court appearance "a very courageous showing" and voiced her support for her daughter's bravery in "baring her heart to the court in an impassioned plea to be heard on several requests." She also told Judge Penny that she feels that Britney Spears is "able to care [for herself]," and that this has been the case "for the past many years."
Source: Read Full Article