Apparently a few kids are the secret to a happy marriage, according to Jessica Biel and Justin Timberlake. The couple are parents to sons Silas and Phineas, but Biel revealed that Phineas (who they welcomed in 2020) was basically a surprise, according to the June 14 podcast episode of "Armchair Expert."
"I had, like, a secret COVID baby," she told host Dax Shepard. "It wasn't like it was supposed to be a secret. It was just COVID happened, and then I went to Montana with my family and never left," she continued. Biel added that although the "balance of everything is very different and super hard," it's "amazing." It's clear that Biel loves her kids, but she and her husband are not so keen about their boys pursuing careers in the entertainment industry. "I would so much rather them be an engineer or something," she said.
So, how did Silas and Phineas strengthen their parents' marriage? Keep reading for more details.
Jessica Biel and Justin Timberlake's kids gave them a 'renewed focus'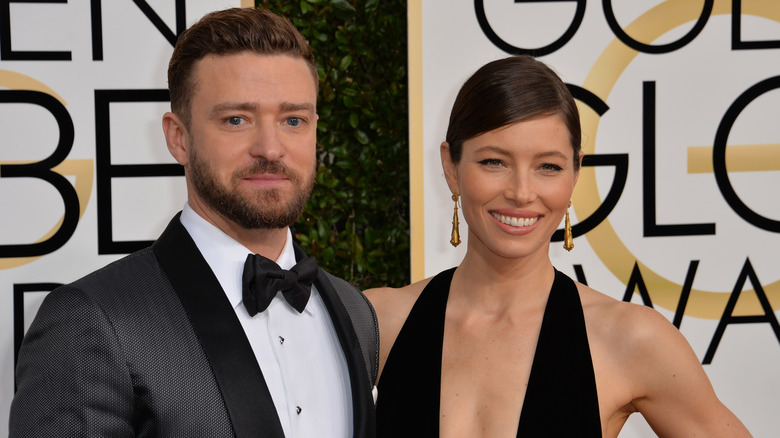 Jessica Biel and Justin Timberlake are relishing their roles as parents, according to Us Weekly. "Phineas really came along at the right time because it's given them this renewed focus as a couple. They both admit that having two kids has been harder than they ever expected, but the good thing is they've really bonded over it," a source told the outlet in August. "Jessica says Justin has totally stepped up, they're a great team."
Despite their busy lives, it appears their children remain their first priority. "They're both such devoted parents," the source added. "As much as they love their careers, they both say being mom and dad is the best job they've ever [had]." Timberlake doesn't always gush over his kids on social media, but when he does, it's clear fatherhood is his favorite role. "Being a dad is better than I ever could have imagined," he wrote on Father's Day. He also swooned over Biel on Mother's Day, writing, "I am constantly in awe of the mothers in my life. Jess – you're the heart of this family. Your boys look up to you and love you unconditionally. And so do I."
It's safe to say Timberlake is one proud dad and husband!
Source: Read Full Article