If you go to work every day and think about how to protect your feet from stepping on a nail or something falling on your foot, it's a sign that it's time to buy footwear that will save you. Not every shoe can protect the foot or be comfortable throughout the working day.
It would be best if you had something that would protect you from injuries and at the same time be comfortable so that you don't cry for your feet when you come home to rest after a hard day's work. Even the most durable person will not last with uncomfortable shoes.
What is the most appropriate footwear that will meet all these criteria? The boots you will find in this article are made only for people who work in demanding jobs, for those who need different types of protection during work.
In addition to boots, there are also work shoes, but don't be fooled that these are only aesthetically pleasing shoes. These are also shoes for workers. As much as you once needed extreme protection and the need for work boots, there are still those workers who want security but, at the same time, more elegant and lighter shoes.
These shoes are made to be comfortable and aesthetically more pleasing than heavy-duty boots and protect you from bumps and other injuries at work. 
We have highlighted a few of them, such as Danner work shoes, Keen, and Timberland, where you will see some of the main features that make them the best choice.
Wolverine Men's Raider DuraShocks® Comp Toe CM Work Shoes
The Raider is the best of the best in Wolverine brand production. The upper part of the shoes is made of full leather. Aesthetically it can fit into a more elegant style. You will turn their backs on you. 
But what makes them exceptional is the lining that protects against moisture. They have a removable double-density lining that provides outstanding comfort. They are also characterized by a rubber sole with inserts that absorbs every impact and construction that offers them flexibility. 
Of course, they also have protection, such as the CarbonMAX composite toe. And the most important thing is they have DuraShocks Flex cushions on the entire sole to make you last at work in maximum comfort.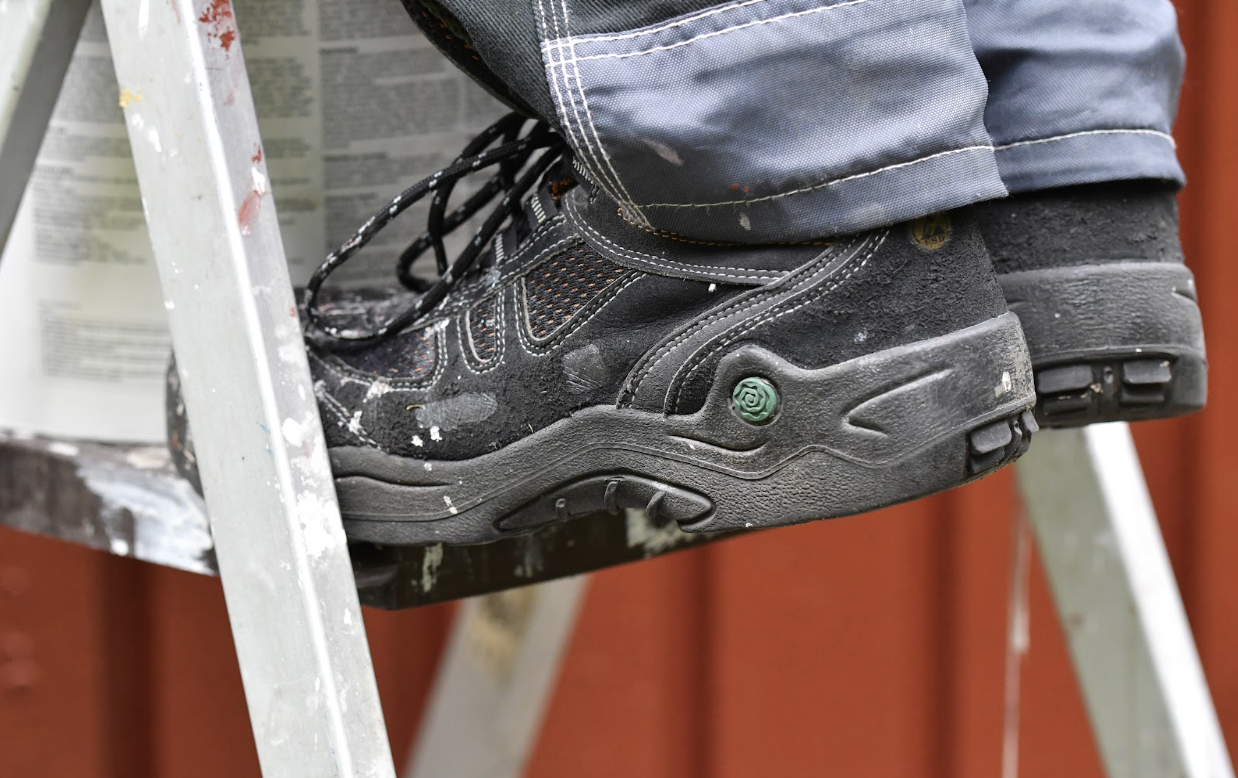 Danner Men's Quarry USA Made 8″ Comp Toe Ins WP Work Boots
There's no getting around these boots when you are talking about safety at work. If you want protection and security for your feet, there is no need to go any further. You found the best. 
You will hardly be able to find boots that last all season like these. What is it that sets them apart from others? Steel safety fingers are installed according to standards for impact and compression protection. The sole has electrical hazard protection in case you work in dangerous places where this is an issue. 
Another feature of the sole, in addition to protection against electrical hazards, is that the sole does not slip. If your job is such that you have to climb the roof or some other height at greater angles, these boots will keep you safe from falling. 
In these situations, people believe that comfort and protection do not go together. But you might be wrong. What kind of boots would they be if you worked in them for months without providing any comfort? 
Since they are high, they also protect the ankle so that you will be safe from injuries even if you have to jump from a certain height. They are reinforced with a steel bar that allows you to work all day without feeling pain at the end. 
Because of all the steel safety they have, the boots are heavy. But they are insulated with 3M Thinsulate Ultra, which provides insulation and reduces the weight to a certain extent. And another essential feature – they are waterproof.
KEEN Utility Men's Braddock Low Stl American Built Work Shoes
Keen makes work shoes with steel toes for protection, with both left and right asymmetrical toes. What sets them apart is the PU heel pad. It is excellent as support for comfort because the heels are always more exposed to pressure than the rest of the foot. 
They have a built-in lining with hydrophobic two-zone technology and meet all non-slip standards. Also, their soles are oil-resistant and leave no marks. The upper layer is made of nubuck leather. Their medium durability makes these shoes great for indoor work.
Georgia Men's Giant High Romeo Waterproof Work Boots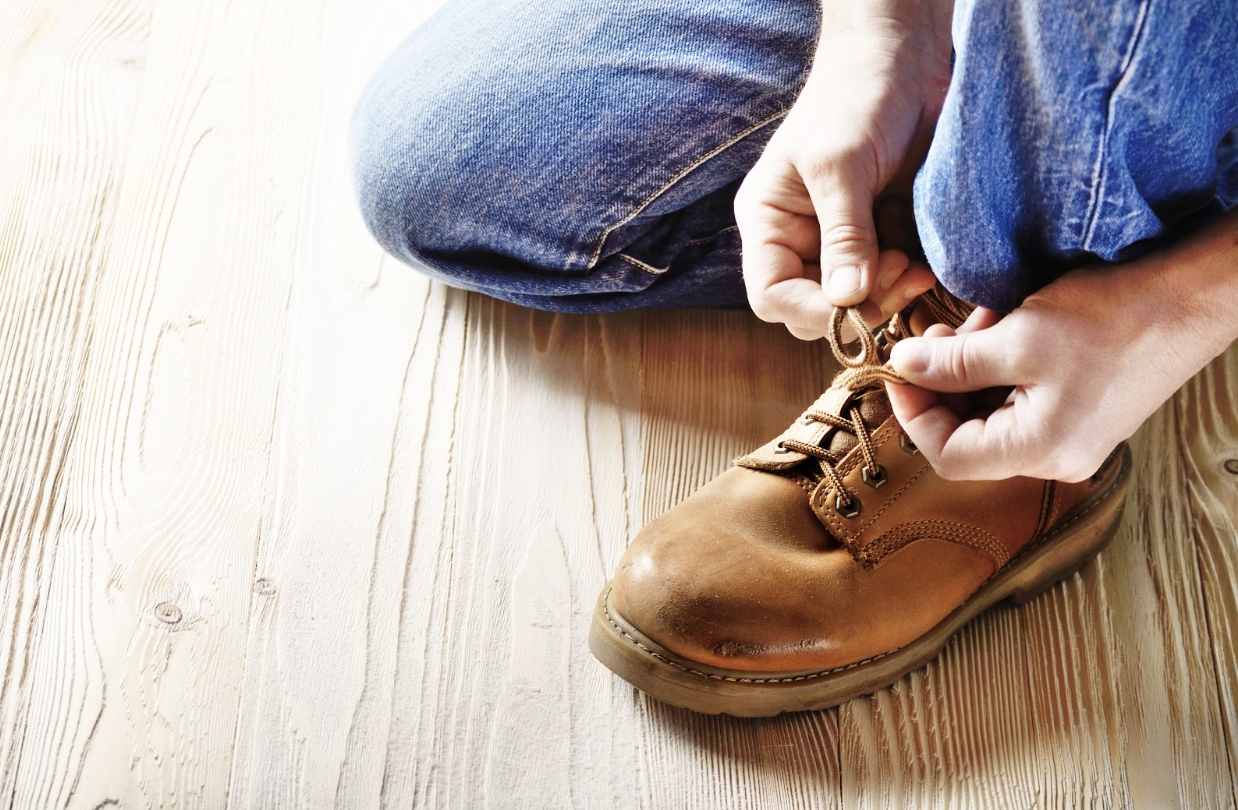 These boots always come in handy for those who want to look good and, at the same time, have functional boots that can be both for the office and the workplace where there is danger. 
They are waterproof, do not retain moisture, and allow air to pass through so that your feet are always dry. They are durable and stable due to the EBA midsole, which additionally affects it. 
Inside they have a cushioned insole that is covered with mesh. Its task is to make it easier for you to walk all day and make it as comfortable as possible. The polyurethane sole is oil resistant and, more importantly, chemical resistant. 
This makes them an excellent choice for workers who often move from the office and go to the factory where there is a danger from chemicals. They are made of full-grain leather, and the tabs on the side make putting them on and taking them off much more accessible.
Timberland PRO Men's Hyperion 6″ Alloy Toe WP Work Boots
Unlike other boots, these have an alloy toe with cement construction and leather with a waterproof protective membrane. Abrasion resistance makes these boots better than others because they are more durable and will last longer. 
The alloy safety toe and thermoplastic urethane overlay provide constant warmth during winter days but in a low-temperature workspace. The lightly contoured sole is oil resistant and is designed to conform to the foot as you move. 
Inside there is a mesh lining with an antimicrobial treatment that controls odors and at the same time makes it comfortable. They have a dual-purpose lacing system, and each pair comes with two pairs of laces.
What Should You Do Before Buying?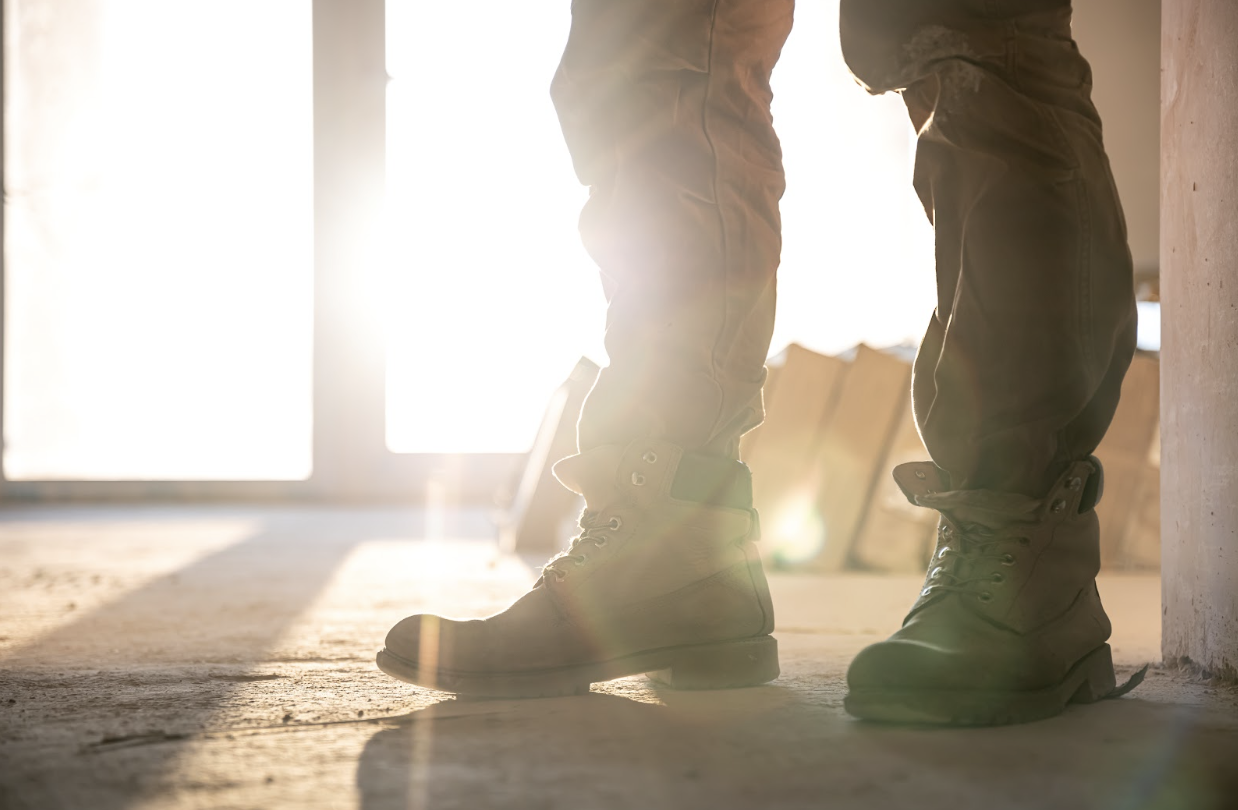 First of all, protection. Not everyone needs the same protection. If you work in dangerous terrain, you will choose those boots that meet all the protection criteria concerning the workplace. But if you need work boots to work around the house, then there's no need to spend money on other boots. Get some lighter ones that will give you essential protection without being heavy.
Another important thing is fit. Try the boots on and buy them only after you are sure they work for you. You need to make sure they fit you perfectly. The heel must work against the back of the boot. The toes must have enough space for you to move them, and also, make sure you have enough arch to fit your feet because everything affects comfort. Otherwise, you'll end up with tight shoes and blistered feet, with no circulation.
And last but not least – don't wear your boots to work immediately after you buy them. Boots made of leather can be stiff before wearing, which can cause sore feet and blisters on your skin. Have patience. Wear them gradually until they are nice and soft because it's all for your comfort and convenience.