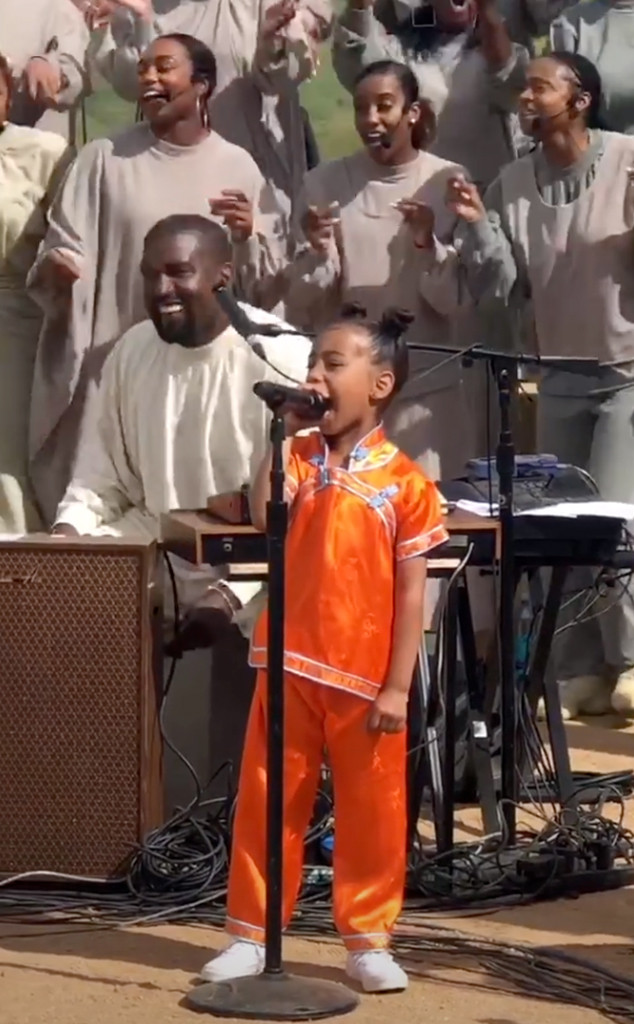 Instagram / Kim Kardashian
Following in dad's footsteps? North West is slowly becoming the breakout star of Kanye West's popular spiritual and musical Sunday Services.
Her mom Kim Kardashian posted on her Instagram Story a video of the 5-year-old girl, the couple's eldest of their three children, joining her father and the gospel choir and musicians onstage as they performed a rendition of Stevie Wonder's hit 1977 song "As," also made famous in 1999 as a duet by the late George Michael and Mary J. Blige.
Wearing a bright orange shirt and matching pants, North appeared very comfortable on stage and held the microphone like a pro as her proud dad danced while sitting behind her near the other performers. It is unclear if her mic was switched on, but she looked like she was having a blast regardless.
"Omg she's trying to get front & center [laughing emoji]," Kim wrote.
View this post on Instagram
Maxhype Entertainments:North going off at Sunday Service. ?❤️ ? Kim Kardashian #Kimkardashian? #kanyewest #Northwest #Maxhypetv?
A post shared by EMPIRE MINDZ (@maxhypetv) on
Over the past few months, Kanye has led his musical and spiritual Sunday Services in the hills of Calabasas, not far from his and Kim's home.
View this post on Instagram
North West really went off at today's Sunday Service!
A post shared by Kim Kardashian Snapchat ? (@kimkardashiansnap) on
In February, Kim tweeted a video from one of the weekly events, during which North was given the opportunity to sing a few notes into a mic while sitting with her friends.
North has often been spotted dancing enthusiastically at Kanye's Sunday Services, which has become a popular destination for celebrities, such as Orlando Bloom and Katy Perry.
Kanye announced last weekend that he is bringing his Sunday Service to Coachella on Easter Sunday, April 21. The rapper was months ago rumored to have been in talks to be a headliner at the popular music and arts festival, but they reportedly fell through.
"I'm really excited for Kanye to perform [at] Coachella. I've never been," Kim recently told Elle.com. "I'm so excited to be a part of it for the first time. And [the church], it's honestly more like a healing experience for my husband. It's just music; there's no sermon. It's definitely something he believes in—Jesus—and there's a Christian vibe. But there's no preaching. It's just a very spiritual Christian experience."

Source: Read Full Article