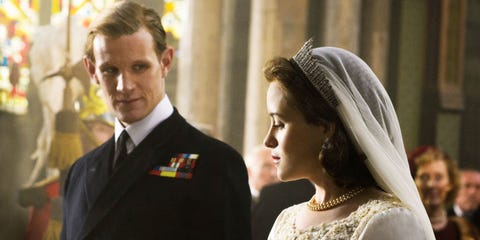 Matt Smith has spoken out about the controversy surrounding he and Claire Foy's pay disparity on The Crown. It was revealed earlier this year that Smith, who plays Prince Philip, was paid more than Foy, who plays the unquestionably more prominent role of Queen Elizabeth II in Netflix's royal drama.
"It was disappointing," Smith told Variety. "I would never ask at work how much someone earns. Never. My dad taught me you never talk about money. So it was news to me. It was not something that I was aware of, but when we heard, I think we were both embarrassed really because Claire did the most work. She worked the hardest and she should be rewarded in response to that."
The show's producers apologized publicly to both actors, with producer Suzanna Mackie vowing: "Going forward, no one gets paid more than the Queen." In his interview with Variety, Smith praised the response while lamenting that Foy was not paid her due in the first place. "Claire was the queen and she deserved to be remunerated accordingly," he said, adding that Olivia Colman – who will take over the role of Queen Elizabeth in the show's upcoming third season – should not face the same inequality. "I'm sure that is the case with Olivia. I can't imagine it wouldn't be. It was a grave mistake, but one that won't be repeated."
The Crown's third season will see Tobias Menzes replace Smith as Philip, while Helena Bonham Carter will take over the role of Princess Margaret from Vanessa Kirby. No premiere date has yet been announced, but the season will likely air in 2019.
Source: Read Full Article