After the Daily Mail posted pictures of an allegedly "unrecognizable" Aubrey O'Day, the singer took to social media to prove them wrong with an unaltered bikini photo.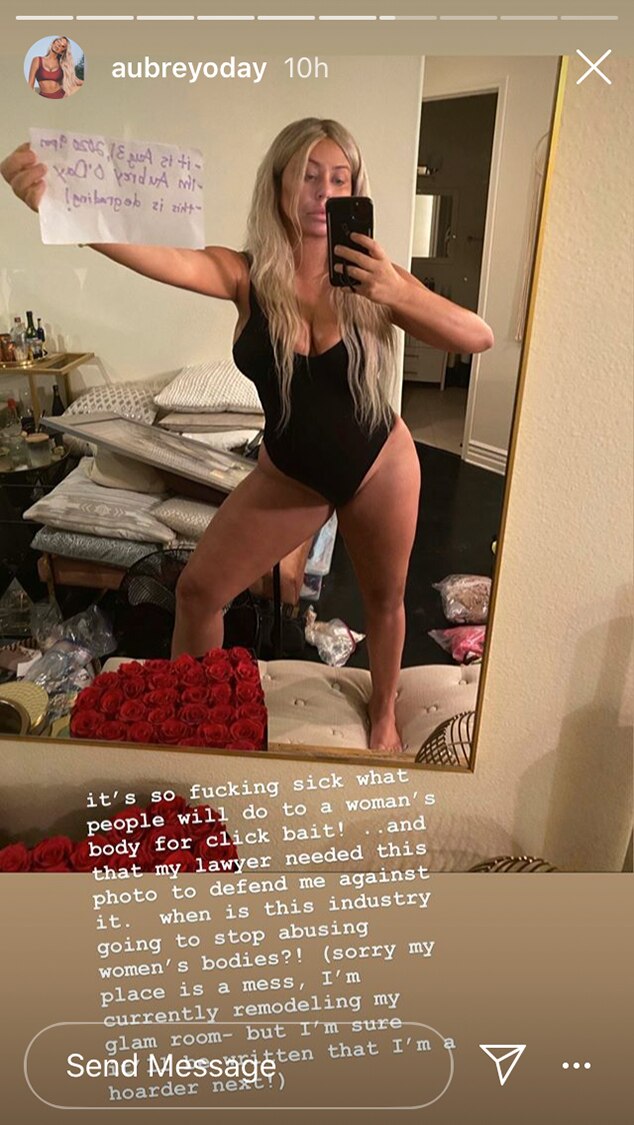 Aubrey O'Day is clapping back.
On Aug. 31, The Daily Mail published a series of photos of a woman the outlet identified as O'Day along with the headline "Aubrey O'Day Looks Unrecognizable as She Emerges for a Stroll With Her Dogs After Promoting Diet App With Filtered Snap on Instagram."
It wasn't long before the report spread online, with some accusing O'Day of editing past social media photos to promote products. However, O'Day refused to stand for any body shaming.
Taking to Twitter on Sept. 1, the 36-year-old singer posted a photo of herself wearing a black swimsuit while holding a piece of paper that featured the date and time, her name and the words "this is degrading" on it.
"It's so sick what ppl will do for click bait!" the Danity Kane star wrote alongside the photo. "And that my lawyer needed this photo to defend me against it.. When is this industry going to stop abusing women's bodies! Sorry my place is a mess, currently remodeling my glam room—I'm sure it'll be written that I'm a hoarder next!"
Soon, her followers also came to her defense.
"The s–t she has to deal with on the regular about her body like…. especially when it's always false information..," a fan tweeted. "I'll never understand the worlds obsession with a woman's body."
O'Day then replied by writing, "Makes me sick."
"I was jamming to Brandy & Monica Verzuz," she continued. "Started my glam room and BOOM my whole night is ruined! Then my attny has me taking photos with date and time to prove them false. Like, I'm tired of this stupid shallow abussive [sic] industry."
Trending Stories
The Truth About the Royal Family's Reaction to Princess Diana's Death
Ed Sheeran and Cherry Seaborn Welcome a Baby Girl: Find Out Her Name
Loretta Lynn Sets the Record Straight on Kid Rock Wedding Rumors
She also retweeted several supportive messages from her fans.
"You don't deserve to be going through that, beautiful," one Twitter user wrote.
Added another, "No one deserves to put up with what you had to today. Keep going and you always sparkle."
Source: Read Full Article