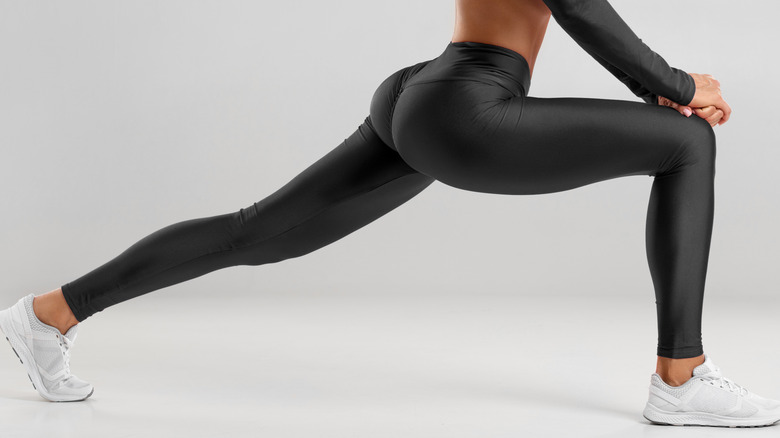 Exercise apparel has been advancing for years, incorporating breathable, anti-static, and temperature regulating materials into shoes, jackets and, yes, even leggings. According to the Journal of Textile and Apparel, Technology and Management, certain fabrics, such as bamboo, can even protect the skin from ultraviolet rays up to UPF 50+. 
However, there is more to choosing the perfect pair of leggings than just the right fabric. Sure, in the age old battle between cotton and polyester, cotton wins hands-down for most absorbent (via Shape). But with a plethora of workout activities and classes at our fingertips, legging technology has advanced to consider stretch, water-resistance and, more recently, sustainability. 
Whether you plan to get your sweat on jogging outside, in spin class, or on a pilates reformer, don't settle for ill fitting leggings that constantly bunch or fall down. When choosing a workout outfit, the only thing you should have to worry about is, well … working out. But when it comes to finding the perfect leggings, we have you covered. 
Best leggings for runners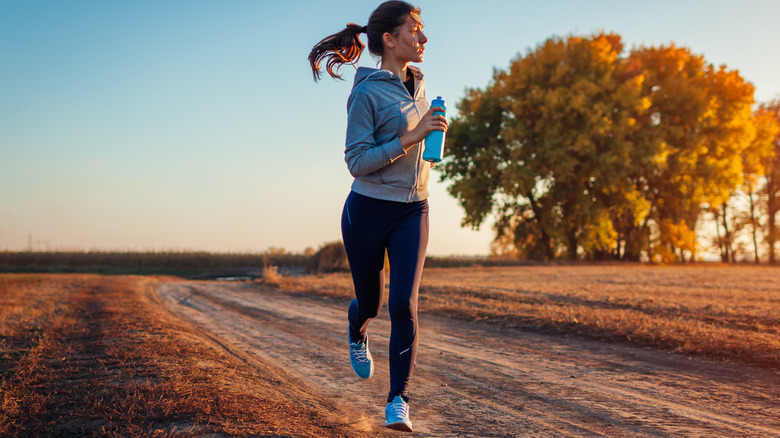 Former NCAA Track & Field athlete Brittani Cotton recommends the Nike Pro Tights leggings for any runners looking to up their game. With quick-drying fabric, comfort-enhancing four-way stretch and flat-lock seams, these leggings are Olympic athlete worthy. Plus, the contoured mesh panels offer legs a gentle breeze to hit you with a quicker cool down. "You get the simultaneous feeling of control with the freedom of feeling like you're wearing nothing," Cotton told Health.
And if you're looking to run beyond the treadmill at your local gym, Health recommends Outdoor Voices' 7/8 Spring Leggings in the brand's signature color-block style. These leggings effortlessly battle the outdoor elements with their thick texture compression fabric density and built-in sweat-wicking technology. And with Outdoor Voices' bluesign® Approved Fabric, you know you're making a difference outside of just toning your body (via Outdoor Voices). That's what we call a win-win!
Best leggings for biking and spinning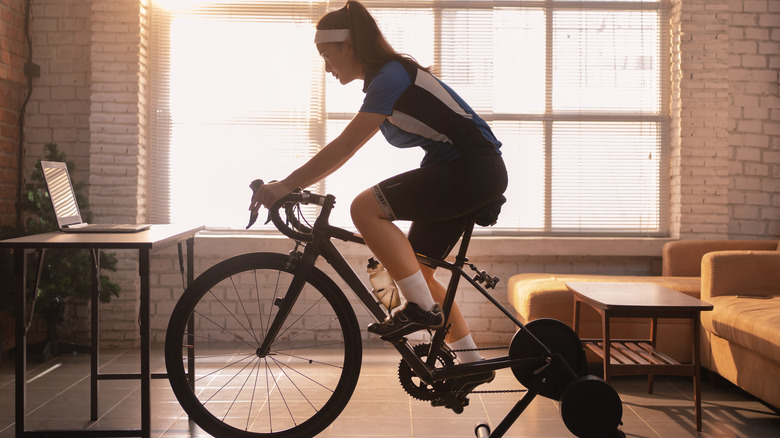 Whether you're looking to take your bike for a spin around the neighborhood or see God at your local Soul Cycle, you'll want to look for a pair of leggings that simultaneously keeps you cool while absorbing excess sweat. That's where Sweaty Betty's Zero Gravity High-Waisted Running Leggings come in (via Health). These sweat-wicking, fast-drying leggings use curved seams to work, lift, sculpt, and support the butt. And if you prefer your bikes non-stationary, you're in luck! They also have built-in UV protection up to 40+!
Our runner up for best biking leggings goes to ICONI Seamless High-Waisted Leggings. Not only were they on Oprah's 2020 Favorite Things list (via Shape), but the Black and women-owned business is committed to offering affordable leggings to combat the many overpriced workout gear brands. With breathable and moisture-wicking fabric, these super compressive leggings will keep your blood flowing when it's time to go uphill. Hey, if it's good enough for Oprah, it's good enough for us!
Best leggings for yoga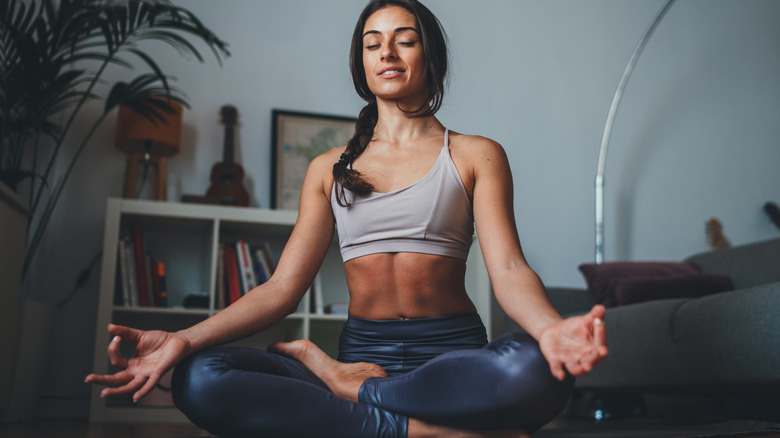 Whether you spend your yoga classes chilling in child's pose or dripping in chaturanga-induced sweats, the Alo Yoga High-Waist Airlift Leggings have you covered (via Health). Made with Alo's signature double-knit Airlift fabric, these leggings offer an ample four-way stretch, anti-odor technology, sweat-wicking properties, and the most important quality when you're stuck in a room with 20 other people: breathability. Celebs like Jennifer Garner, Hailey Bieber and Julianne Hough have been vocal fans of the Alo brand for years (via Shape), so if you do decide to splurge on these luxe leggings, you'll be in good company.
However, if you've got a tighter budget than these A-listers, you can't go wrong with 90 Degree By Reflex High-Waisted Leggings (via Health). These full-coverage leggings, will literally have you covered, so you can downward dog in confidence without worrying if your undies are making an unwelcome cameo. Now that's a legging we can get behind!
Best leggings for sweating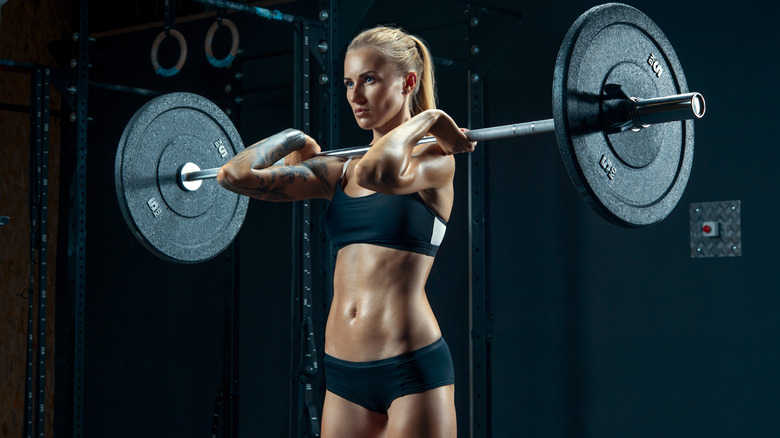 Sweating is (unfortunately) a very necessary part of working out. Be it from HIIT, weightlifting, endurance training or heated yoga, nothing can drag you out of the post-work out endorphin euphoria like a pair of soggy leggings. Stay dry after even the sweatiest workout with Aerie's Offline Real Me Leggings. According to E-commerce writer Rebecca Deczynski, these leggings are just as good as a pair of Lululemons… at half the cost (via Health). With its fast-drying, buttery, weightless fabric and v-seam support, what's not to love?
And for those willing to splurge while they feel the burn, look no further than GymShark's Flex High-Waisted Leggings (via Health). These stretchy, sweat-wicking leggings promise to stay around your waist, so the only thing you'll have to worry about pulling up are dumbbells. And with figure enhancing contouring shading (via Gymshark), the brand is committed to making you look good while you work to feel good
Source: Read Full Article