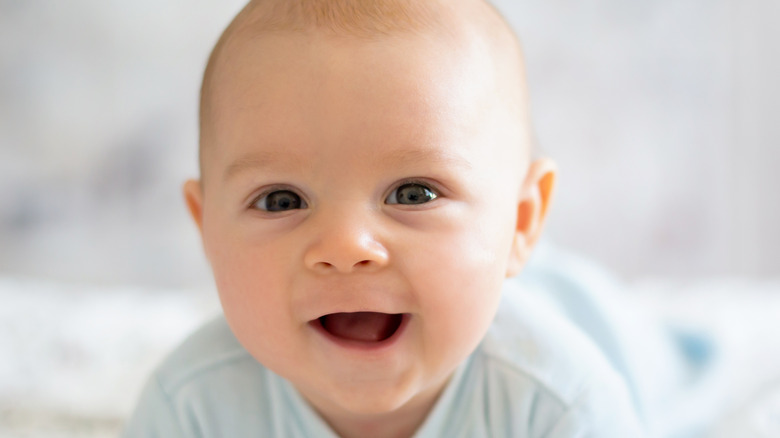 You've got a bundle of joy on the way … congratulations! Whether you are waiting to discover the sex of your baby on your delivery day or you already know for certain a little man will soon be joining your family, you are likely already creating a list of suitable baby boy names for your newest family member. Boy, oh boy, there are a lot of baby names out there! Here you'll find a thoroughly compiled list of strong boy names, as well as their meaning, popularity, and more good-to-know information about each possible contender!
The beauty in each of these strong names for your baby boy is that they all have the ability to be uniquely customized to align with your individual preference. To personalize any of the names below, consider the spelling and pronunciation of these traditionally strong names in different countries and cultures. Do you love the name Henry but want to avoid over-popularity? Perhaps the French version of the name, Henri, better suits your fancy! Regardless of the spelling, pronunciation, or abbreviated nickname, the profound meaning of the name remains the same. Here are strong names for your new main man that are undeniably adoration-worthy.
Matthew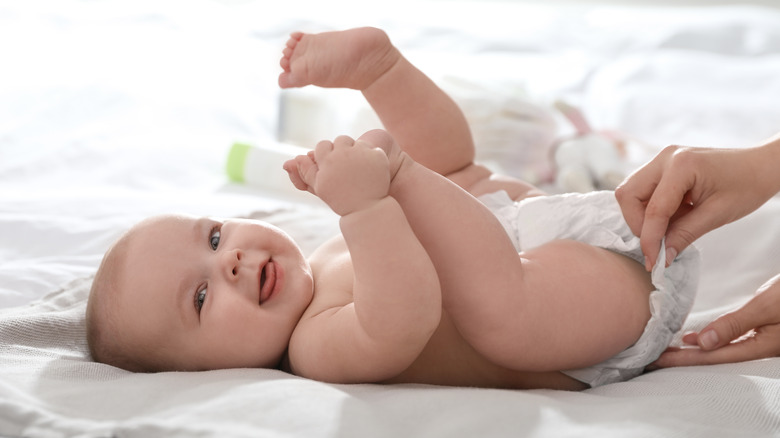 A popular English and Scottish name, Matthew, meaning "gift of God," is derived from the Hebrew name Matityahu, meaning "gift of God," and is found throughout the Bible, according to Ancestry.com. Author of the first gospel in the new testament, Matthew replaced Judas Iscariot as Jesus' 12th apostle. There are a number of variations of the strong boy name Matthew, including Old French Matheu, Spanish Mateo, Italian Matteo, and Portuguese Mateus. In addition to the different versions of the name in different countries, simply shortening Matthew to Matt can add a little flair!
Considering the strength and popularity of the name Matthew, it's no surprise that a handful of ultra-famous celebrities share the name. Born just three months apart in 1969, Matthew McConaughey and Matthew Perry both adorn the strong first name and star in countless top box office hits. McConaughey's popular films include "Magic Mike," "Dallas Buyers Club," and "Mud," and Perry's best known performance is his role in "Friends," followed by "Fools Rush In" and "The Whole Nine Yards." Also a Matthew, Matt Damon is best known for his roles in "Good Will Hunting" and "The Departed." So, if any of those projects are a favorite of yours, Matthew might be a good pick for your little one!
David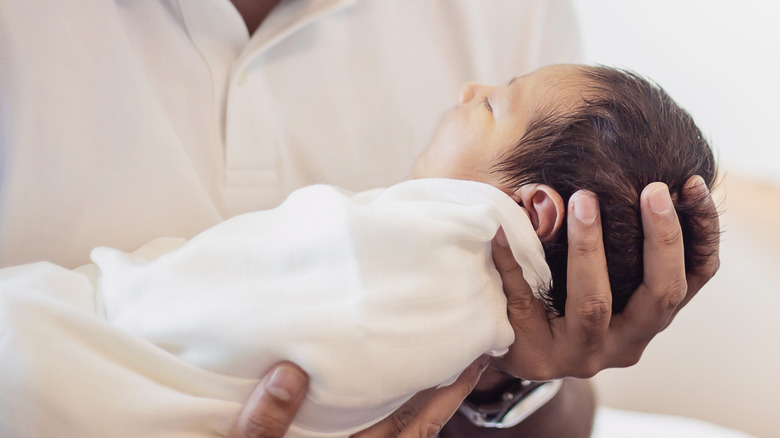 David has Hebrew origins and is a name seen in the Bible throughout 1 Samuel of the Old Testament. The biblical hero transitioned from lowly shepherd to mighty King of Israel, which only seems fitting considering the name means "beloved," as noted by Ancestry.com. The strong boy name is found predominantly throughout the Jewish, Welsh, English, Portuguese, German, and Czech communities, among others. Thanks to the patron saint of Wales and two kings in Scotland, the name grew in popularity primarily across Britain, before spreading to additional nations. Both the nickname Dave and the full version David remain popular, strong choices for baby boys across the globe.
Athletes and musicians and actors, oh my! A plethora of celebs share the name David and have brought joy and inspiration to the entertainment industry for many decades. David Beckham, soccer star and hunky husband to Posh Spice, is a goodwill ambassador for UNICEF and has been working hand-in-hand with the organization for over 15 years. The late David Bowie had a full, riveting career in both music and film, starring alongside Jennifer Connelly in "Labyrinth." Actor David Schwimmer co-founded Chicago's Lookingglass Theatre Company after earning a bachelor's degree in speech and theater, according to The Guardian.
Andrew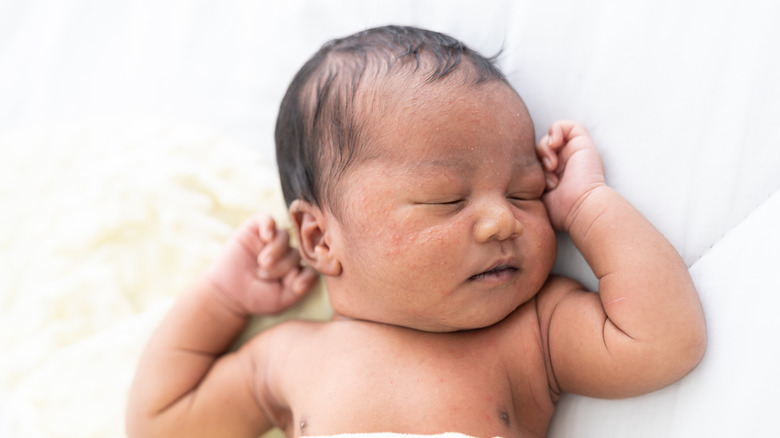 A variation of Andreas, the modern name Andrew is of Greek descent and means "valiant" and "courageous," according to Family Education. Common nicknames for the strong moniker include Andy and Drew. 
The name has quite the storied history. Robert Andrew, upon settling in Boxford, Massachusetts, was the first to bring the name to North America as a surname. The name also appears in the New Testament of the Bible as Andrew was one of Jesus' disciples and the brother of the apostle Peter. Both the 7th and 17th presidents of the United States shared the strong moniker and both were also members of the Democratic party during their term of service. Known as "Old Hickory," Andrew Jackson served two consecutive terms as president from 1829 to 1837 (though he's not the best namesake for your kid to have), and following the assassination of Abraham Lincoln, Andrew Johnson replaced the late president in 1865.
While multiple presidents share the name Andrew, so do philanthropists! Andrew Carnegie made a name for himself as an industrialist who amassed a fortune from steel and became best known for his philanthropic efforts, donating $350 million of his personal wealth (equivalent to billions in 2021) to libraries, churches, and educational exploits (via History).
John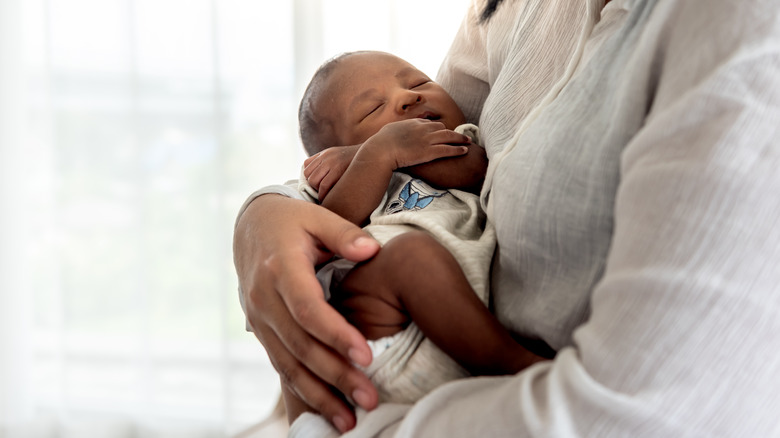 Like many strong boy names, the name John originates from Hebrew and translates to "graced by God," as explained by Verywell Family. The name John has been adapted in different countries, including Italy (Giovanni), Denmark (Hans), France (Jean), Germany (Johann), and Spain (Juan). Throughout the United States, Jon appears as a frequent spelling, accompanied by the fun-loving nickname Johnny.
A couple popular politicians shared the name John: President John F. Kennedy and Congressman John McCain. As the youngest man ever elected to office, the 35th president of the United States, John F. Kennedy infiltrated Cuba in an effort to prevent the spread of nuclear weapons which further promoted his goal of "a world of law and free choice," as noted by the White House website. Prior to the release of his last book, "The Restless Wave," in May 2018, Senator John McCain was an aviator in the U.S. Navy and later held the title of Senator of Arizona. 
Famous Johns in the pop-culture realm include entertainer John Cena, singer-songwriter John Lennon, and actor John Travolta.
Robert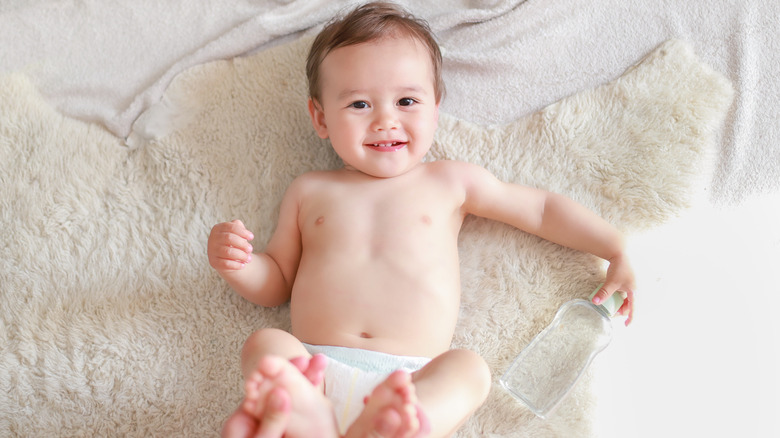 The name Robert exists in different variations from countries across the globe. Countries like Germany, Netherlands, Finland, Spain, Scotland, and Portugal all possess their own versions of the name: Rupert, Robrecht, Roopertti, Ruperto, Rabbie, and Roberto, respectively, according to Behind the Name. Robert was the most popular name in the United States between 1924 through 1939, becoming popular again in 1953, and understandably so, as the name means "bright fame."
With an abundance of nicknames like Robbie, Bob, Rob, Bobby, and Bert, it's no wonder the strong moniker has remained popular throughout the centuries! While many actors possess the strong, masculine name like Robert Pattinson, Robert De Niro, and Robert Downey Jr., multiple historically significant men share the name, too. Indisputably famous American poet Robert Frost lived to be 89 and created memorable works, including "The Road Not Taken" and "Stopping by Woods on a Snowy Evening." Music journalist Robert Christgau has been writing informative pieces about rock and roll, popular, and semi-popular music, and pop culture since 1967.
Noah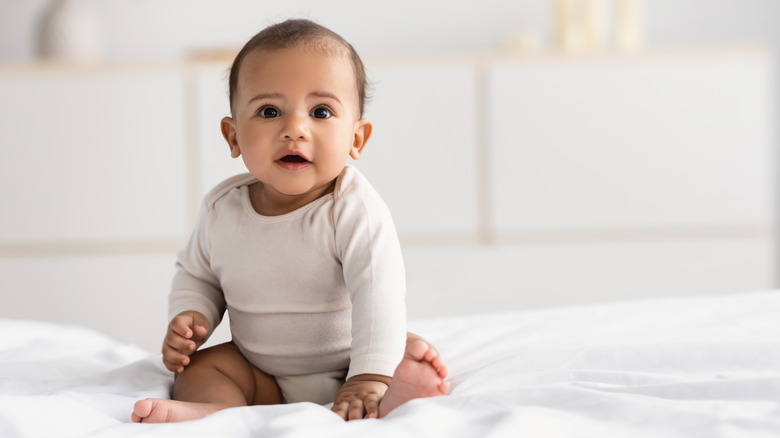 Don't confuse this name's gentle meaning as an allusion to weakness. Originating from ancient Hebrew, Noah translates to "rest" and "repose," and many describe the moniker as "classic," "wholesome," and "refined," according to Behind the Name. Considering one famous Noah built an ark of solid wood that measured over 500 feet long (via NPR), there's no denying the relevance and magnitude of the simple, strong boy name. First becoming prevalent in the United States in the 1990s, the name Noah peaked in popularity between 2013 to 2016, as it held the title of the most popular name for baby boys all three consecutive years, making it one of the most popular baby boy names of the last decade.
There have been plenty of famous Noahs. American-born tennis star Noah Rubin accomplished the greatest win of his athletic career in 2018, after beating the first best male tennis player in the United States and ninth best male tennis player in the world, John Isner. Actor Noah Centineo famously starred in the hit Netflix movie series "To All the Boys I've Loved Before." While his first name is less known publicly than his surname, perhaps the most famous Noah of them all is Noah Webster, as in Webster's Dictionary. The Yale graduate began his collegiate career at just 16 years old and completed his original dictionary, containing over 65,000 definitions, in 1828 at age 70 (via Noah Webster House).
Bradley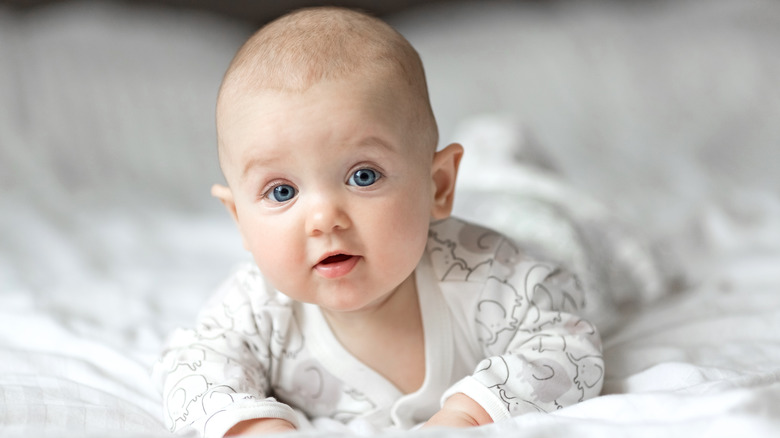 While the meaning of this name may not have particularly strong connotations, it does have strong historic significance and radiates masculinity. Bradley is an Anglo-Scottish name meaning "broad clearing suitable for agriculture," according to Surname Database, and as a surname, Bradley was common throughout Europe. Variations in spelling of the name include Braudly, Broadley, Bruidley, Braidle, Bradlie, Pradley, and Radley.
Apparently popular throughout the late 1900s, the strong moniker belongs to numerous celebrities throughout the entertainment industry. Born in 1963, hunky actor-producer Brad Pitt's impressive filmography over 80 projects in which he's acted and over 60 of which he's produced. Nearly a decade later, Brad Paisley arrived and has since accumulated multiple Grammys, American Music Awards, Country Music Association Awards, and Academy of Country Music Awards, among countless others. Pennsylvanian born actor Bradley Cooper graduated from Georgetown University and the Actors Studio Drama School at New School University before starring in "Wet Hot American Summer," "The Hangover," and more.
Samuel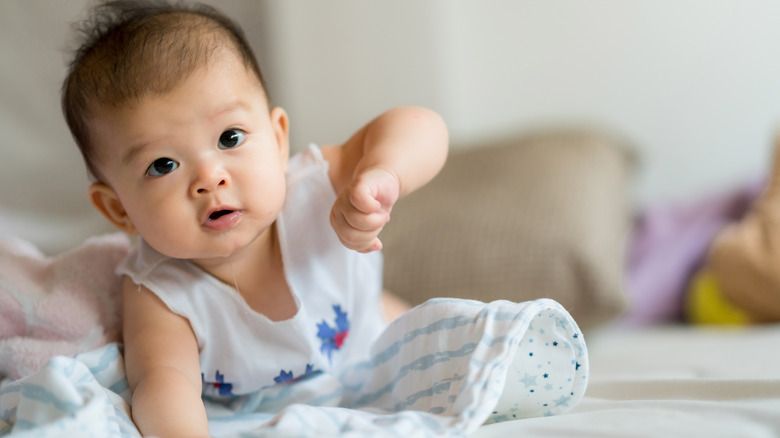 Biblically, Samuel was the last of the ruling judges in the Old Testament and his story is told through the Book of Samuel. Naturally, the name is of Hebrew origin and means "God has heard," according to Behind the Name. The name has remained popular throughout the modern world, with variations of the name in Finland and Spain — Samuli and Samu, respectively.
So, what famous Samuels are there? While we know him by his pen name Mark Twain, the wildly famous American writer Sam Clemens is best known for works like "The Adventures of Tom Sawyer," "The Prince and the Pauper," and "Adventures of Huckleberry Finn." If you're a beer drinker, you're likely familiar with the name Samuel Adams, but what you might not know is that the original Samuel Adams was one of America's Founding Fathers and also an important leader in the Sons of Liberty. Then there's also Sammy Hagar of popular rock band Van Halen.
Christopher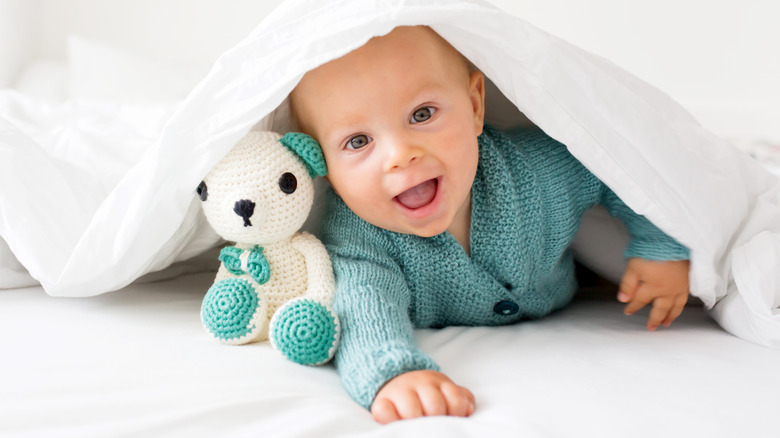 With a slew of variations, the name Christopher has dominated the baby boy name scene for decades in countries throughout the world. Meaning "bearer of Christ," the name is strongly associated with Saint Christopher, patron saint of travelers who supposedly carried Jesus over a dangerous river, according to Verywell Family. Alternative versions of the name include Christie (Scotland and Ireland), Christoffel (Netherlands), Christoph (Germany), Christos (Greek), Kristof (Slovenia), and Risto (Finland).
So, just who boasts the name Christopher in pop culture? Though he doesn't go by his full first name Christopher in Hollywood, actor Topher Grace starred in "That 70's Show" and "Spider-Man 3." Though not too well known, Chris Messina invented the hashtag in 2007, after helping launch Mozilla Firefox in 2004.
And, of course, Christopher Columbus sailed the ocean blue in 1492, unexpectedly finding America when searching for Asia, as noted by History.
Henry
Originally very popular in England during the Middle Ages, Henry descends from German origins and means "estate ruler," as Nameberry explains. Henry holds great significance throughout Europe, as eight kings of England possessed the strong name, the first of which, Henry I, was William the Conqueror's son and came to the throne unexpectedly. Showtime's riveting show "The Tudors" portrays the life of King Henry VIII, commonly known for marrying six separate wives in pursuit of creating a male heir to his throne, as noted by the Royal Museums Greenwich. 
Equally famous, and perhaps equally historically relevant, Henry Ford was the well-known American industrialist who founded Ford Motor Company. More modernly renowned, William Henry Gates co-founded Microsoft Corporation in 1975, which has since fueled his billionaire status.
And during the 1800s, philosopher and environmental scientist Henry David Thoreau wrote his renowned masterwork, "Walden," in which he details a life of transcendentalism.
Everett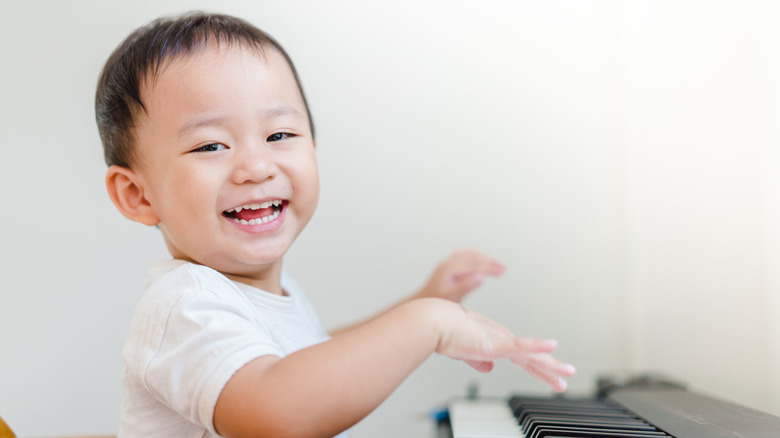 Slowly gaining in popularity over the last decade, the German-originating name Everett broke the top 100 baby names list in 2018, according to Family Education, and means "strong boar," appropriate as it's a strong name for baby boys. The name is derived from the surname Everard, which could also serve as an interesting first name. Common nicknames for the charming name include Ev and Rhett. As of this writing, Everett is No. 97 on BabyCenter's list of most popular boy names in the U.S.
Many will know Everett as the middle name of actor Tom Everett Scott, who had roles in "That Thing You Do!," "Boiler Room," "Because I Said So," and "Race to Witch Mountain." Known for his "dramatic flair" and "cathedral-organ voice, Everett Dirksen served as a member of the United States Senate for 11 years. Comic fans may remember 1900s comic strip character Everett True from "The Outbursts of Everett True," in which the character's pet peeves are continuously explored. 
Gregory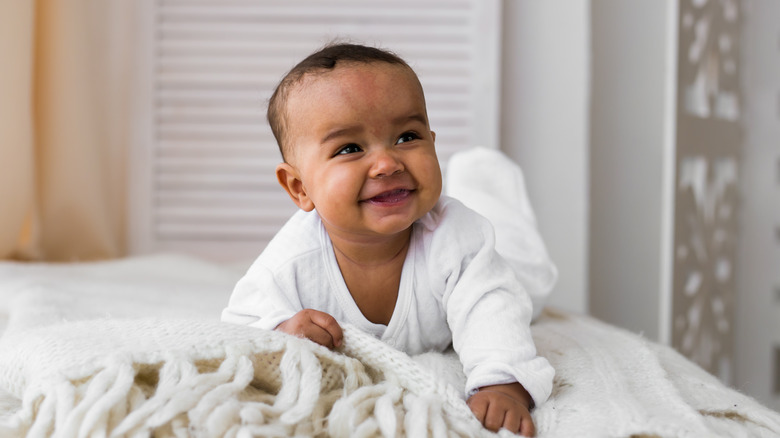 Meaning "watchful, vigilant," the name Gregory comes from the Greek Gregorios and has been used in Latin for over 1,500 years, according to Oh Baby! Names. Additionally, "Gregory" has biblical connotations — it's seen in the passage 1 Peter 5:8 — and 16 Catholic popes have had the name, which has also been used by early saints in the Middle Ages. Traits people associate with the name are "adventurous," "adaptable," "easy-going," and "freedom-loving."
Wondering what celebs share the name? One of the most popular film stars from the 1940s to the 1960s, Gregory Peck starred in classic films like "Spellbound," "To Kill a Mockingbird," and "Roman Holiday," where he played Audrey Hepburn's love interest. Jamaican reggae singer and songwriter Gregory Isaacs serenaded fans of Caribbean music for over 30 years (via The New York Times). American actor Gregory Harrison has prospered from a fruitful acting career with roles in "Trapper John, M.D." and "Falcon Crest" and continues to delight the screen through his role in the ever-popular TV series "General Hospital."
Richard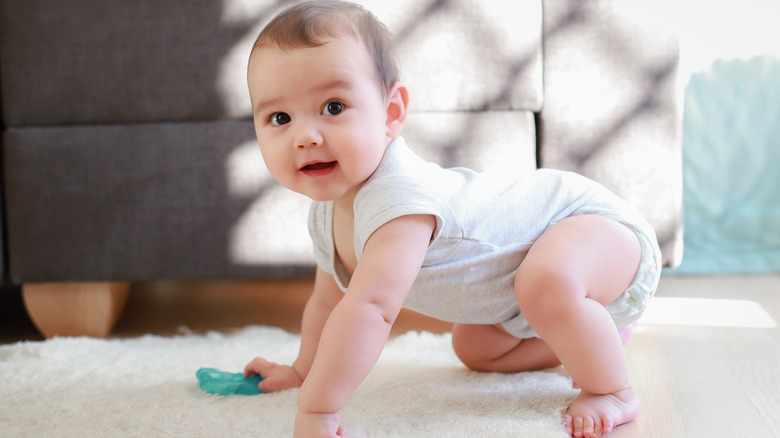 The strong, prominent German-originated name Richard popped up in England around the 11th century and has since been one of the most prominent names up until the 21st century, according to Oh Baby! Names. The historic European hero who led the Third Crusade, Richard the Lionheart brought original fame to the name as the son of King Henry II and the great-grandson of William the Conqueror, as noted by Britannica. Considering the name means "powerful," it's no surprise that the name Richard has remained popular for nearly ten centuries and remains a timeless, classic choice for baby boys today. Nicknames for the commonly found name include Rich, Rick, Ricky, Richie, and Dick.
A United States president held this name: Richard Nixon. The 37th president ended the Vietnam War, but is probably better known for becoming the first to ever resign from office after the Watergate Scandal, according to the White House website. Still, this doesn't detract from the strength of this name! Richard Branson is another famous Richard; the self-made billionaire dropped out of high school and went on to establish a range of Virgin businesses, leading him to accrue a $5 billion net worth, as noted by Forbes.
Source: Read Full Article