video
Pharmaceutical industry lobbied to shape COVID vaccine content
Rep. Darrell Issa, R-Calif., discusses Biden's classified documents debacle, the latest 'Twitter File' that highlights the pharmaceutical industry's role in vaccine content, the U.S. debt ceiling and China's economy.
Johnson & Johnson reported a 25% drop in earnings and declining sales for the fourth quarter as demand dropped for its Covid-19 vaccine, while providing a cautious forecast for sales growth as the company undergoes a big transformation.
The New Brunswick, N.J., healthcare-products company said Tuesday that quarterly revenue fell 4.4% to $23.71 billion on fewer vaccine sales and a stronger dollar, below analyst estimates of $23.9 billion, according to FactSet.
Earnings came in at $1.33 a share, down from $1.77 a share a year earlier, as J&J also incurred costs related to its Covid vaccine and plans to separate its consumer-health business into an independent company. Stripping out one-time items, adjusted earnings were $2.35 a share, topping analyst expectations of $2.23 a share.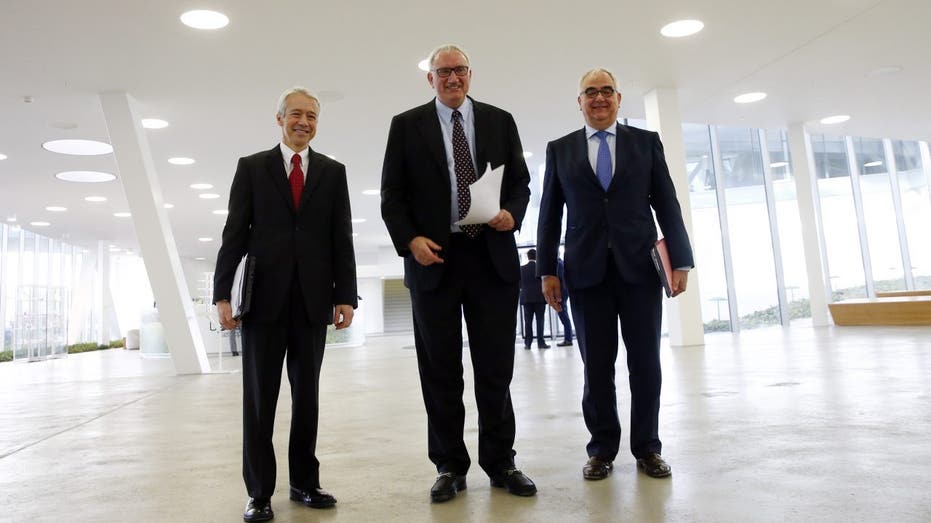 Johnson & Johnson Vice President and Worldwide Chairman Pharmaceuticals Joaquin Duato (L-R), Actelion CEO and founder Jean-Paul Clozel and Johnson & Johnson Chief Scientific Officer Pharmaceuticals Paul Stoffels pose for photographers at Acte

J&J, whose financial results are considered a bellwether for many health sectors, said it expects sales to rise about 5% to between $96.9 billion and $97.9 billion in 2023.

J&J AND MERCK EBOLA VACCINES PRODUCE LASTING ANTIBODIES IN CHILDREN AND ADULTS

The company continues to see pressure on sales from staffing shortages at hospitals, which have limited growth in procedures using J&J products, while inflation has boosted J&J's expenses. The company expects sales and earnings growth to be stronger in the second half of the year than in the first half.
Ticker
Security
Last
Change
Change %
JNJ
JOHNSON & JOHNSON
168.31
-0.43
-0.25%
MRNA
MODERNA INC.
196.94
+2.96
+1.53%
PFE
PFIZER INC.
44.98
-0.13
-0.29%
"We're assuming a lot of carryover of the inflationary impact that we had in 2022," J&J Chief Financial Officer Joseph Wolk said on a conference call with analysts Tuesday.

The company has scaled back production of its Covid-19 vaccine amid slumping demand. While J&J's shot was among the first to become available in 2021, it wasn't as widely used as versions from Moderna Inc., Pfizer Inc. or BioNTech SE shots, with manufacturing issues limiting the shot's availability and the risk of a rare but serious blood-clotting condition dissuading some people from using it. J&J hasn't introduced an updated Covid-19 booster shot.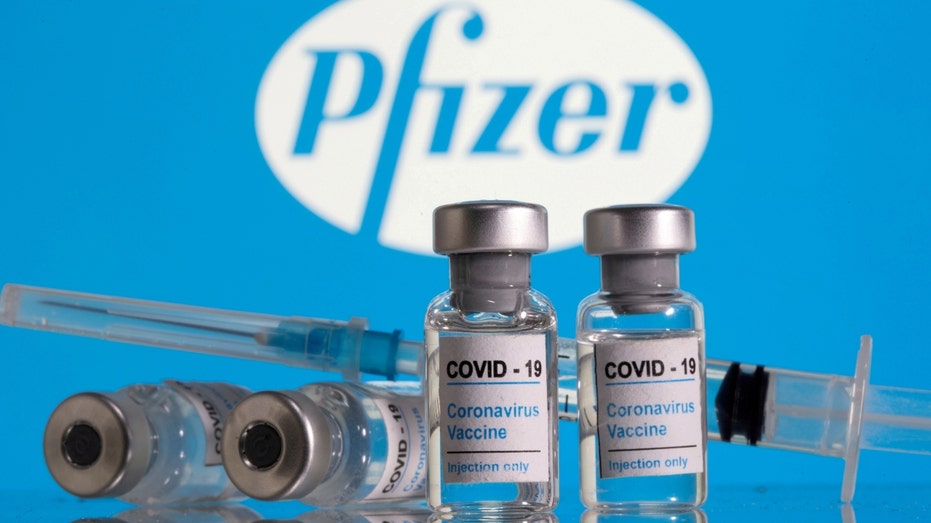 Vials labelled "COVID-19 Coronavirus Vaccine" and a syringe are seen in front of the Pfizer logo in this illustration taken February 9, 2021.  (REUTERS/Dado Ruvic / Reuters)

Global sales of J&J's Covid-19 vaccine dropped 57% to $689 million for the fourth quarter. Vaccine sales came only from outside the U.S., with none reported for the U.S. in the latest quarter.

At the same time, J&J incurred $821 million in costs related to the vaccine, including exiting its manufacturing contracts with other companies.

Mr. Wolk said in an interview that the vaccine is primarily in use in Africa, and the company will continue to provide doses under advance purchase contracts throughout 2023.
In this Wednesday, March 3, 2021 file photo, a pharmacist holds a vial of the Johnson & Johnson COVID-19 vaccine at a hospital in Bay Shore, N.Y. Janssen Pharmaceuticals is a division of Johnson & Johnson. (AP Photo/Mark Lennihan) (AP)

J&J's biggest unit, pharmaceuticals, posted fourth-quarter sales of $13.16 billion, down 7.4% from a year earlier. Sales gains for cancer drugs were more than offset by a decline in sales of the Covid-19 vaccine and other drugs including treatments for autoimmune diseases.

The company's medical-device unit had sales of $6.78 billion, down 1.2% from a year earlier. Sales declines for surgery products offset gains in certain products used in heart procedures.

FDA REJECTS LILLY'S ALZHEIMER'S DRUG CANDIDATE, SEEKS MORE DATA

J&J's consumer health sales rose 1% to $3.77 billion for the quarter, as sales of over-the-counter medicines including Tylenol rose during a tough cold and flu season.

J&J is in the process of spinning off its consumer-health business into a new company called Kenvue, which will house some of the company's most well-known consumer brands such as Band-Aid bandages and Tylenol medicines.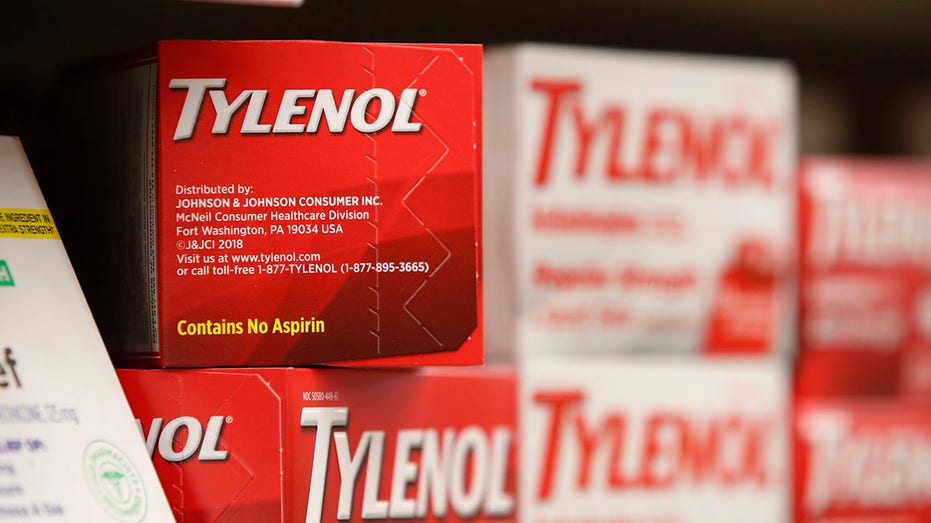 Boxes of Johnson & Johnson's Tylenol aspirin for sale at a pharmacy in Salt Lake City, Utah, U.S., on Thursday, Feb. 25, 2021. Photographer: George Frey/Bloomberg via Getty Images ( George Frey/Bloomberg via Getty Images / Getty Images)

The plan to separate the consumer business is one of the biggest shifts in J&J's history, and will leave the remaining company focused on pharmaceuticals and medical devices.

CLICK HERE TO GET THE FOX BUSINESS APP

Earlier this month, J&J filed documents with securities regulators to prepare for a potential initial public offering of up to about 20% of Kenvue's shares. If J&J chooses to go forward with an IPO, it could take place within the next two quarters, and the company would plan to completely separate Kenvue sometime during 2023, Mr. Wolk said.

J&J shares fell 0.5% to $167.31 in morning trading.

Source: Read Full Article