By now, you're probably aware that Lewis Hamilton follows a plant-based diet. But that wasn't always the case. When Hamilton shot out of Formula 1's starting grid as a precious 22-year-old he, like most of his competitors, was fueled by animal products.
Even though Hamilton was an early bloomer in Formula 1 – achieving a podium finish in his first ever F1 race – he has never driven better than he is doing right now, having won six world championship titles. Only a fool would bet against him equalling and beating the record of seven titles won by Michael Schumacher. So what does Hamilton put his continued success down to? The plant-based diet he began following in 2018, of course.
Speaking exclusively to Men's Health UK, Hamilton explains that while he grew up eating meat, and used to go out of his way to eat the chicken, fish and red-meat dishes that most people live on, as he has grown older, he's become more aware of the impact his diet has on his performances. So when Hamilton was looking for ways to boost his energy levels in order to make him more consistent on the track, he experimented with a plant-based diet, and, in his own words, it has "frickin' changed my life".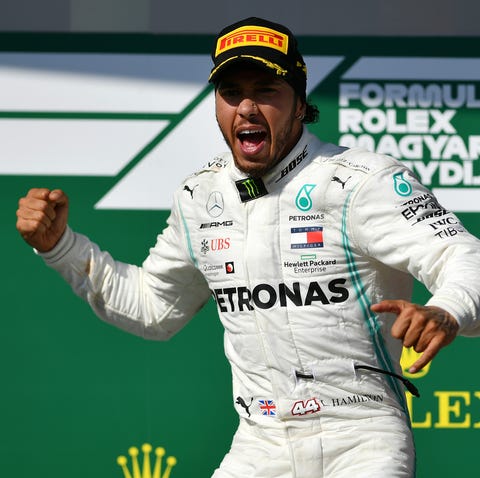 Dan MullanGetty Images
"I have more energy; I'm so much more productive," says Hamilton. "I wake up feeling way better, clearer in thought and fresher in my body. I recover quicker; I sleep better. My skin cleared up. I have fewer allergies. There are just so many impacts."
"I'm physically in better shape than I've ever been, and I'm more successful than ever right now, and my plant-based program has played such a big role in that," he adds.
Hamilton says that while he regrets not trying plant-based eating sooner, he doesn't regret the process he had to go through to fix on his current diet. Hamilton, you see, didn't just go from eating meat to steering clear of it. He transitioned to plant-based eating by giving up his previous diet incrementally, and that's how he would recommend you adopt a plant-based diet too.
"Don't go hard," says Hamilton. "Because that is hard. You've just got to taper off things: stop eating chocolate, stop eating dairy and then slowly stop eating meat and stop eating fish. Go pescatarian for a while. That's what I did…and I don't miss a single thing."
From: Men's Health UK
Source: Read Full Article