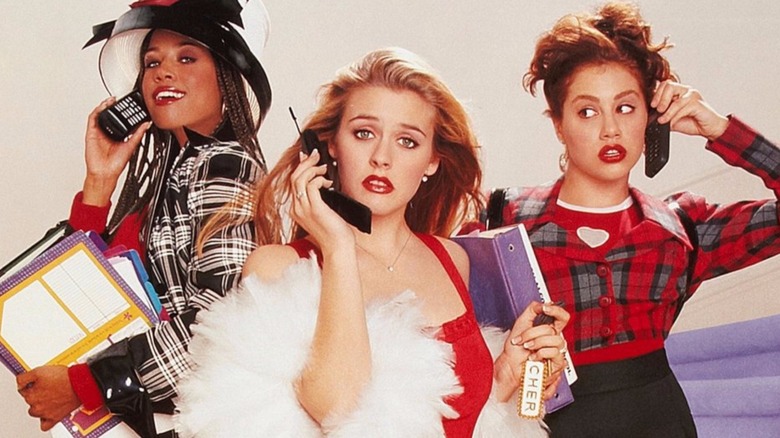 In 1995, the world was blessed with a movie that is still as timeless for its quotable dialogue as its fashion moments. The movie, you ask? "Clueless," of course. The cult comedy, which depicts the lives of rich Beverly Hills high schoolers, is loosely based off of Jane Austen's novel "Emma," but with way better lingo ("As if!," "Do you prefer fashion victim or ensembly challenged?"), per Vogue. The Amy Heckerling-directed film is also credited with catapulting the careers of several A-list actors, including Alicia Silverstone, Paul Rudd (who actually defies the laws of aging), Stacey Dash, and the late Brittany Murphy. 
The movie is also famous for challenging many high-school stereotypes in the 90s, such as ditching the "popular" guy for the nice guy, harmoniously co-existing with our 420-friendly skater friends, and taking the new girl under our wing instead of bullying her. However, "Clueless"' biggest legacy is easily the clothes. The costumes, which were designed by Mona May, have served as inspiration for young people for more than two decades. Read on to see the iconic most fashion moments from our favorite '90s movie ever (warning: spoiler alert!).
The dresses that made us drool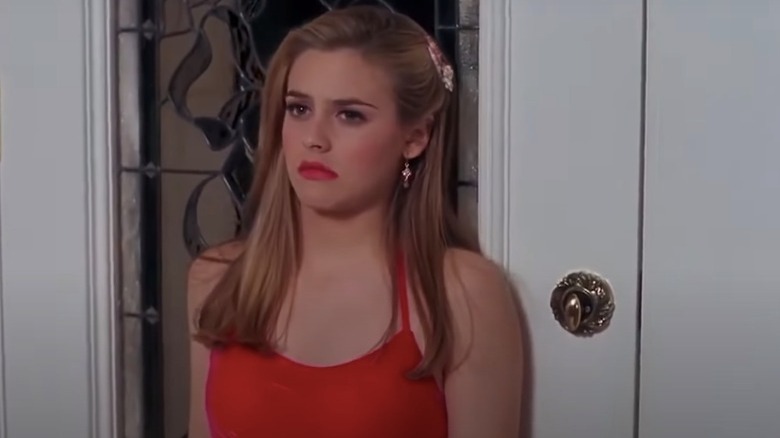 Cher Horowitz (the film's lead, as portrayed by Alicia Silverstone) didn't just have a super cool computer that helped her coordinate her outfits in the morning (impressive for '90s technology), she also had the best clothes in "Clueless." And a big part of her wardrobe throughout the film consisted of insane designer dresses, which she donned out or at parties.
The first noteworthy dress is the infamous Calvin Klein number she wore on her first date with Christian (played by Justin Walker). Prior to realizing Christian was gay, Cher rocked the itty-bitty white slip dress to impress him (this didn't impress her overly protective father, though, who asked her to throw on a jacket before leaving the house). In fact, the dress became such a big hit because of the film that Calvin Klein's former creative director Francisco Costa redistributed the style in 2010 (per Vogue). 
Another amazing slip dress Cher sported is the gorgeous red ALAÏA, which stole hearts (via Harper's Bazaar). Viewers may remember Cher getting robbed at gunpoint in the number and being asked to get on the floor, to which she replied, "This is an ALAÏA!." The last dress worth mentioning is Dionne's (played by Stacey Dash) cranberry velvet dress with a white collar and cuffs. She paired the ensemble with white over-the-knee socks and a triple-clasp purse, and it was perfection.
The super cute coordinated skirts and jackets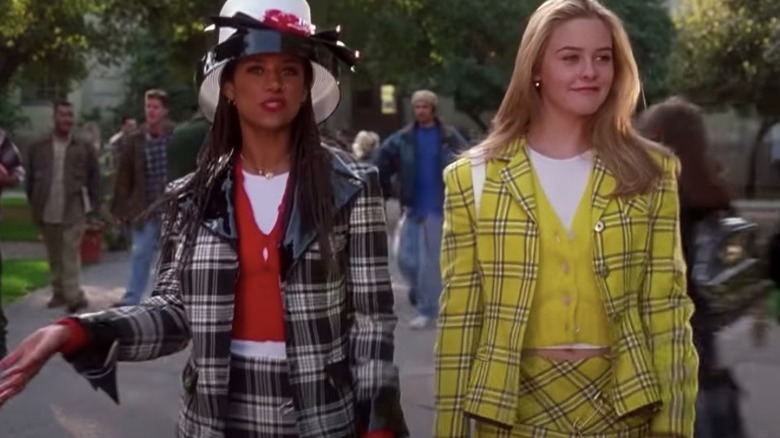 Pushing the dresses aside, some of the most iconic looks to come out of "Clueless" definitely include Cher and Dionne's matching skirt and jacket sets.
First, we have Cher's yellow plaid skirt suit. This matchy-matchy look is arguably one of the most famous to come out of the film, and it made us all fall in love with the high-school version of power suits. Cher wore the outfit with a white shirt, a yellow, sleeveless vest, and white thigh-high socks. Dionne also sported a similar look, except her color scheme featured white, black, and red hues. She also elevated her outfit by opting for an oversized black and white top hat — a bold fashion choice which earned her some "props" from Cher.
Another attention-grabbing coordinated look was Dionne's motorcycle-chic ensemble, which she wore to school (not something my mother would have let me wear, but you go, girl!). The outfit comprised a black, cropped bomber jacket, a striped fuchsia crop top, and a tight black miniskirt.
These outfits deserve honorable mentions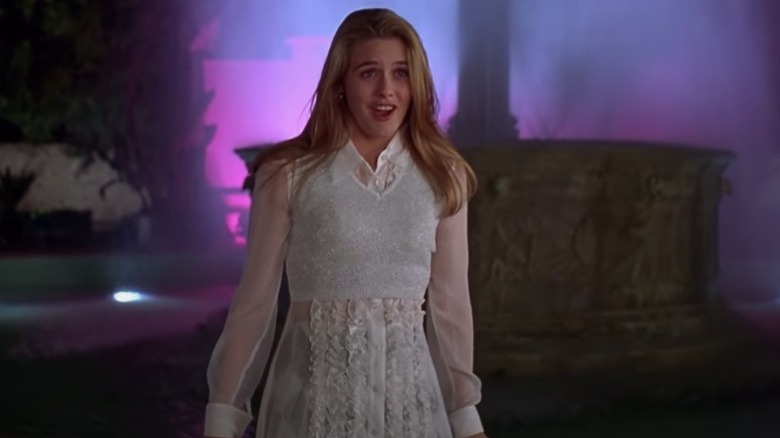 There are too many eye-catching outfits in "Clueless" to cover them all in detail, but here are some more honorable mentions.
First up is Cher's soul-searching outfit, which she wore as she roamed the streets of Beverly Hills while pondering her feelings for Josh (played by Paul Rudd). The look included a high-waisted, pastel-colored skirt; a long, sheer, lace button-up; and a powder blue vest. Next is Cher's shopping look (because who doesn't have a super adorable ensemble set aside for those moments which only retail therapy can cure). The outfit featured a white, collared blouse and argyle print miniskirt and a black blazer, which tied the outfit together. She also sported a pair of knee-high socks (we're sensing a pattern here) and silver shoes.   
Finally, we couldn't leave Tai's (played by Brittany Murphy) makeover off of our list (after all, it was one of Cher's biggest projects in the film). Tai rocked a form-fitting, long-sleeved, gray top with a red heart graphic, which she teamed with a burgundy-colored velour miniskirt (something that is still super on-trend today) (via Seventeen).
Source: Read Full Article