While former New York City Mayor Rudy Giuliani might not be anyone's most likely choice for launching a third-act career as a social media star, it seems like the disgraced attorney is making a tepid attempt to throw his hat in the ring — to an extent, at least. According to a report published by the New York Post on August 10, Giuliani, who aligned himself as one of ex-President Donald Trump's underlings throughout his four years in the Oval Office, announced on Twitter that he had made a move to the platform Cameo in an effort to charge money for personalized messages for his remaining fan base. "Good news: I want to connect with YOU on Cameo — Now taking all Cameo requests!" Giuliani tweeted.
Giuliani's Cameo page at the time of this writing offers a list of interactive services for app users, as well as a $199 fee for personalized messages. In a video uploaded to Cameo, Giuliani provided some suggested topics for PMs. "If there is an issue you want to discuss or a story you'd like to hear or share with me, or a greeting that I can bring to someone that would bring happiness to their day, I would be delighted to do it," Giuliani said in the recording (via the Post). But considering the set price for personal messages, could there be a reason behind Giuliani's recent Cameo campaign? Read on after the jump to find out.
Rudy Giuliani's Cameo debut may stem from financial troubles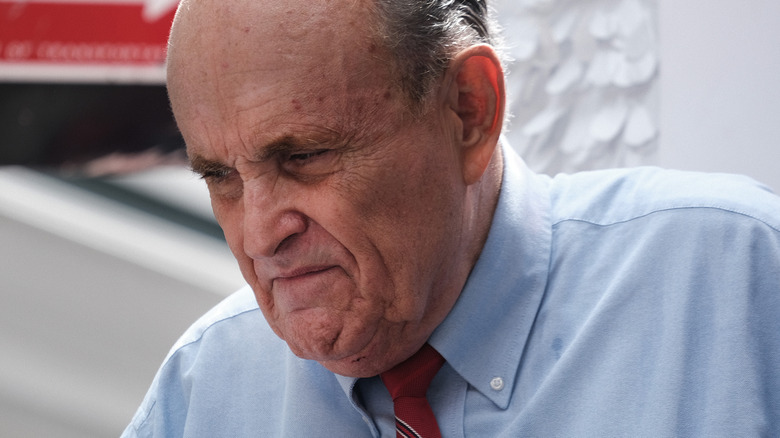 As the New York Post noted in their coverage, part of Rudy Giuliani's move to Cameo might be due to both his inability to earn any income as an attorney following the suspension of his law licenses in New York and Washington, D.C., as well as two separate lawsuits totaling in the billions. His license revocation and both suits, which were brought forward by two respective voting machine manufacturers, stemmed from Giuliani's part in disseminating baseless and unsubstantiated accusations of fraud in the November 2020 presidential election made by his former client, ex-President Donald Trump. Trump has also reportedly refused to pay money owed to Giuliani following the January 6 insurrection at Capitol Hill in January, in which Giuliani charged $20,000 per diem for his legal services. Since then, Trump and Giuliani have been rumored to still be embroiled in an ongoing feud over the matter, though a recent appearance made by both Trump and Giuliani at a conservative fundraiser suggests the two may have reached a détente.
Giuliani is hardly the first to tout a Cameo account. Earlier this year, Donald Trump, Jr. was lambasted after charging $500 for personalized messages — which, along with his attempt to crowdfund donations to cover what he purported to be for legal fees, were seen by many as hypocritical, considering his family's boasted vast wealth.
Source: Read Full Article