Meghan McCain has been a staple on "The View" ever since she first joined the panel back in 2017. As of July, she's appeared on four seasons of the long-running ABC talk show and has repeatedly hit the headlines for voicing her outspoken views, which McCain certainly hasn't been afraid to express.
McCain most recently hit the headlines on June 30 for some controversial comments she made about First Lady Dr. Jill Biden when she criticized her clothing choice on the cover of Vogue. "I don't love the dress she's in. I would've loved to see her really fashioned up in an elegant gown or something more akin to what they did with Hillary Clinton on the cover when she was first lady. So, all of this is a miss for me," she said, per Primetimer.
McCain went on to claim that the president's family is the U.S.'s version of royalty, continuing, "She's a symbol of what's great about America. She's almost a regal figure for me, Dr. Biden, so I would prefer if she'd be presented that way, as well." Twitter had a lot to say about McCain's comments about the first lady, and shared plenty of thoughts via the social media site.
But, while there's no doubt McCain's gig on "The View" still has her very much in the headlines, is it now time up? Well, it sounds like she could be about to wave bye bye to the show. Read on for what we know.
Meghan McCain will reportedly announce her departure on the show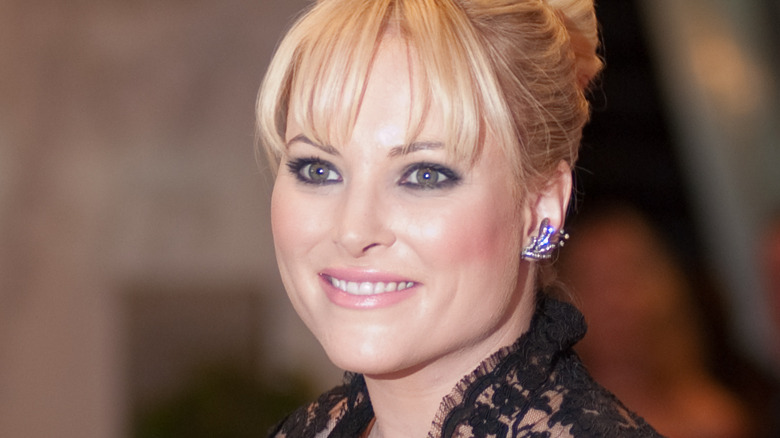 According to Daily Mail, Meghan McCain will officially announce she's leaving the show during the July 1 episode. A Disney source claimed the star "will announce her resignation," despite reportedly still having another two years left on her contract. The insider added that she seemingly wasn't fired as the higher ups on the ABC daytime show "have tried to keep her" around a little longer, but purported that McCain "is adamant that now is the right time for her to leave."
It's thought McCain will see out the month alongside her co-stars — who are alleged to have been kept in the dark about her apparent departure — but will appear on her final show at the end of July.
Back in January, McCain didn't appear to have any plans to leave "The View," despite her regular clashes with her co-stars. "Whether we like it or not, I'm not going anywhere on the show, Joy [Behar]'s not going anywhere on the show, we all have to live and co-exist together just like Americans right now," she told Andy Cohen on "Watch What Happens Live."
McCain's reps are yet to respond to Daily Mail's report, so it looks fans will have to tune in to see if she really does announce her departure from "The View."
Source: Read Full Article