At the Grammy Awards in 2010, Stevie Nicks took the stage with Taylor Swift to perform "Rhiannon" and "You Belong With Me." At this point, Nicks was decades into an illustrious career, and Swift was primed to win Album of the Year. She invited Nicks to perform with her, but the Fleetwood Mac artist was hesitant to accept. Nicks explained why she initially had no interest in appearing on stage with Swift.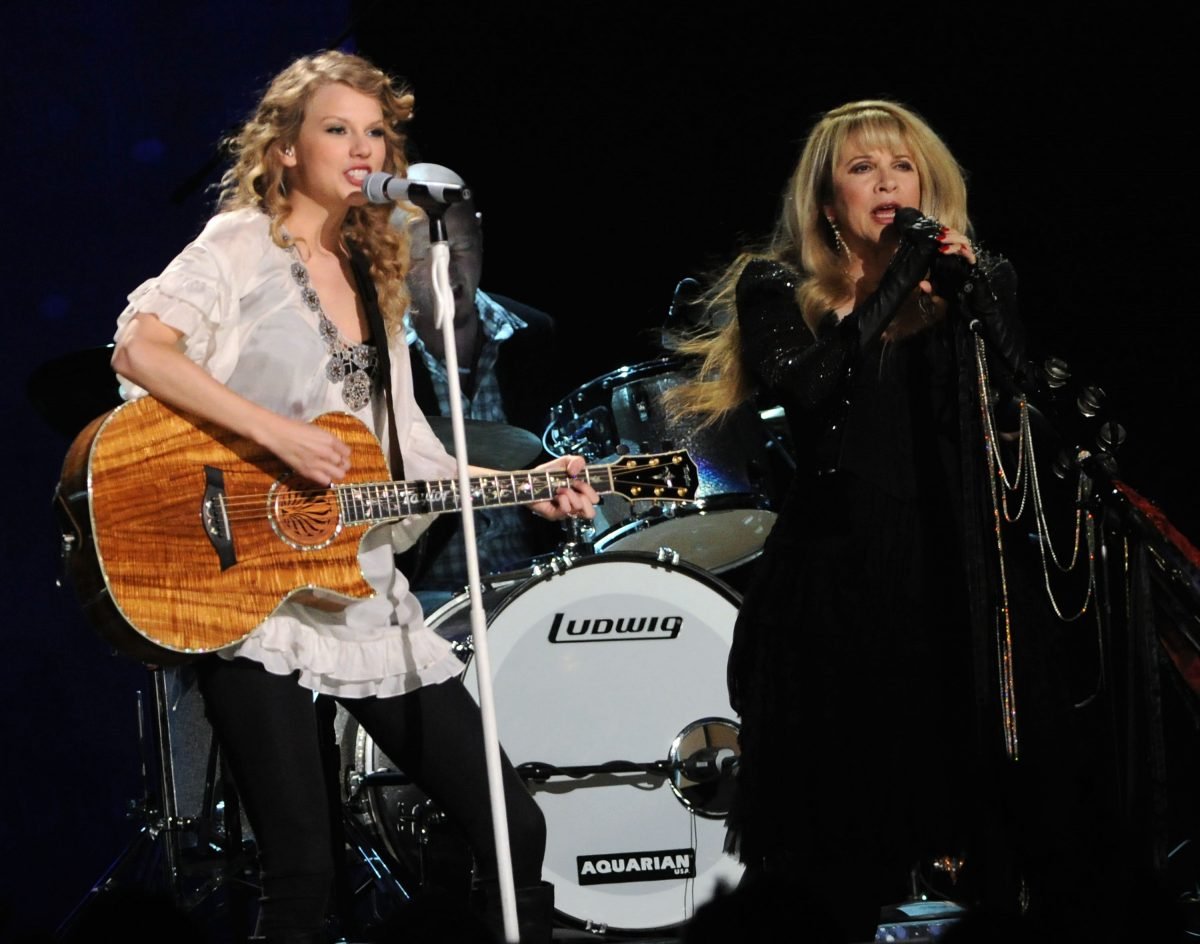 Stevie Nicks said Taylor Swift reminds her of herself
Nicks and Swift both knew from an early age that they wanted to be musicians. Nicks explained that Swift's perseverance reminded her of herself.
"Taylor reminds me of myself in her determination and her childlike nature. It's an innocence that's so special and so rare," Nicks wrote for Time. "This girl writes the songs that make the whole world sing, like Neil Diamond or Elton John. She sings, she writes, she performs, she plays great guitar."
Nicks was impressed by Swift's musical talent.
"Taylor can do ballads that could be considered pop or rock and then switch back into country," she wrote. "When I turned 20 years old, I had just made the serious decision to never be a dental assistant. Taylor just turned 20, and she's won four Grammys."
She did not want to perform with the younger artist at the Grammys
Despite Nicks' appreciation for Swift's talent, she did not want to perform with her onstage.
"When I first got the call from Taylor Swift about performing with her at this year's Grammy Awards, I really didn't want to do it," she wrote. "She's 20 years old, 5 ft. 11 in. and slender; I'm 40 years older and, to be frank, neither of the other two things! I was not about to stand next to this girl on national television. But her little face just lights up like a star, and I couldn't say no."
Hesitation aside, Nicks was a big fan of Swift's work. She believed she was the future of the music industry.
"I still walk around singing her song 'Today Was a Fairytale.' All of us girls want that boy to pick us up and think that we look beautiful even though we're in jeans and clogs. We want it at 14, and we want it at 60," she wrote. "Taylor is writing for the universal woman and for the man who wants to know her. The female rock-'n'-roll-country-pop songwriter is back, and her name is Taylor Swift. And it's women like her who are going to save the music business."
Stevie Nicks gave Taylor Swift a crescent moon necklace
Nicks often gives out moon necklaces as luck charms. She gave one to Swift. The Haim sisters, friends of Swift and Nicks, explained the story behind the necklaces.
"We'd heard about them from other friends who'd received them saying that they hold the power of the moon," they said, per Vogue. "Stevie said when we meet someone who is in need of healing, it's our job to give it to them."
Source: Read Full Article