During the somber livestream, the choir and other accompanying singers dress in all black as they're performing in a huge dark building in the wake of the tragedy.
AceShowbiz –Kanye West dedicated his latest Sunday Service to the Astroworld victims. Ahead of the spiritual music gathering on Sunday, November 7, a message posted on behalf of the "Hurricane" MC let everyone know that the show would be dedicated "to the loved ones of Astroworld."
The message was posted before the live event kicked off around 1 P.M. PT and livestreamed on Triller, Revolt TV and YouTube. While the message was a clear reference to the tragedy during Travis Scott (II)'s annual music festival, there was no direct mention to it during the Sunday Service.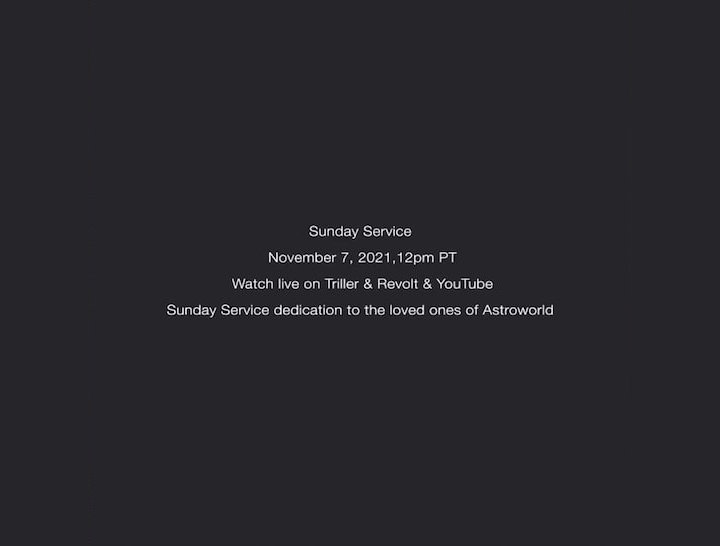 A dedication message was posted ahead of Kanye West's latest Sunday Service.
According to TMZ, somebody took the mic and delivered a few words once all the singing was done, delivering a general message about God and perseverance. Kanye himself was nowhere to be seen during the event.
Meanwhile, this week's Sunday Service clearly had a much more somber tone than the previous installment. The choir and other accompanying singers dressed in all black as they were performing in what seems to be a huge dark building, with just a sliver of light breaking through. They sang some songs from "Donda".
It was quite a stark contrast to last week's Sunday Service, which was filmed during a broad daylight. Everyone was wearing white hoods during the previous event, which had Justin Bieber and Marilyn Manson among the surprise guests.
The Astroworld Festival, which was hosted by Travis, took place on Friday, November 5 at NRG Park in Scott's Houston, Texas hometown. During the packed event, the crowd compressed toward the front of the stage, causing panic and injuries. Eight were killed in the incident, including 14-year-old John Hilgert, a freshman at Memorial High School in Houston, and many others were injured.
In a statement released on Twitter in the wake of the tragedy, Travis said, "I'm honestly just devastated and I could never imagine anything like this happening. We're actually working right now to identify the families so we can help assist them through this tough time… I could just never understand the severity of the situation."
His girlfriend Kylie Jenner, who attended the event, also expressed her condolences on her Instagram Story. "Travis and I are broken and devastated. My thoughts and prayers are with all who lost their lives, were injured or affected in anyway by yesterday's events. And also for Travis who I know cares deeply for his fans and the Houston community," she wrote on Saturday.
"I want to make it clear we weren't aware of any fatalities until the news came out after the show and in no world would have continued filming or performing," she added. "I am sending my deepest condolences to all the families during this difficult time and will be praying for the healing of everyone who has been impacted."
Source: Read Full Article