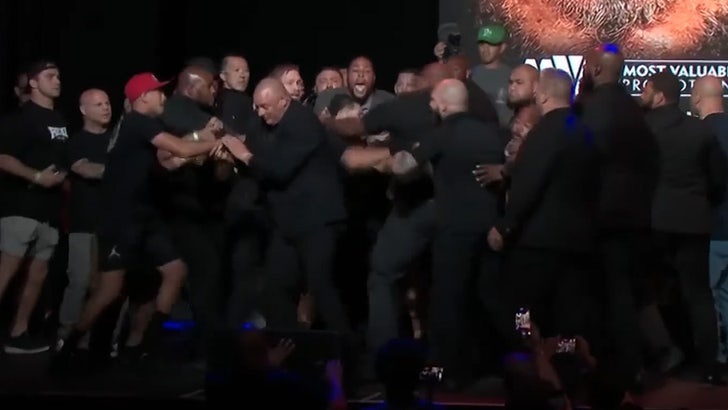 The violence simply couldn't wait for Saturday night — the Jake Paul vs. Nate Diaz press conference ended in an all-out brawl involving both fighters' security … with multiple punches thrown.
The chaos went down minutes ago in Dallas … shortly after Jake and Nate jawed back and forth in their last media event prior to their big fight at the American Airlines Center.
Something happened on stage as Nate and Jake faced off … and a huge scuffle ensued.
It appears Nate was exchanging words with Jake's manager, Nakisa Bidarian … when Paul's security intervened.
In footage from the incident, you can see punches thrown … but thankfully, the scrap was handled rather quickly — and both boxers appeared to steer clear of it.
Jake and Nate unleashed on each other earlier in the event … with Paul saying, "I'm going to bend him over and f*** him like a cowboy."
"I'm gonna ball on his face, like Luka Doncic dropping 40 on his face. Knock him out, Luka Doncic on his head ass."
There were also some homophobic comments made … with Diaz referring to Paul as the f-word during a heated exchange with a member of Betr Media.
The real fight goes down in just two days … getcha popcorn ready.
Source: Read Full Article