Dark circles are probably one of the most talked-about skincare concerns for South Asian people. Nearly all of us have come to expect the "you look tired," comments when not wearing makeup. While millions of people with our melanin-rich skin are prone to these remarks and the confidence-hit that comes along with it, most of the brightening treatments, under-eye masks, serums, and color correctors on the mass market aren't catering to Indian skin like mine (trust me, I've tried them all).
But when influencer-turned-CEO Deepica Mutyala came out with her FUBU brand Live Tinted, she became a household name for South Asian beauty lovers with the launch of her now cult-favorite Huestick Color Correctors (my favorite is in the shade Origin!). While I've come to embrace using those red-hued multi-tasking sticks to blur, brighten, and correct my dark circles when I wear makeup, I also want to feel like I'm working to nourish and brighten my skin in my skincare routine, too.
I felt like I'd tried every brightening eye cream and mask out there, and while I do have a few products that I've liked, my latest obsession is one of Live Tinted's most recent launches—the gorgeous Rays Copper Eye Masks ($22, Live Tinted). If you haven't already fallen in love with the look of these while scrolling through your Instagram feed, here's why I've recommended them to all my melanin-rich friends and family: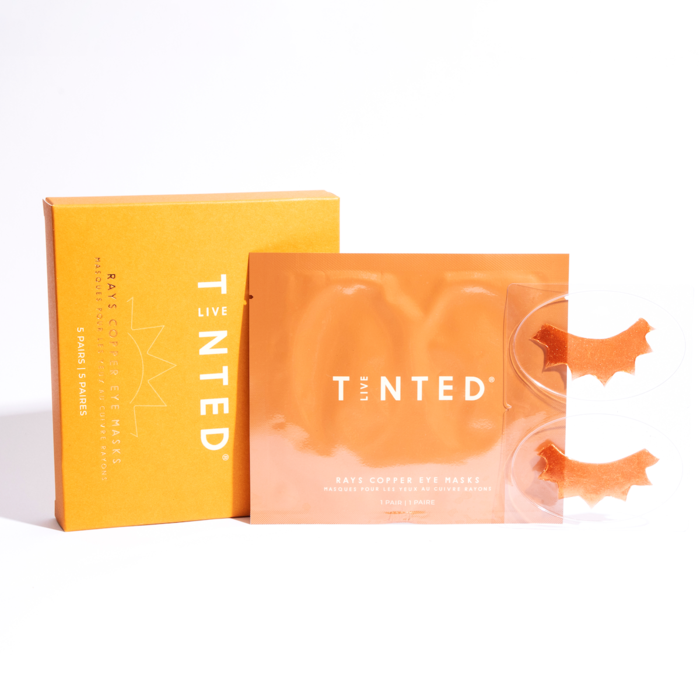 They show visible results, fast.
In a world in which instant gratification is (literally) at our fingertips, skincare is usually one of the areas of life in which patience is required. These eye masks are the exception to that. I simply pat on the comfortable patches for 20 minutes (the instructions say 10 minutes, so if you have sensitive skin, I suggest sticking to that) and look like I got a full night's sleep—and a five-star facial.
My skin looks visibly brighter almost instantly after using it, likely due to the star ingredients this is packed with, like stimulating caffeine and cooling cucumber. I (again, literally) couldn't believe my eyes when I saw how bright they looked. I almost second-guessed whether or not I had concealer on. They looked that good.
https://www.instagram.com/p/CPYiyNhHiFG/
A post shared by chesca (@cescavie)
They're easy to use.
All you need is 10 minutes to wear these, so they're a great option to throw on under your eyes while you do the rest of your skincare routine or your face makeup before getting to your eyes. The best part is that they're super comfortable and don't uncomfortably poke your sensitive under-eye area like some eye masks tend to do. (Just be sure not to wear any heavy eye creams or oils underneath this, because it'll cause the eye masks to slip down your face.)
It's a brand I love to support.
Live Tinted was founded in an effort to dismantle colorism in the beauty industry, and it does so with everything from the models they work with to the people the company hires and the products they create, all of which feature inclusivity at the core. Yes, it feels great to invest in good products that cater to your skin type and deliver some seriously amazing results, but Live Tinted is more than that. The brand is all about normalizing and embracing things like your dark circles and pigmentation because for medium to dark-skinned women, these are the things that bring us together.
More than that, all of the products from the line are vegan and certified cruelty-free. The eye masks in particular are biodegradable, too (they turn into a gorgeous gold glitter when you put them in water). It's no wonder the beautiful masks went Insta-viral almost overnight. Between the gorgeous sun shape and copper color of the eye masks, they're too cute to not show off on Insta—part of me just wants to wear these out in public.
Source: Read Full Article