A plan to install what some describe as a rooftop "nightclub" atop a historic bayside hotel has local objectors seeking legal representation.
Residents living near Middle Park Hotel say they are OK with the venue operating as a quiet neighbourhood pub, but they aren't happy with plans to turn it into what one resident's petition describes as a rooftop "nightclub".
Middle Park Hotel was constructed in 1889 and is protected by a heritage overlay.Credit:Eddie Jim
Middle Park locals are looking to hire legal representation to block an application to increase the Victorian three-storey hotel's capacity by 200 people, introduce seven-day operating hours until 1am, and install a new floating terrace to host DJs.
Resident Joanna Bainbridge voiced her opposition to the application at a Port Phillip council meeting in July.
"It comes down to the rights of the residents and ratepayers to sleep peacefully in our beds, against the rights of the owners of Middle Park Hotel who just want to make money," she said.
Some local residents do not want the hotel to introduce seven-day operating hours until 1am.Credit:Eddie Jim
"We have deep pockets, long memories and very loud voices, and we will fight this."
Supporting the project is the pub's owner, the Australian Venue Co, which is backed by US-based private equity firm KKR and owns 200 venues across the country, including the Espy in St Kilda. It said in a statement that the proposed rooftop was not a nightclub and would reflect the "current offering" of the hotel.
The hospitality giant lodged plans with Port Phillip council in late 2021. A decision was due in the middle of this year, but the matter will head to the Victorian Civil and Administrative Tribunal next year after the council failed to decide on granting a permit.
At a meeting in July, councillors agreed on a position to take to VCAT that would restrict the proposed rooftop deck's trading hours to 9pm during the week and 10pm on weekends, with no live music allowed at any time.
The resident's petition has gathered more than 800 signatures, and organisers have already crowdfunded $19,000 for legal fees to contest the planning appeal when it goes before VCAT.
An artist's impression of the proposed Middle Park Hotel rooftop redevelopment.
Maureen O'Reilly, who lives close to the pub, described the current style of the venue as "very placid", however she worried the rooftop proposal would change that.
She said many families and elderly people live nearby.
"Nobody minds that there's a pub there, nobody minds that they're having a good time, people would just like to get to sleep at night," she said.
"To say, 'You shouldn't have bought next to a pub', it's really not a reasonable response. What they bought next to was a quiet business operating in a community friendly manner.
"Nobody wants to shut down, there was never any talk of that."
O'Reilly said that any potential changes to the building, which was constructed in 1889, were concerning. The hotel is covered by a heritage overlay.
"I can't paint my walls without getting permission," she said.
Adrian King, from the Preserving Middle Park Village community group, described Middle Park as a sleepy hollow where little happens after 9pm.
"We are a tight-knit community that supports our thriving, family-friendly local pub," he said.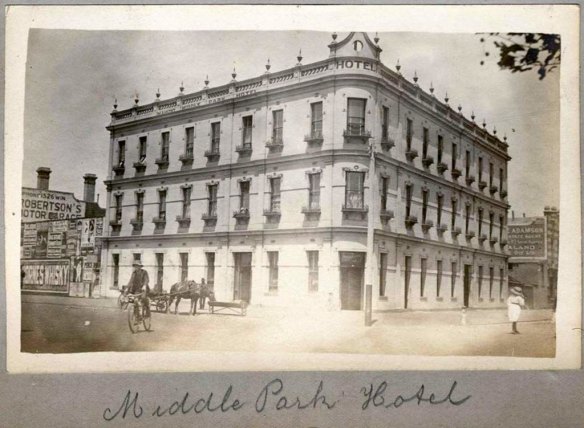 Middle Park Hotel, as it appeared when it was constructed.Credit:
As well as the noise, King said that residents were worried about the potential for antisocial behaviour from drunken patrons and the loss of car parking in the area.
But the Australian Venue Co said the redevelopment would be a "food-led concept, designed to offer the hotel's customer base of predominantly local residents".
"It is not a nightclub, but a stylish rooftop dining space that is designed for bringing friends and families together for high-quality, relaxed dining experiences.
"The concept has been designed for the modern Middle Park family, and will complement the hotel's historic bar, dining room and private dining room offering."
The spokesperson added that Australian Venue Co had taken the advice of acoustic consultants to minimise the noise impact on residents.
The Morning Edition newsletter is our guide to the day's most important and interesting stories, analysis and insights. Sign up here.
Most Viewed in National
From our partners
Source: Read Full Article