"Get off Twitter." I received that advice from several people when I started as Age editor nearly a year ago. I have been, at times, a Twitter addict, spending far too much time on the social media platform, occasionally getting into arguments, enjoying its banter, and of course, following breaking news.
Twitter is the journalists' social media platform of choice and I would have argued a few years ago that it was essential for them to be on Twitter. It was invaluable to promote their work, to make contacts, to get a sense of what people – at least those on Twitter – were talking about that day. And philosophically, Twitter's promise was to be a democratising force, allowing citizens to engage with and criticise those with power – including journalists.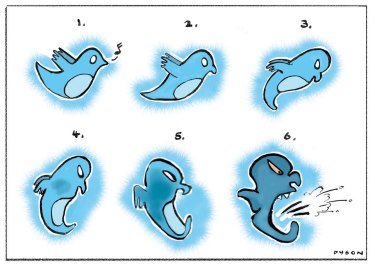 Credit:Andrew Dyson
I am not so sure now whether its benefits outweigh its drawbacks for journalists, or others who engage in public debate. I remain torn, and the issues involved go beyond individual journalists and their personal decisions.
This week, there was an interesting discussion after Lisa Millar, the co-host of ABC TV's News Breakfast, deactivated her Twitter account after deciding the personal abuse she received was no longer outweighed by Twitter's professional benefits. I first met Lisa when we were both Washington correspondents 20-odd years ago and a straighter, more professional journalist would have been hard to find.
The Twitter abuse became constant and antagonistic, revolving around accusations that she was right-wing. It focused especially on the fact that her father, Clarrie Millar, represented the Country Party in Queensland – the sexism of that charge is outrageous.
7.30 host Leigh Sales wrote a long piece after Millar's decision about the issue of journalists – especially female journalists – being abused on Twitter, abuse that is "non-stop, personal, often vile, frequently unhinged and regularly based on fabrications". Often, but not always, it is posted by people who are anonymous.
Sales pointed out, too – and this is true in my experience – that the most vicious personal abuse on Twitter usually comes from people from the left of politics, those who find any questioning or scrutiny of lockdowns or Labor premiers, for instance, proof of conservative bias or bad faith.
Sales noted that when Millar removed herself from Twitter, the attacks on her escalated. Similarly, after Sales' piece, while some on Twitter addressed her arguments, even if they disagreed with them, many just continued the lazy allegation that she was a right-wing lackey.
We commissioned journalist and academic Margaret Simons to write an opinion article on this. Simons agreed that personal abuse was rife and is never OK, but she said that Sales "fails to draw a distinction between abuse and legitimate critique".
This is often the Twitter riposte whenever journalists say the toxicity has worsened. "You just don't like to be criticised," is the response, pointing out that Twitter gives people a way to talk back to journalists who in the past rarely engaged with critics, especially in such a raw way.
I think this is fair to a point. Journalists can be thin-skinned, clubby and defensive about criticism. Some journalism is inaccurate, even unintentionally. Some news organisations do have agendas. I found some criticism of journalists during last year's marathon press conferences by Premier Daniel Andrews obviously partisan, implying that it was wrong to scrutinise government policy at all during a crisis. But some criticism was legitimate. I, too, listened to some of the press conferences and thought, "what sort of stupid gotcha question was that?"
I don't think Sales was confusing critique with abuse. She was talking about abuse, which may start out as a criticism but ends with relentless personal attack. The idea of "engaging" with bullying is pointless and Millar made a rational choice to put her mental wellbeing first.
Similarly, the idea that media organisations should better educate their journalists to handle Twitter is fine, but really, there is little an organisation can do to protect its journalists against vicious, anonymous, personal attacks. If journalists like Hamish Macdonald and David Speers – both pretty mild-mannered – decide Twitter is too polarised to be much interested in discussion or reasonable debate, many other journalists are likely to come to the same conclusion.
One point that needs to be made is that for small independent media, social media, including Twitter, is essential to promote their work. Another is that journalists need to remember that Twitter is seductive, dangerously so. Nobody posts on Twitter, "pretty good story in The Age today". Twitter defaults to "nailed it" or "outrageous". Not everyone is like this on Twitter, of course, but the loudest, angriest voices tend to dominate.
Twitter lures journalists into giving their personal opinions about contentious issues far too often. For news journalists or credible presenters to tweet that "lockdowns don't work", or to swipe at one premier's approach over another's is foolish. ABC journalists should not do it, in my view. Neither should journalists from The Age.
Journalists at left-wing media are often Twitter darlings, but those that attempt fairness – and I don't mean "he said, she said" journalism – are often at the mercy of hair-trigger Twitter partisanship.
Twitter also encourages some journalists to think of themselves as celebrities. I am old-fashioned, but news journalists should not be celebrities posting selfies of themselves to boost their "profile". It doesn't help their credibility as honest, curious, seekers of truth.
Many of our journalists, particularly those who cover rounds like health or education or politics, are on Twitter and believe it to be invaluable. I do worry about them because it can so quickly morph into persistent personal abuse and even rare threats of violence, especially if they are women or people of colour.
I am happy if they decide to go off it entirely – some of our best journalists and commentators, including Waleed Aly, Peter Hartcher and occasional columnists such as Stan Grant are not on Twitter. In the end, it's their work that matters.
What I think may happen is that many journalists will remain on Twitter, but post less and watch more. That is a shame given Twitter's promise of discussion, debate, and holding those with public platforms to account, but it seems inevitable.
Gay Alcorn sends an exclusive newsletter to subscribers each week. Sign up to receive her Note from the Editor.
Most Viewed in National
From our partners
Source: Read Full Article