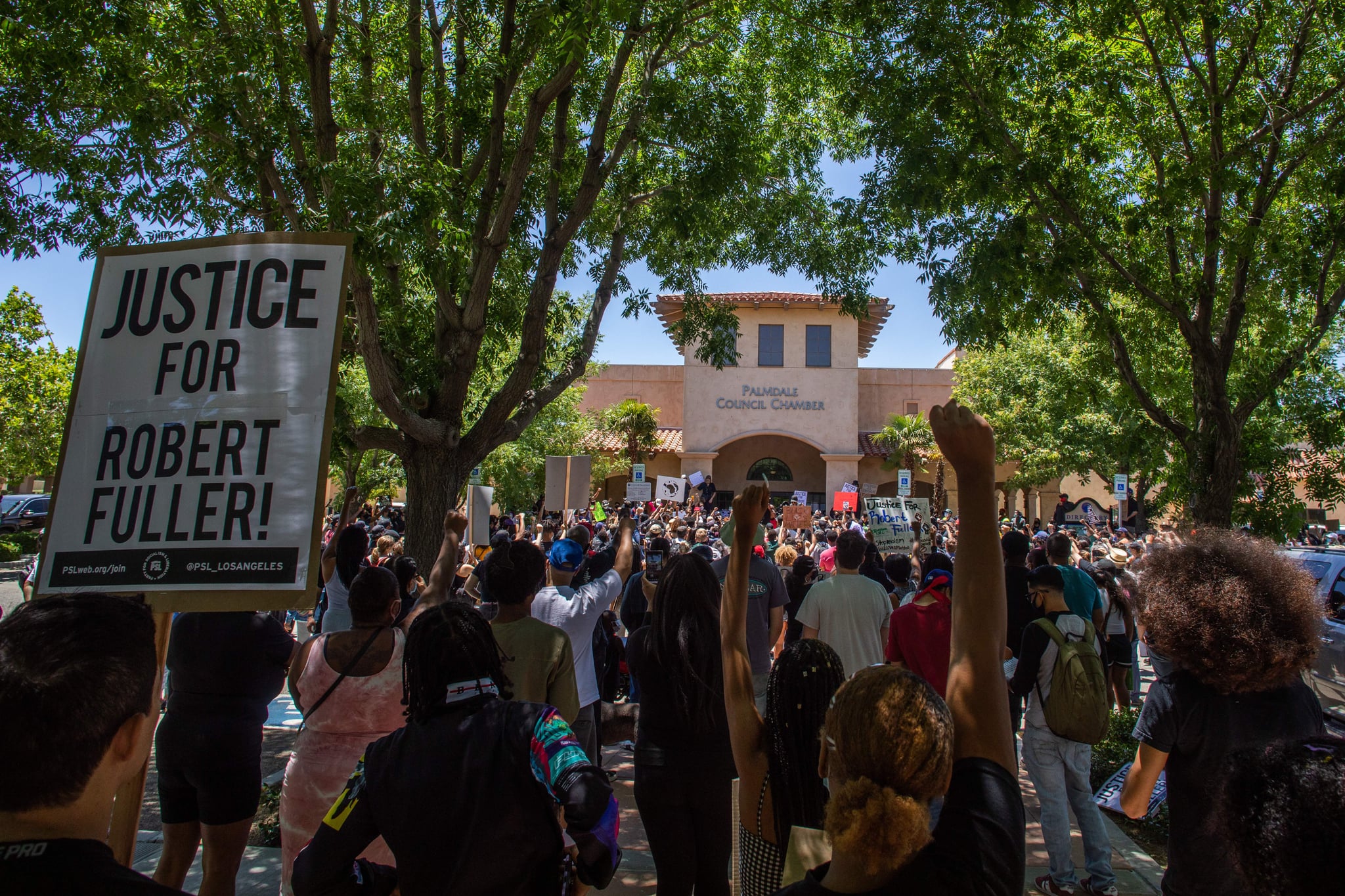 Politicians, celebrities, activists, and others nationwide are calling for an independent investigation of the death of Robert J. Fuller, a 24-year-old Black man who was found hanging from a tree near Palmdale City Hall in California on June 10. He was found by a passerby around 3:40 a.m., and according to city officials, there were no working security cameras in the area.
On Thursday, the city released a statement describing Fuller's death as a suicide and alluded to a connection to the COVID-19 pandemic. "Many people are suffering extreme mental anguish and the City wants everyone to know that help is available," City Manager J.J. Murphy said in the statement. Fuller's family and friends, however, believe he was lynched. Some think the police jumped to conclusions by ruling out a hate crime so quickly. Fuller's loved ones are confident he wasn't struggling with his mental health, and they're demanding his death be treated as a homicide.
News of the circumstances surrounding Fuller's death spread quickly and people across the country joined Fuller's loved ones in a call to action. They drew similarities between Fuller's death and the death of Malcolm Harsch in Victorville, CA, on May 31. Celebrities with massive audiences, like Viola Davis, Kim Kardashian, and Jameela Jamil, used their platforms to urge for a thorough investigation. Local protesters organized outside the Palmdale Sheriff's Station and made their voices heard.
Image Source: Instagram user 1800balboa
In response, the city reversed its stance and joined the family's call for an independent investigation and autopsy. "The City of Palmdale is joining the family and the community's call for justice, and we do support a full investigation into his death," the city said in a statement released on June 13. "We will settle for nothing less than a thorough accounting of this matter."
This is progress, but there's still work to be done. Here's what you can do to ensure Fuller's death receives the attention and investigation it deserves:
Sign the Change.org petition demanding a thorough and transparent investigation and the release of any video surveillance from surrounding buildings on the night of his death.
Hold local officials accountable by calling Lt. Brandon Dean of the Los Angeles County Sheriff's Department Homicide Bureau and email Mayor Steve Hofbauer to voice your concerns about Fuller's death.
Donate to help cover burial costs via the family's GoFundMe page.
Source: Read Full Article