A little-seen film documenting the rise of Australia's black power movement in the 1970s and the establishment of the Aboriginal Embassy in Canberra has been saved from oblivion and will be shown at cinemas across the country.
Italian filmmaker Alessandro Cavadini was embedded in the embassy for the length of the shoot, and his film – Ningla A-Na (meaning "hungry for our land") – is regarded as a historically significant document on a dynamic yet turbulent period in Australia 50 years ago.
(L-R) Michael Anderson, Billie Craigie, Bert Williams and Tony Coorey on January 26, 1972, on the lawns in front of Old Parliament House. The beach umbrella embassy was the idea of Coorey.Credit:Noel Hazard
Now the film has been digitally restored after a successful crowdfunding campaign raised $40,000 that included a significant contribution from Hollywood star Russell Crowe.
"The original print was literally about to fall to bits," said Haydn Keenan from Smart Street Films, the distribution company behind its restoration and re-release.
"All the splicing was coming apart, and if something wasn't done, it was going to be lost forever. We decided that we would give crowdfunding a go, and we were absolutely overwhelmed with support," he said.
Keenan sent the original film stock to an Indian company that had just finished preserving the classic 1962 film, Lawrence of Arabia. He said it returned in such impressive quality that it demanded a cinematic release to a wide audience for the first time.
Haydn Keenan from Smart Street Films sent the deteriorating Ningla A-Na film stock to India for digital restoration.
The documentary was originally released in 1972, with screenings limited mostly to filmmaker co-operatives, Keenan said.
"Ultimately, we want people to see this tough, raw, in-your-face 1970s film," Keenan said.
In 1971, Cavadini was 29, fresh out of a politically charged Paris and working for Sydney-based Italian-language newspaper Nuovo Paese. The Australian Black Panthers were impressed by the young journalist's audacity: Australian filmmakers in those days weren't game to venture into Aboriginal Redfern.
Granted exclusive access to the group, Cavadini began to follow the Panthers around, recording their political organising and the community programs they were setting up. It was clear their political movement – confrontational, often wryly ironic, and grounded in Aboriginal land rights – was on a collision course with conservative Australia.
Ningla A-Na captures the moment that unique energy erupted and materialised in the establishment of the Aboriginal Embassy on the lawns of Parliament House.
The embassy – the world's longest-standing protest – was the group's response to a statement by then-Coalition prime minister William McMahon, issued on the eve of January 26, which said that Aboriginal land rights were "utterly alien" to his government's objectives.
The film shows Labor opposition leader Gough Whitlam expressing his support for Aboriginal land rights and self-determination, a moment that signalled an end to Australia's racist assimilation era. Six months later, Whitlam ended 23 consecutive years of conservative government.
Now in his 80s, Cavadini continues to examine topical social issues with his films – his latest documentary, Tenants and Towers, looks at the tensions and conflicts of housing rights in New York City – and maintains an interest in Aboriginal issues.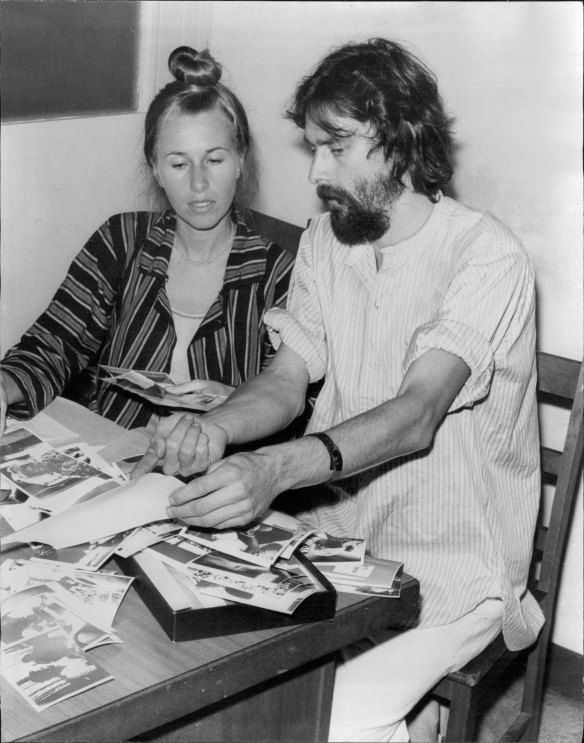 Alessandro Cavadini in 1976 with filmmaker and collaborator Carolyn Strachan.Credit:Martin James Brannan
Cavadini said the fly-on-the-wall film contains conversational topics that remain politically relevant, particularly the debate surrounding self-determination and a constitutionally enshrined Indigenous Voice to Parliament.
"It's a fantastic discussion-starter for people," he said. "For people considering now the vote [referendum on a Voice to Parliament]," he said.
Veteran activist and historian Professor Gary Foley, who appears prominently in Ningla A-Na as a young Black Panther, said there are "many parallels" between that era and the present.
"Back then, the big issue to do with history and race was centred around the South African anti-apartheid movement. That became a global movement that ultimately had impacts in numerous other countries around the world," Foley said.
Gary Foley protesting a tour by the South African rugby team in 1971.Credit:Sydney Morning Herald
"The same thing is going on with the Black Lives Matter movement now. And the issue that triggered the black power movement that created the embassy was police brutality and Indigenous incarceration rates and deaths in custody. What a remarkable coincidence that those issues are still at the forefront 50 years later."
The restored version of Ningla A-Na will screen in 17 cinemas across the country, including in most major cities and some regional cinemas.
It premieres at Melbourne's Nova Cinemas on Friday, September 30, and will be supplemented with panel sessions comprised of "bomb throwers, anarchists, and tearaways", Keenan said.
The Morning Edition newsletter is our guide to the day's most important and interesting stories, analysis and insights. Sign up here.
Most Viewed in National
From our partners
Source: Read Full Article