COVID-19 could end the days of cramming university students into large lecture halls, and that will be no bad thing, Victoria's newest vice-chancellor says.
Six weeks into the top job at Federation University, Duncan Bentley says the regional institution will persist with many of the remote teaching and learning practices it had to switch to when its campuses were shut in March, even once students are permitted back on-site.
"We will never go back, as far as we can help it, to large lectures where students come for the first couple of weeks and they get bored and don't hang around," Professor Bentley said.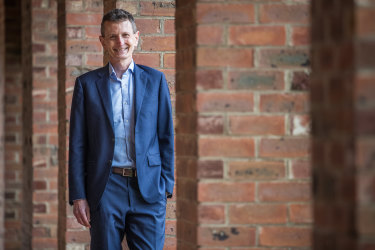 New Federation University vice-chancellor Duncan Bentley has vowed to save as many jobs as he can. Credit:Jason South
Federation University's main campus in Ballarat and its smaller ones in Gippsland and the Wimmera are mostly devoid of students and staff, even though many other coronavirus restrictions have been relaxed in regional Victoria.
"Lectures can have their uses and sometimes you might bring everybody together and have an inspiring person storytelling in a way which keeps you spellbound, but that's not the norm," Professor Bentley said. "We need to make sure that we use the mode of delivery that keeps everybody engaged and learning."
The global pandemic is forcing Victoria's universities to reinvent themselves in a hurry.
Students from overseas contributed 46 per cent of fee revenue at the state's universities before the nation's borders were closed early this year, more than anywhere else in the country.
In July last year, more than 56,000 people arrived in Victoria on an international student visa, the Bureau of Statistics says. This July there were fewer than 10 arrivals.
Billions of dollars and thousands of jobs have disappeared with them.
Federation (formerly Ballarat) University is the smallest of the state's eight public universities but it is just as exposed to the collapse of the international student market as leading institutions such as Monash University and the University of Melbourne.
In 2018, Victoria's auditor-general warned the university's long-term future was not secure, due to declining domestic student enrolments. In the past two years its financial position had improved, driven by a surge in overseas enrolments.
Last year, international student enrolments grew about 13 per cent, from 8969 to 10,304 students.
The university recorded a $36.7 million surplus, its best result in several years, even as domestic enrolments dipped 1.4 per cent.
But the turnaround has brought with it a high reliance on foreign students. Sixty per cent of the university's fee revenue was drawn from international students last year, according to its financial statements.
"We weren't hit as hard this year, but next year it will have an impact on us, as it will with all institutions," Professor Bentley said.
But unlike other Victorian universities, Federation University has no plan to shed hundreds of jobs in response, Professor Bentley said, mindful that job losses in regional areas have the potential to do more damage than in a larger city like Melbourne.
"We will limit them [involuntary redundancies] to the maximum extent possible because it does impact on people," he said. "I'm not going to rule them out but we are going to limit them as much as possible."
The university is seeking voluntary redundancies, has paused recruitments and deferred non-essential capital works.
It is also banking on one other big change for the future: the Morrison government's Job-Ready Graduates legislation, which will increase the tuition fees for some degrees while lowering the cost of others the government deems are in higher demand by employers.
Professor Bentley argued the reforms, which were passed in the Senate last week, have given the sector clear direction.
"We have been in a state of uncertainty for a long time and this bill allows us to cater to the growth in places regionally," he said.
The reforms also include more than $400 million to help regional universities grow enrolments.
"We love the focus on regional scholarships, it encourages students to stay in the regions to study," Professor Bentley said.
A recent analysis by the University of Melbourne's Centre for the Study of Higher Education found the fee reforms will cost Federation University about $5 million a year in revenue from 2024, when transition funding is withdrawn.
But Professor Bentley insists this analysis is based on the university's current course offerings, not on what it will offer in four years' time.
"It gives us time to pivot the way we actually deliver our education and training into the workforces of the future," he said.
This will include boosting the number of short courses it offers and creating training partnerships with regionally based industries, he said.
Most Viewed in National
Source: Read Full Article