Click Me Pregnant: Sperm Bank on Wheels
SBS Viceland, 8.35pm
Made last year for Channel 4, this documentary explores the unregulated, but not illegal, trade in sperm donation that operates via the internet. Over a year, it follows Clive, Mark, Mitch and Paul, "super sperm donors" who advertise their services online. The striking thing about them is the feeling of altruism that they share. "It's the best thing I've ever done," says Mitch. With the world of online donation described as a "highly flawed environment", the film runs through the various available options, from artificial insemination (AI), to natural insemination (NI), partial insemination (PI) and assisted artificial insemination (AI+).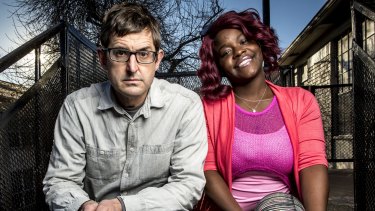 Louis Theroux with Denisha at Santa Maria Hostel.
Women describe their online encounters, which are frequently with men seeking sex. A lawyer outlines the unforeseen complications that this method of conception could hold. But the men seen here who supply the sperm, usually for free, often to same-sex couples and single women desperate to be mothers, view themselves as performing a valuable social service and feel pretty good about their contributions.
Louis Theroux: Dark States – Trafficking Sex
ABC, 9.30pm
English writer, broadcaster and documentary-maker Louis Theroux has long been interested in exploring the dark side, the underbelly of society and the people consigned to the margins. In this episode of his 2017 BBC series shot in America, he's in Houston, Texas, a hub for human trafficking, and explains he's "on the trail of prostitutes and their pimps". Theroux's mild manner, genuine curiosity and absence of judgment encourages people to talk to him and here he's endeavouring to understand the relationships between female sex workers and the men who control them.
He's wondering how the women can see the men who pressure them to service clients, then take their money and sometimes physically assault them, can be seen as protectors rather than parasites. He discovers stories of abuse and fear, as well as revelations of excitement; he interviews a pimp called Fancy in prison; and he finds out how sex-trade "families" function. He also visits an organisation that supports sex workers who want to leave the industry. In the end though, in terms of the relationships between the sex workers and their pimps, pink-haired Danecia seems to sum it up best: "It's complicated," she shrugs.
Source: Read Full Article