For the final season of This Is Us, Dan Fogelman reached out to the show's stars to see who wanted to get involved behind the scenes. Some cast members wanted to direct, and others wanted to write. And Mandy Moore decided that she wanted to try directing an episode of This Is Us. However, she soon realized how tough it was to act and direct at the same time.
Mandy Moore makes her directorial debut with 'This Is Us' Season 6 Episode 9
Fans and critics have consistently praised Mandy Moore's work as Rebecca in This Is Us. But the final season has put the actor to the test with her character's Alzheimer's diagnosis, and Moore has more than delivered. However, the world will get to see her talent as a director in the next episode. Moore is making her directorial debut in This Is Us Season 6 Episode 9, the Kate-centric hour of the Big Three trilogy.
This set of three episodes is not only remarkable in front of the camera as it highlights the Pearson siblings, but it's also noteworthy because three of the show's stars are directing them. Milo Ventimiglia directed episode 8, the Kevin hour, Mandy helmed the Kate episode, and Justin Hartley sat in the director's chair for episode 10, Randall's hour.
Also, Chrissy Metz co-wrote episode 9 with David Windsor and Casey Johnson. So This Is Us Season 6 Episode 9 is bound to be a transformative hour of the NBC drama as both Mandy Moore and Chrissy Metz had a hand in its creation.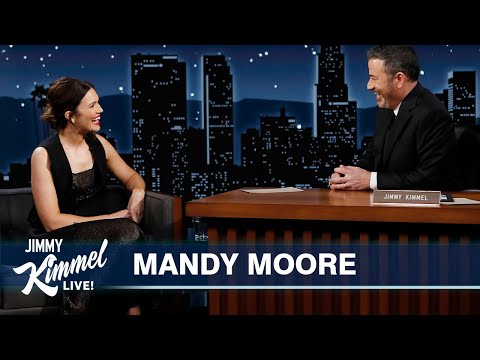 Mandy Moore had to direct while wearing a bathing suit on the 'This Is Us' set
Mandy Moore appeared on Jimmy Kimmel Live to talk about This Is Us and her directorial debut.
"Yeah, it was fantastic," Moore shared. "It's funny; we did this trilogy of episodes a few times over the course of six seasons. And so Milo, myself, and Justin directed this trilogy together. And so much of it takes place with our characters, Milo and I, in certain scenes, which was very strange to have to direct yourself while you're acting with seven-year-old children in bathing suits in Long Beach in the rain. I mean, it was like throwing every single obstacle [their way]."
The actor added, "I was in a bathing suit directing. It was not my choice. I have to be honest with you. I was cursing [creator] Dan Fogelman as we were freezing our butts off in the water."
"It was a fantastic experience," Moore concluded. "I mean, we have the most incredible crew, the most incredible cast. And I have even more affection and respect for everybody after being in the director's chair."
Although she joked about "cursing" Dan Fogelman while directing episode 9 of This Is Us Season 6, Mandy Moore was grateful for the experience and happy with how the episode turned out.
Everything we know about the Kate-centric hour of the Big Three trilogy
Mandy Moore steps behind the camera in This Is Us Season 6 Episode 9, but the hour will be all about Kate. "Number Two" of the Big Three will join Toby in San Francisco for a couple's weekend. And, in doing so, she will try to repair her marriage.
During an interview with Entertainment Weekly, This Is Us co-producer Laura Kenar said, "Off of Rebecca's speech in [episode 7], Kate is heading to San Francisco with Toby … They get into some deep realizations about their marriage and how they feel about each other. And there's some tough logistic stuff going on in their lives and what they both want out of their lives. So this is kind of the start of definitely seeing those cracks."
This Is Us Season 6 Episode 9, directed by Mandy Moore, airs Tuesday, March 22, at 9 p.m. ET on NBC.
Source: Read Full Article