Jeremiah Duggar is the eleventh child of Jim Bob Duggar and Michelle Duggar. He is just five minutes younger than his twin brother, Jedidiah Duggar. Jeremiah and Jedidiah (nicknamed Jed) are the second pair of twins in the Duggar family, following twins John-David Duggar and Jana Duggar.
Jeremiah and his twin brother were born on December 30, 1998. They have eight younger siblings and nine older siblings for a total of nineteen Duggar children, who all starred on "19 Kids and Counting," the series based on several one-off documentaries about the large family's life and stringent Christian evangelism. As a result, Jeremiah has been in the spotlight since age 5.
In July 2015, the show was canceled following the eldest brother Josh Duggar's molestation scandals, but by early 2016, TLC announced a spin-off, called "Jill and Jessa: Counting On," named after two of the older Duggar daughters, before shortening it to "Counting On." Jeremiah was featured frequently on the spin-off. After yet another disturbing scandal involving Josh Duggar in summer 2021, "Counting On" was cancelled, too.
Jeremiah, however, seems to have plans for himself beyond the show, both professional and personally. Keep reading to find out where the eleventh Duggar child is working and what his love life looks like.
Jeremiah Duggar has some serious training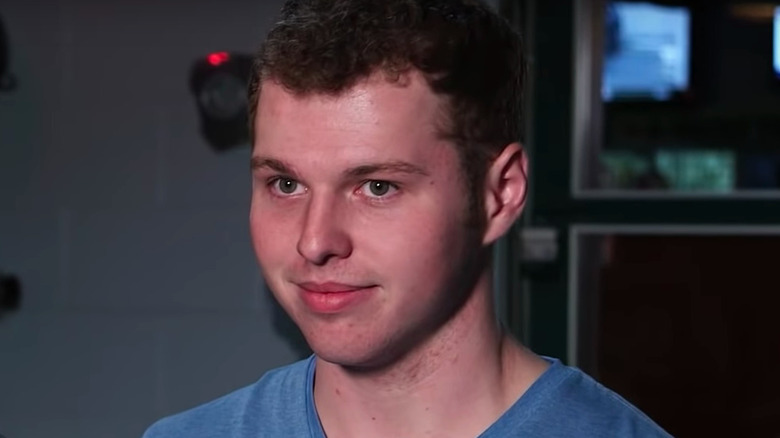 Along with several of his brothers, including Joseph Duggar and Josiah Duggar, Jeremiah Duggar attended ALERT Academy, where he was part of an air land emergency resource team. According to the organization's website, ALERT Academy's mission is "Forging extraordinary men who influence their world for Christ," which is certainly in line with the Duggar family's beliefs. In an Instagram video posted August 21, 2020 on the Duggar family's account, Jeremiah spoke about his experience at ALERT Academy and encouraged other young men to attend. "I just did the basic training, and it's pretty much using the military structure to teach you discipline," he said. Jeremiah also noted that the academy offers diving certification, paramedic training, and piloting licenses. In the caption, he wrote, "My brothers and I definitely recommend this program to help you grow physically and spiritually. Learn skills that you can use wherever God takes you!"
It appears that Jeremiah made the most of his time at the training academy. In a blog post on the Duggar family's website, his mother, Michelle Duggar, wrote that he received the 1 Timothy 4:12 award for setting a good example for others and motivating his fellow attendees during 12- and 24-hour hikes.
Is Jeremiah Duggar's IG account trying to tell us something?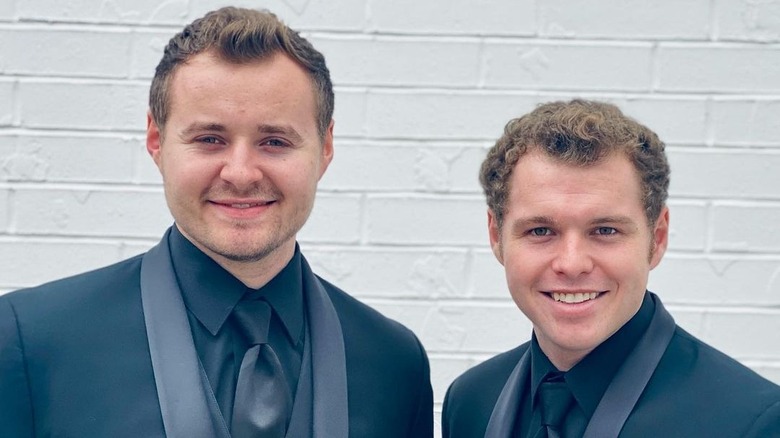 Although he's been a reality TV star since he was barely out of diapers, Jeremiah Duggar only joined Instagram in early 2021. He first posted a picture on February 10, 2021 of him standing next to his twin brother, Jed, wearing matching black suits (shown above). The sweet caption reads, "My first moments in life were with ya, so it's fitting that my first Instagram post is with you too. So blessed to be able to call you bro, and twin bro at that!" His only other post — that's right, there are only two on his whole account — is a snap of his view out of a plane at nighttime. As of this writing, Jeremiah's account is not verified, has just over 37,000 followers, and is following 19 accounts, primarily those that belong to other Duggar family members.
The existence of Jeremiah's Instagram account is interesting, since the Duggar children don't typically have their own social media accounts until they are married, or at least in official courtships. The existence of this account raises the important question — is Jeremiah courting someone?
Jeremiah and twin brother Jed Duggar are super close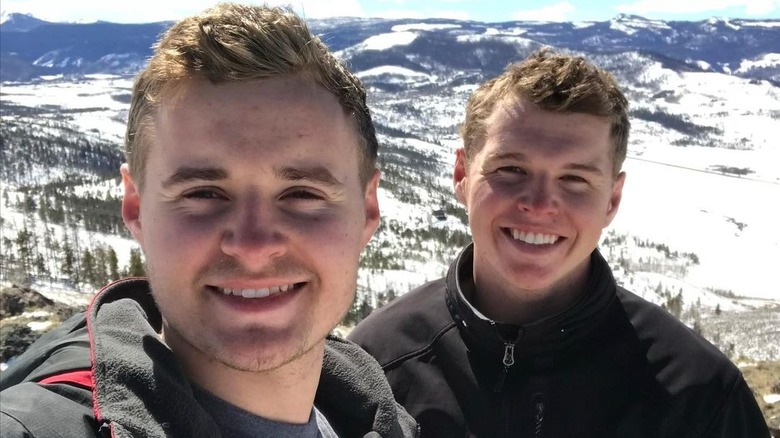 Twins often tend to have a unique bond, and it certainly seems that way for Jeremiah Duggar and his fraternal twin brother, Jedidiah Duggar. Jeremiah's first Instagram post featured him standing next to his twin, and Jedidiah has also posted about his twin on social media.
On the brothers' 21st birthday on December 30, 2019, Jedidiah posted a birthday tribute to his twin on Instagram, sharing photos of the two running a 5K together, co-piloting a plane, and posing on top of a snowy mountain. In the caption, Jedidiah wrote, "I've been so blessed to have you as my twin brother AND my best friend! You have taught me so many things through the years."
Jed also revealed — in what some believe was for the first time — that Jeremiah had served as campaign manager for Jed's failed 2020 bid for a seat in the Arkansas House of Representatives. Jed went on to describe Jeremiah as "kindhearted, dedicated, and hardworking," and gushed, "I couldn't ask for a better guy to have my back, and you know I'll always have yours!! We've had 21 years of life together and I look forward to where God will lead us in the next 21!"
Jed and Jeremiah left the Duggar nest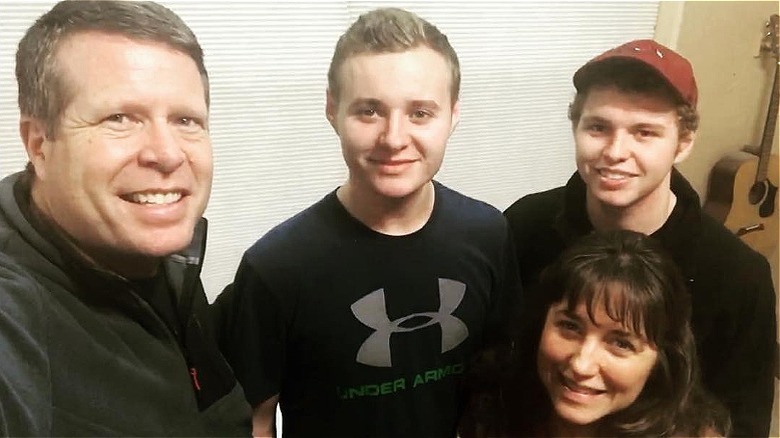 On an episode of "Counting On" that aired on July 21, 2020, Jeremiah Duggar and his twin brother, Jedidiah Duggar, revealed that they had moved out of their parents' house — which is affectionately named "The Big House" on the show — and into their own apartment. In the episode, the twins gave viewers a tour of their modest abode and invited their brothers Joseph Duggar and Josiah Duggar over for dinner, per In Touch. Viewers were likely entertained that even though they moved out of their parents' house, Jeremiah and Jedidiah were still sharing a bedroom (although one roommate is certainly better than sharing a room with nine brothers!).
Typically, the Duggar children do not leave the family's home until they are married. This isn't a hard and fast rule, according to Duggar patriarch Jim Bob, who stated in the episode that "When our kids get, you know, 18 or older, you know, they have the ability to move out or the freedom to do that, but most of them have realized, 'Hey, staying here at mom and dad's house until I get married, I can save up a lot of money.'" However, few of the adult Duggar children have chosen this option except during temporary absences due to school or work.
Yep, Jeremiah Duggar can build that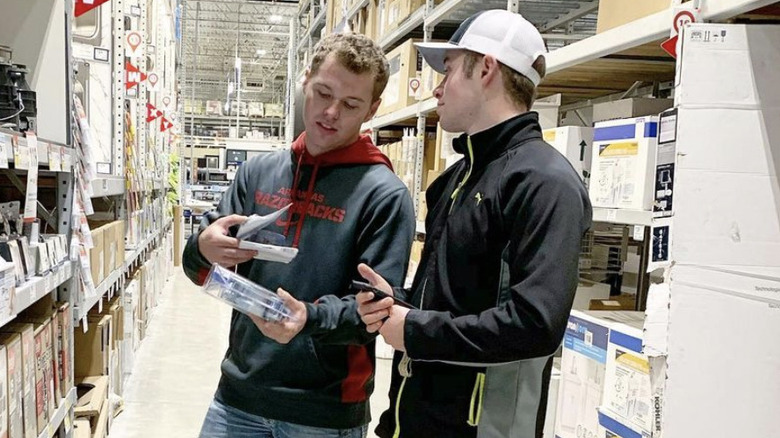 On June 18, 2021, Jeremiah Duggar applied for a business license for a company called Hometown Construction, LLC, The Sun exclusively revealed. Like several of his brothers, Jeremiah is known in his family for his construction abilities. An Instagram post on the Duggar family's account on January 16, 2020 showed Jeremiah and his brother Jason Duggar shopping for construction supplies at Lowe's. The post was captioned, "Jeremiah and Jason know how to get things done! When they're not on a construction site, you can usually find them getting supplies… ready for the next project! Grateful for these hardworking guys!"
Jeremiah's new business venture came at a convenient time — he applied for the business license just days before "Counting On" was cancelled by TLC, which may have been a strategic move. With his family no longer receiving money from their reality TV show, it looks like Jeremiah was thinking ahead about ways he could…build (excuse the pun) his own independent future.
Jeremiah Duggar: Renaissance Man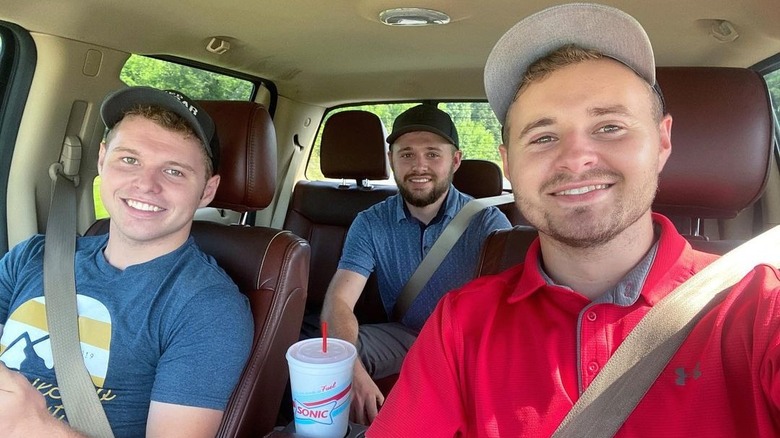 Jeremiah Duggar has done more than star on his family's TV shows and file for a business license. According to The Sun, he also holds a real estate license and worked for Good Neighbor Realty, a Springdale, Arkansas-based company that has also employed his twin, Jedidiah Duggar, their older brother Joseph Duggar, and their younger brother James Duggar.
Jeremiah is also licensed to be a commercial pilot and has worked as a flight instructor. Proud parents Jim Bob Duggar and Michelle Duggar praised Jeremiah's impressive work ethic in an Instagram post celebrating his and Jed's 22nd birthday, writing, "Jeremiah, between your work as a flight instructor, having your CDL and driving heavy machinery, and your skills in construction, you are definitely a busy man!" The parents of nineteen also thanked him for being a devoted son, adding, "And you are always so kind to find time to help your family with projects too!!"
Is Hannah Wissman the secret girlfriend of Jeremiah Duggar?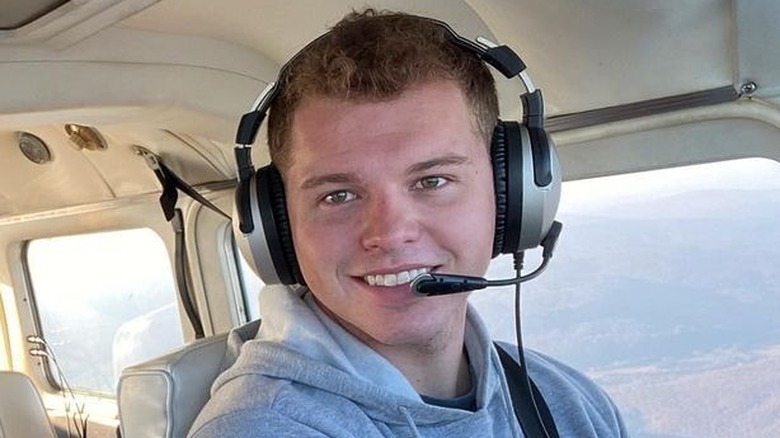 There are rumors among fans of the family that Jeremiah Duggar is courting a woman named Hannah Wissman. Here is what we know: the pair was spotted on a trip to Texas, then seen standing with each other after Justin Duggar and Claire Spivey's wedding. Then, at Jedidiah Duggar and Katey Nakatsu's wedding, Nakatsu's brother was told that Jeremiah has a girlfriend, although the Duggar family has yet to confirm that he is in a relationship. According to Showbiz CheatSheet, some Reddit users on the forum r/DuggarsSnark have posited that Josh Duggar's recent arrest for alleged possession of child pornography may have to do with the family's silence on Jeremiah's love life.
Wissman is the daughter of Loren Wissman and Gloria Wissman and comes from a large family from Nebraska. Like the Duggar family, the Wissmans are fundamentalist Christians, and the families are reportedly good friends, according to Showbiz CheatSheet. Jeremiah Duggar and Hannah Wissman can certainly relate to one another — like her rumored beau, Hannah has lots of siblings (13!), and their family even has a band. Interestingly, it is also rumored that Jana Duggar, the eldest daughter of the Duggar family, is courting Hannah Wissman's brother, Stephen Wissman, with whom she has been spotted multiple times.
Jeremiah Duggar may not be following the family's rules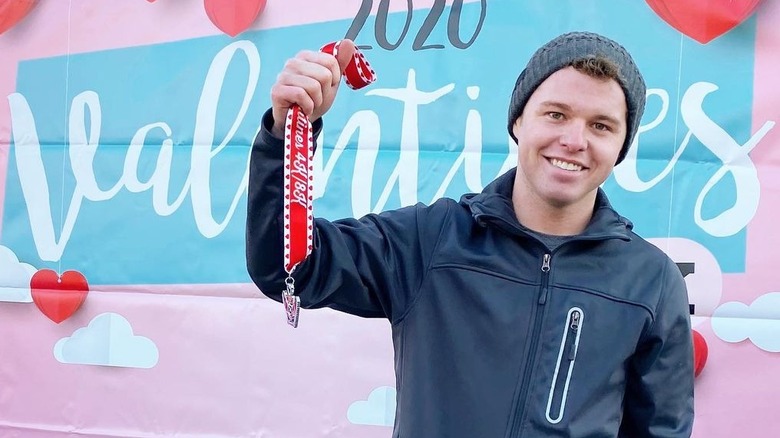 The Duggar children are expected follow many rules, including saving the physical part of their relationship for marriage. This even extends to kissing, which they're not supposed to do until their wedding, and not holding hands until they are engaged, according to Today. However, eagle-eyed social media users have alleged that Jeremiah Duggar may be straying from these expectations. In an admittedly anti-Duggar Reddit group, a user shared a screenshot of a text chain with her cousin, who claims to have spotted Jeremiah and a mystery woman holding hands and hugging somewhere in Northwest Arkansas. In addition, they noted that Jeremiah had an arm around the woman's waist, which is a big no-no for a family who discourages full-frontal hugs between people of the opposite sex outside of marriage. The text chain shows speculation about whether the woman had been Hannah Wissman, and the Jeremiah-spotter concluded that she thought it was.
If the dubious social media rumor is true, the lowkey date would have broken another Duggar family tradition, as it didn't appear that Jeremiah and the woman were chaperoned. Typically, Duggar children are supervised at all times when hanging out with someone that they are courting or are engaged to, according to Today. In fact, Jim Bob and Michelle Duggar are even added to the text chains between their unmarried children and their significant others, so an unchaperoned date is rather unprecedented.
Source: Read Full Article