Have you watched all of The Marvelous Mrs. Maisel's third season yet? If you haven't, stop reading this right now. (And can you teach me the art of self-control?) This season was as gorgeous and funny and binge-able as the two that preceded it. But unlike season 2, which left us feeling like the world was about to be Midge's oyster — or eager audience, anyway — this season has us all crying on the tarmac.
It also left me with a lot of questions about what will happen next to our beloved comedian and her family. I don't have a lot of answers, but I do have some theories about what will happen in season 4, and so, of course, does the rest of the internet.
Where will Midge go next?
You can't argue this: Midge (Rachel Brosnahan) deserved to be fired after that crass, embarrassing Apollo set all about Shy Baldwin's (Leroy McClain) feminine tastes. Her whining that it was Reggie (Sterling K. Brown) who suggested that all along was no excuse at all. She was once again oblivious to the fact that not everyone leads as privileged a life as she has, and that her words have consequences. Those consequences could be very serious in an era where being gay was illegal in many places, and career killing everywhere.
I can't watch the last 20 minutes of the #MrsMaisel finale. As soon as Reggie told her to talk about Shy, my hands got sweaty. The girl has not a lick of sense and has no filter whatsoever. Give me strength to finish it tomorrow. pic.twitter.com/iysh7ZwH0c
Even so, I don't want to see Midge's career go down the toilet forever. That's also pretty unlikely. For this show to continue, she's got to pick herself up and get back out there, and perhaps be a little wiser for her hurtful mistake. Plotwise, if she had done a brilliant set at the Apollo and then gone on tour, the story wouldn't have anywhere else to go but "happily ever after."
As a number of fans on Reddit have said, Reggie's last words to Susie (Alex Borstein), that she'll be in his place one day, give us the most hope for season 4.
Will Midge and her parents keep the Manhattan apartment?
Midge used her tour contract as collateral with Moishe, so will he kick them out when he discovers that she's back home? I would love to see Midge try to keep the Maisels in the dark about her failure, and pretend to still be on tour, for at least an episode or two. But then there's also the possibility of another revenue stream…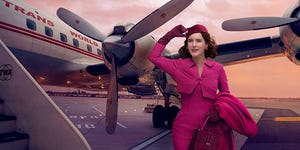 Will Abe and Rose find success in their new careers?
Abe (Tony Shalhoub) has a job offer as the theater critic with The Village Voice, which once upon a time was a great gig that maybe could have paid some bills, if not quite maintained the Weissmans' previous posh lifestyle. (I love this fan's prediction that he'll have to review one of Midge's shows.) Rose's (Marin Hinkle) matchmaking services might really take off too, though I have no clue if that's a profitable business. I do know that these new ventures won't run completely smoothly, given how easily Abe and Rose muck things up for themselves. When they do, I hope we can enjoy another bizarre trip out to her family in Oklahoma.
WHY DO YOU DO THIS TO ME?! @MaiselTV
That season finale was just………#MrsMaisel pic.twitter.com/uoJnzUxgLe
Have we seen the last of Benjamin?
The brief return of Zachary Levi's opinionated surgeon character pleased several fans. I could see Midge turning to him for a minute or two to soothe her ego, but long term? Nah.
DAAANG! @ZacharyLevi didn't have to go that hard in the season finale of #MrsMaisel but HE DID. pic.twitter.com/0XyV5fwvvD
Did they really have to tear me up like that with the Benjamin diner scene? #MrsMaisel @MaiselTV pic.twitter.com/q6QmjOxZ6f
Will Joel's Button Club be a success?
Even with its shaky electricity problem, the club seemed to open quite well. The guy does deserve a break, so I think things will run smoothly for a while. So smoothly that I imagine Midge might ask him to book her, as she licks her wounds.
Will Mei and Joel last?
This will be a bumpy ride, considering that this is the early '60s, and interracial relationships would not go over well with basically anyone (particularly not their parents). I would love to see them try, though, if only to see more of Stephanie Hsu.
I'm OBSESSED with Mei. #MrsMaisel pic.twitter.com/06VWHz4H7x
Will Susie keep gambling?
Oh, geez, did my stomach drop to the basement when Midge said that Susie had been taking care of all her money. I hope her plan to get insurance money out of her half of her dead mother's house works fast. Maybe she can use those mafia connections of hers to block herself from ever gambling again. Side note: Was she actually joking about having a law degree?
OMG I've been #Maiseled again! Susie and Midge continue to be my favorite partnership and @AlexBorstein
& @RachelBros kick it up another notch!
"You'll always be my number one." #MrsMaisel pic.twitter.com/glrldQMr1c
Will Susie ever get to have a romantic relationship?
One of the most disappointing aspects of this entire series is that Susie's refusal to conform to gender norms is constantly played for jokes while she never gets to have a sex life of her own. I'd love to know if this will ever change.
Honestly, as a queer person, I am deeply upset with the treatment of queer folks on #MrsMaisel : to refuse Susie a sexuality and then have your title character humiliate a gay man and have it played for sympathy/character development? Not okay.
And finally, the question on all of Twitter's mind right now, will Midge and Lenny Bruce finally hook up already?
"When you put those two together visually you're like, 'Well, you gotta fuck,' " Amy Sherman-Palladino told Vanity Fair of Brosnahan and Luke Kirby. But the show's creator has been determined to focus more on their professional admiration for each other than the sexual chemistry that knocks us out in waves every time they're together. Their friendship has really grown, too. "I think that, that a lot of time it translates into, 'Well, eventually they're going to have sex.' Right? But it's not necessarily the way it's going to go."
Find someone that looks at you the way Lenny Bruce looks at Midge❤️ #MrsMaisel @MaiselTV pic.twitter.com/Zh9dTw0rCy
Well, but could it go there for just a little bit, couldn't it? Lenny Bruce died of a drug overdose in 1966. That gives us time for at lease a fling — one that could end in mutual respect, like her relationship with Joel. Pretty please?
Calculating the remaining time frame in which Midge and Lenny can fuck before he dies #MrsMaisel pic.twitter.com/ABEGhbByoW
Source: Read Full Article