It's a Friday night and you have a very important date — with your couch, popcorn, and a bottle of wine. If you're feeling like getting in your feelings, Netflix has a line-up of rom-com options to keep you company.
Whether you want to happy-cry at a swoon-worthy scene, or want to cry-cry at a devastating breakup, there's a little something for everyone. So what are you waiting for? Netflix originals, flicks from your teen years, and so many more romantic movies are just a click away.
1. Always Be My Maybe
This Ali Wong and Randall Park-fronted movie is hilarious and heartwarming. They play former BFFs who reconnect years after awkwardly losing their virginity to each other in the backseat of his car. Come for the love story, stay for the eccentric Keanu Reeves cameo.

2. A Cinderella Story
Stream It
Is there any early '00s rom-com better than this one? Debatable. Hilary Duff and Chad Michael Murray star in this modern (okay, "modern" at the time) take on Cinderella. If you didn't watch this at least a dozen times growing up, I seriously question your priorities.
3. Someone Great
Stream It
Yes, this is a breakup movie. (No, that's not a spoiler, it happens very early on!) Still, watching flashbacks of Gina Rodriguez's character falling in love will leave your heart simultaneously swooning and aching.
4. P.S. I Love You
Stream It
If you feel like crying, this Hilary Swank movie based on a book of the same name is sure to do the trick. The trailer alone is enough to make anyone emotional—Swank's character starts receiving letters left behind by her late husband. So make sure to have those tissues handy.
5. About Time
Stream It
This movie has time travel, romance, and quintessential rom-com star Rachel McAdams. What more do you need? Fine. One thing would make this a little better: If The Notebook was on Netflix too, so you could make a whole McAdams marathon out of it.
6. One Day
Stream It
Anne Hathaway stars in this movie about British college kids who almost hook up, but then decide to be friends instead. That tension is strong when they then meet up on the same day every single year. It's a story of fate, heartbreak, and love all mixed together.
7. To All the Boys I've Loved Before
Stream It
Lana Condor and Noah Centineo made teen romance cool again in 2018. Watch this for the 45th time or introduce the film to that one friend of yours who's finally ready to fall in love with everyone's boyf, Noah Centineo. Oh, and the sequel P.S. I Still Love You drops on Feb. 12, so it's the perfect excuse to watch the first m
8. Set It Up
Stream It
This Netflix original doesn't have any grand romantic gestures or emotionally-charged dialogue, but you will definitely swoon at the sight of two people falling in love over pizza when they're not busy "Parent Trapping" their bosses.
9. Ali's Wedding

Stream It
Ali's wedding is the least of his worries in this Australian rom-com. There's loyalty to his family, betrayal (after he lies about getting into medical school), and of course, following his heart.
10. The Kissing Booth
Stream It
There's a reason The Kissing Booth was Netflix's most re-watched movie of 2018. OK fine, there are several: Joey King, Jacob Elordi, and basically every cute thing that happens in this 110-minute adventure. The Kissing Booth sequel has already been filmed, but TBD on when it'll actually drop on Netflix.
11. She's Gotta Have It
Stream It
From the music to the beauty of Brooklyn in the 1980s, Spike Lee's first film about a young woman juggling between three men while trying to remain sexually liberated, hits all the right spots. More recently, Lee made a two-season Netflix series based on the movie and starring DeWanda Wise, so add that to your viewing list as well.
12. The Spectacular Now
Stream It
If you loved the 2008 book by Tim Tharp, then chances are, you've seen the movie adaptation of The Spectacular Now at least a dozen times. Will Shailene Woodley ever not make you an emotional wreck?
13. A Christmas Prince
Stream It
Is there anything better than romance during the holidays? Add to that a handsome prince, a young journalist with a good heart, and all the rom-com cheese you can handle (nothing wrong with rom-com cheese), and you've got yourself an evening well spent. And yes, wearing your own tiara while watching this film is highly recommended.
14. Love and Honor
Stream It
What happens when Liam Hemsworth plays a Vietnam War soldier who secretly returns home to win back his girlfriend? 96 minutes of swoon.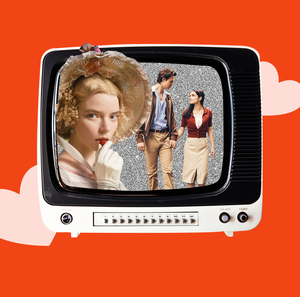 Source: Read Full Article