Look, nothing but respect for Chris Harrison, but I think we can all agree the real president of Bachelor Nation is Nick Viall. Not only has this dude attempted to find love on The Bachelorette twice, he almost got engaged on Bachelor in Paradise, AND he was cast to be the star of The Bachelor. And yet, somehow, he's still single. Which is weird because, as this video clearly proves, he's the perfect man:
In the event that you're currently volunteering as tribute to date Nick Viall, here's everything you need to know about his celebrity-stacked relationship history.
Andi Dorfman
Nick kicked off his illustrious career in Bachelor Nation as a contestant on Andi Dorfman's season of The Bachelorette, circa 2014. Andi ended up rejecting Nick for Josh Murray, which lead to one of most cringe moments in Bachelorette history, AKA when Nick infamously said, "If you weren't in love with me, I'm just not sure why you made love with me."
By the way, he's still salty that Andi picked Josh…even though this all went down *checks notes* six years ago.
Kaitlyn Bristowe
Kaitlyn Bristowe's circa 2015 season of The Bachelorette started Nick-free, but then he was all:
Nick actually joined Kaitlyn's season pretty late in episode 5, after it was revealed they were "talking" before the show started filming. In other words, they had history.
Amazingly, Nick was, once again, the runner-up, and was, once again, rejected. Tough luck.
Leah Block and Amanda Stanton
Kay, so in 2016, Nick briefly dated Leah Block during Bachelor in Paradise season 3, and then moved onto Amanda Stanton—which caused Leah to completely spiral. Behold:
Amanda and Nick ultimately didn't last, but he did form a connection wittttthhhhhh….
Jen Saviano
Nick went so far as to pick out a freakin' ring for Jen during Bachelor in Paradise, but broke things off super last minute due to having a change of heart. Here's a clip of him weeping during his Bachelor audition their breakup.
Vanessa Grimaldi
In 2017, Nick was cast on The Bachelor season 21 for a FOURTH chance at televised love, and ended up falling pretty hard for Vanessa Grimaldi:
But, um, not hard enough for the relationship to stick. These two broke up after just a few months, saying in a joint statement, "It's with a great amount of heartbreak for the both us as we have decided to end our engagement. We gave this relationship our all and we are saddened that we did not get the fairytale ending we hoped for. We will continue to be there for each other no matter what. This hasn't been an easy decision, however, as we part ways, we do so with lots of love and admiration for each other."
January Jones
After reaching new heights of fame due to approximately 80,000 Bachelor Nation shows, Nick moved on to dating real celebs. Or, like, "dating." Mad Men star January Jones and Nick were *rumored* to be a thing in late 2017, all thanks to her appearance on The Late Late Show with James Corden.
During said appearance, January revealed she'd been crushing on Nick, and said he had reached out to her: "You don't know if you like him or if he's a scumbag—and I think that's why I'm attracted to him, maybe? He asked me to battle him on Lip Sync Battle. So is that, like, his way of asking me out, or does he have a problem with me? I don't know what that was. But I declined, because I don't need to be humiliated."
A source told Page Six that Nick asked January out shortly after she went on The Late Late Show, and then she started leaving flirty comments on his IG: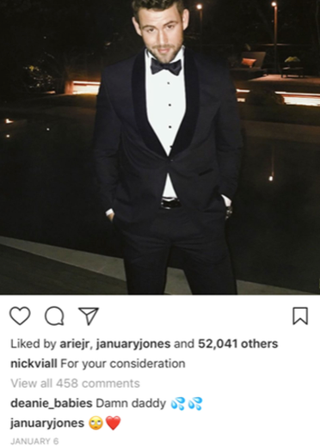 Sadly, things fizzled out after a few months, and January told Entertainment Tonight, "He's a friend of mine. He's super sweet. No, I'm single. But he's a friend of mine and tells me lots of inside scoops."

Rachel Bilson

Back in September 2019, the internet became convinced Rachel and Nick were dating thanks to a series of flirty comments he left on her Instagram, including "nice foliage" and "nice mountains."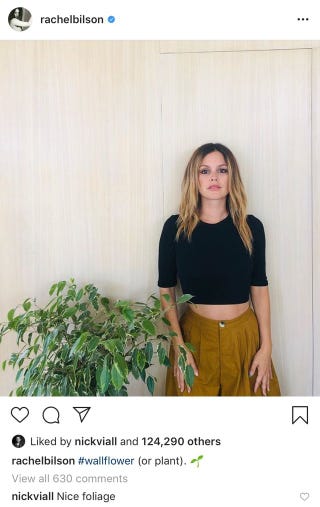 A few weeks later, Rachel was asked about her status with Nick, to which she replied, "I don't want to talk about it." Meanwhile, Nick ended up shutting rumors down by telling Us Weekly that Rachel is a "friend."
Sure. I definitely believe this.
Demi Burnett
There was actually nothing to these rumors, but for a hot second, fans thought Nick and Demi were hooking up because she was spotted at his apartment. "Demi is a close friend, a dear friend," Nick said on his podcast back in November 2019. "We've become close and I care very much about her….Demi has in fact been to my place. As sometimes friends do go to each other's places."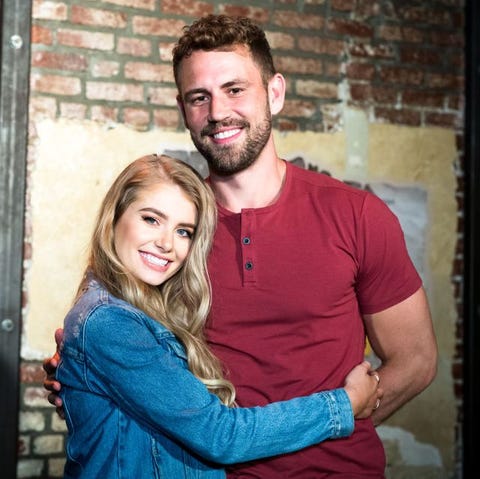 Kelley Flanagan
Nick was most recently linked to Peter Weber's Bachelor contestant Kelley Flanagan, and even teased their vibes on Instagram:
But! When Kelley ended up getting back together with Peter, Nick went ahead and dropped this masterpiece:
And on that shady f*cking note, time to slide into Nick's DMs and shoot you shot. God speed.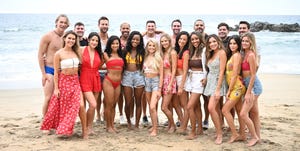 Source: Read Full Article