Warning: This post contains spoilers about Stranger Things 3.
If you're anything like me, you're probably waiting with bated breath for the Stranger Things season 4, because why the heck wouldn't you be eager for your favorite show to come back? As excellent Stranger Things 3 was, it left a ton of unaddressed information hanging in the balance—on purpose, of course.
Perhaps some of the biggest questions are What's going to happen to the gang now that Eleven and Will moved? Is Hopper still alive? and most notably, Is Eleven going to turn into a Mind Flayer? Lucky for us, Millie Bobby Brown is giving us some intel on that very pressing Mind Flayer question. Oh, happy day!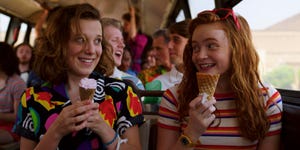 In an interview with ELLE, Millie was asked about the popular Mind Flayer fan theory, in which viewers of the program think that Eleven will become a villain since she has Mind Flayer flesh infecting her leg. While Millie wasn't playing Eleven as being infected and doesn't know what's to come in the following season, she's totally into the idea of Eleven becoming the series antagonist.
https://www.instagram.com/p/B1vfek4nbRt/
Of the Mind Flayer theory, Millie said "I kind of like it! I'm into it. I wasn't playing it like that. We don't know what happens in season 4. I definitely don't." Millie also added that she's was just trying to get Eleven's pain in that scene across as much as possible. "In scenes after the Mind Flayer grabbed me, I wasn't playing it as I was infected," she said. "I was definitely playing it as normal as possible. And maybe that's the reason they didn't tell me. To make it as real as possible."
Source: Read Full Article