Prior to this, the Bravo personality briefly deactivated her Twitter account in the wake of huge backlash over hight with Wendy in the recent episode of 'The Real Housewives of Potomac'.
AceShowbiz –Mia Thornton has returned to Twitter. After briefly deactivating her page on the platform in the wake of backlash over her fight with Wendy Osefo, "The Real Housewives of Potomac" star has reactivated her account as she has a message to deliver.
On Wednesday, November 23, the TV star admitted that her actions towards Wendy in the latest episode of the Bravo show were "intolerable." She wrote on the blue bird app, "Reactivated to say, My actions towards Wendy was intolerable. It's unfortunate that you all will attack my family, friends and my businesses based on an edited tv show."
She concluded, "While I was committed to drama and entertainment I must do what's best for brand & partners. Much love, Mia." Mia further expressed her remorse in a follow-up tweet. "I take FULL ACCOUNTABILITY, I was wrong. No one deserves to be treated with disrespect. I'm sorry I let you all down," she said.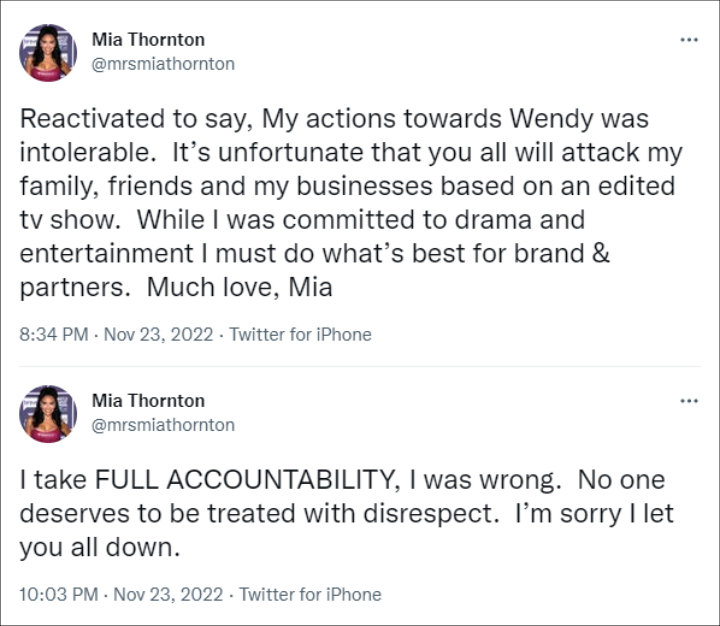 Mia Thornton addressed Wendy Osefo fight on Twitter.
Meanwhile on Instagram, Mia hinted that she's moving on after the drama. She shared a quote with a black background that read, "I had to make you uncomfortable, otherwise you would have never moved. -God." She captioned the picture, "Next chapter…."
Fans, however, were not impressed. One person wrote in the comments section, "You always say you're moving on, insinuating that you're leaving the show. You said it last season when you were in hot water, and now this season. You'll be back. You love drumming up sympathy."
"Girl bye.. don't try with all of these quotes when you were just dead wrong & messy," one other said. Meanwhile, someone asked, "Mia have you apologized to Wendy?"
Things went south between Mia and Wendy during the girl's trip to Miami in a recent episode of "The Real Housewives of Potomac". When the Housewives sat down for dinner, Mia confronted Wendy for having alleged "beef" with her friend Peter Thomas, former "The Real Housewives of Atlanta" star and Cynthia Bailey's ex-husband. Wendy denied the claims and said, "I don't have beef with men." Things got ugly real quick as Mia threw a glass of alcohol into Wendy's face.
You can share this post!
Source: Read Full Article