Ginger Zee has stolen the show from A-list movie star Robert Downey Jr. while interviewing him on Thursday.
The Good Morning America star, who returned to her role on the show in February after some struggles with her health, posted photos of her interviewing the currently bald former Marvel star on her Instagram and Twitter accounts.
The Marvel A-lister had his head shaved in 2022 in order for him to start working on his next project, Sympathizer. See how Robert's sons helped out in the hilarious video below.
WATCH: Robert Downey Jr's sons shave his head
But while fans who didn't know about the Iron Man actor's recent change in appearance were surprised by his new look, Ginger actually stole most of the show away from the Hollywood star with her cool green blazer and heels.
DISCOVER: Ginger Zee celebrates son's birthday in Miami during time away from GMA
The 42-year-old paired these stylish items with a casual looking pair of jeans which helped her keep an effortless sense of style while out on the road doing interviews.
Commenting on the photos of Ginger and Robert on Instagram, one fan gushed: "Looking absolutely amazing- love your hair style and casual, comfortable outfit."
https://www.instagram.com/p/CpSVW1eLT9e/
A post shared by ginger_zee (@ginger_zee)
Ginger Zee's Instagram post
"U look very cool. Jeans and heels !! So 'So Cal' chic!!" another added, referring to how Ginger had traveled to California in order to interview the Sherlock Holmes actor.
A third person commented simply: "Looking amazing this morning!!!"
MORE: GMA's Ginger Zee supported by husband Ben Aaron as she makes emotional health confession: 'I'm not there yet'
Meanwhile over on Twitter there was a little more jealousy surrounding Ginger's opportunity to meet and interview Robert. "Jealous. That would be a cool interview," wrote fellow meteorologist Ryan Vaughan.
"Can't wait to hear about it," another individual responded.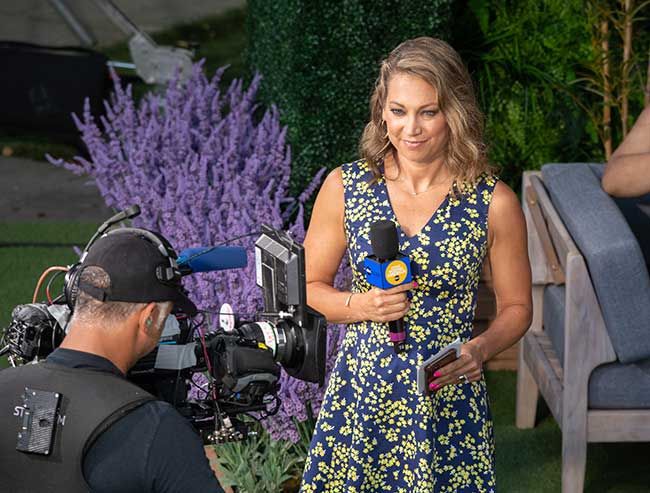 The always fashionable host amazed fans with her outfit on Thursday
Captioning her photos on Thursday morning, Ginger explained: "Talking graupel with @robertdowneyjr (and his new digital security project Aura).
"Missing you all on @goodmorningamerica but next stop for me is a water equality/solution story out here in CA," the weather host continued.
LEARN: GMA's Ginger Zee reveals ongoing health difficulty – all she has said about mental health and past
Not wanting to disappoint fans of her GMA presence too much with the news that she would be remaining away from the show for a little while longer, Ginger quickly added: "I'll be back on the show Monday."
The popular meteorologist and journalist then finished her message by thanking the Good Morning America interview crew.
Read more HELLO! US stories here
Source: Read Full Article