Double Shot at Love Season 2 brought with it plenty of drama between the roommates. Find out why Marissa Lucchese wishes her co-star and roommate Derynn Paige would "mind her own business."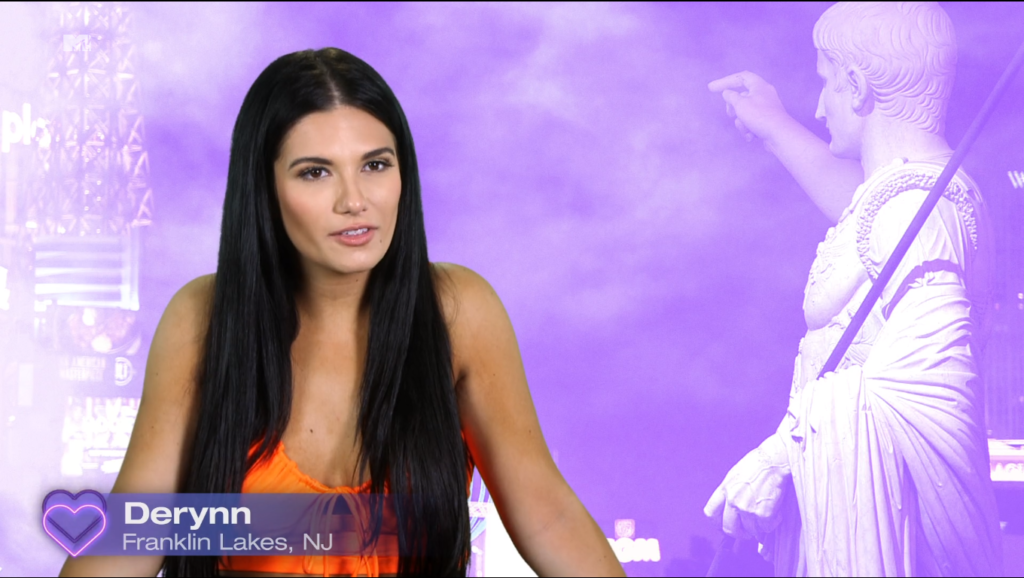 Derynn Paige got involved in other people's business during 'Double Shot at Love' Season 2
Paige was easy to root for during season 1. Fans liked her cool, calm, and collected attitude. Out of Pauly DelVecchio's final two girls, many fans thought he was going to choose Paige. DelVecchio shocked everyone — including Nikki Hall — when he chose to "roll solo" at the end of the first season. 
During season 2, fans noticed that Paige seemed to pay more mind to other people's business than her own. First, she called Antonio Locke's girlfriend to invite her out to Las Vegas. While Paige didn't tell Locke's girlfriend how he was acting in the clubs, she did insert herself into Locke's relationship. 
Later in the season, Paige inserted herself into another relationship — that of DelVecchio and Hall. When they decided to "take things slow," Paige cornered DelVecchio to explain how she thought Hall placed more value in the relationship than he did. Frustrated, DelVecchio told cameras he didn't appreciate Paige judging his relationship with Hall. 
Derynn Paige came at Marissa Lucchese for sleeping with Brandon Stakemann
During the season, the women took a trip to a Las Vegas spa. On the drive there, Paige commented on how quickly Lucchese slept with Brandon Stakemann. When Paige said, "I'm not you, Marissa," regarding not sleeping with Pretty Ricky, Lucchese was hurt.
"There [are] certain things that I wouldn't say to my so-called friend," Lucchese said on The Moral Hangover podcast. "When she came at me in the car, I didn't even know what to say at first because I was so taken aback. I was like 'What the f*ck? Who talks to their best friend — their little sister like that?'" 
Later in the season, Lucchese and Paige had a conversation about Paige's comments. Eventually they were able to move on, but Lucchese still thinks Paige should "think before she speaks sometimes." 
Marissa Lucchese wishes Derynn Paige would think before she speaks
During her podcast interview, Lucchese discussed the many times Paige did not mind her own business in season 2 of Double Shot at Love. 
"Derynn's Derynn," Lucchese said. "Derynn will always be Derynn. The thing is she just loves being in everyone's business, and she loves the drama, which is fine."
Having lived with Paige for two seasons of a reality series, Lucchese understands how she can be. Still, she thinks Paige could make a few adjustments to her behavior. "There's just certain things you should just stay out of and mind your own business, like calling Antonio's girlfriend," Lucchese said, adding:
Any one of us could have done that, but that's just a line that you don't cross. I always tell her, 'You need to think before you speak and think before you do' because at the end of day, I know she means well and she means good, but there [are] just certain things where it's like, 'Wake up. Stop. What are you doing? Stop being an as*hole.'
Regardless of how Lucchese feels about Paige's behavior in season 2, Lucchese still considers her a friend. "At the end of the day, I'll always have her back and I know she'll always have my back," she concluded.
Source: Read Full Article