It's official: Prince Harry and Meghan Markle are creating their own royal household, separate from Prince William and Kate Middleton. Last week, Buckingham Palace confirmed that the Duke and Duchess of Sussex plan to cut ties with Kensington Palace and create their own royal court, complete with a new communications team and headquarters.
In the statement, the palace revealed that the decision was "long-planned," which leads us to believe that Prince Harry — and other key players in the royal family — might have planned for this before meeting and marrying Meghan Markle.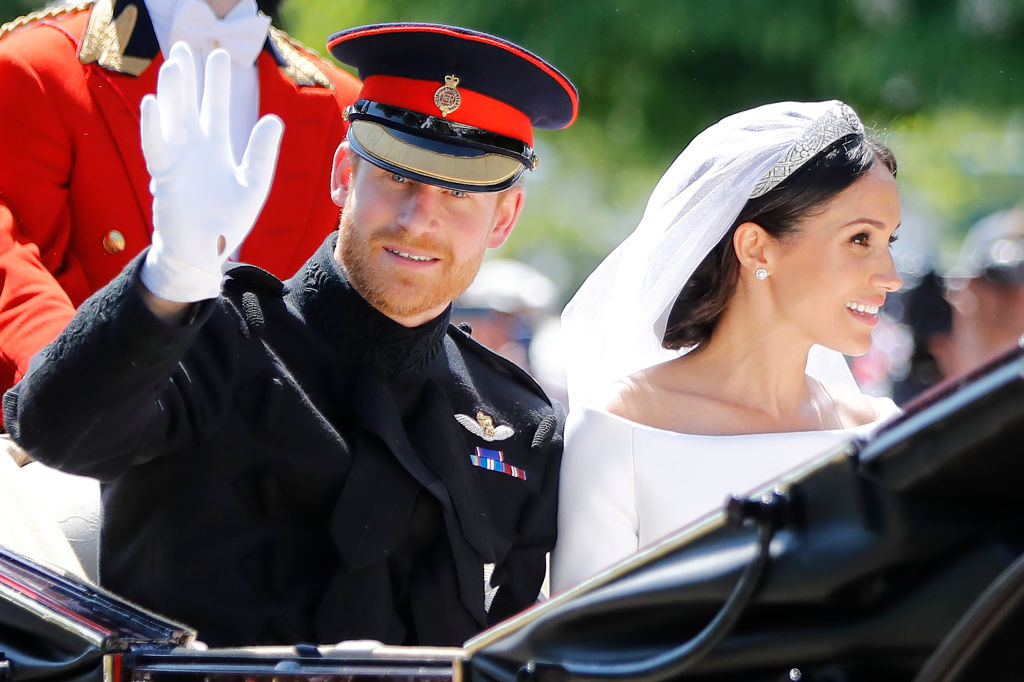 Prince Harry's plans for his own royal household

While Prince William and Prince Harry have always had a close relationship, an official split between the two might have been in the works long before Prince Harry became a married man.
In the past — and present — the Duke of Sussex has proved that he is not like his father and brother, aka the future kings. In fact, he has even shared direct insight into his feelings about being part of the royal family. "If you're born into it, as we were, I think it's normal to feel as though you don't really want it. We don't want to be just a bunch of celebrities," he once revealed. Additionally, he has claimed that no one in the royal family actually wants to be the monarch. "Is there any one of the royal family who wants to be king or queen? I don't think so, but we will carry out our duties at the right time," he explained in an interview with Newsweek.
View this post on Instagram
The @QueensCanopy is a conservation initiative, uniting the Commonwealth family of nations in creating a global network of indigenous forests to benefit communities and wildlife, now, and into the future. Visit @TheRoyalFamily to see The Duke of Sussex join children from St Vincent's Catholic Primary School in Acton to take part in a tree planting in support of The Queen's Commonwealth Canopy, together with the @WoodlandTrust. #QueensCommonwealthCanopy #Commonwealth
A post shared by Kensington Palace (@kensingtonroyal) on
The Duke and Duchess of Sussex's desires for a separate household might stem from a couple of places. For one, it makes sense for the royal family. As Prince William is ushered into the role of Prince of Wales and continues to work closely with the queen and Prince Charles, his focus is on something completely different from Prince Harry's.
Prince Harry has always craved freedom from the royal family and is very passionate about his philanthropic efforts. So, an official split was likely on his mind before he met and married his wife. According to reports, he and Meghan Markle actually wanted to fully separate from the royal family — not just Prince William's court — but the queen quickly put a stop to that and instead suggested they work out of Buckingham Palace.
View this post on Instagram
Their Royal Highnesses see more of the vibrant Moroccan culture – joining a cooking demonstration with Chef Moha and children, who were cooking traditional dishes. Many of the children are from underprivileged backgrounds, and are part of a scheme to help open up the restaurant industry to young people. Children were also making Cherine Mallah's Moroccan Pancakes from 'Together: Our Community Cookbook' – the charity cookbook, supported by The Duchess, which celebrates the power of cooking to bring communities together. #RoyalVisitMorocco #CookTogether. image 2 PA / image 1 +3 @kensingtonroyal
A post shared by Kensington Palace (@kensingtonroyal) on
Now that Prince Harry is married with a baby on the way, it seems like the timing is right. In creating a family of his own, he can finally cut ties with his brother and sister-in-law's work and continue to carve out space in the royal family for his own interests, passions, and beliefs.
Why did Queen Elizabeth allow Prince Harry and Meghan Markle to create their own household?

View this post on Instagram
After the investiture, The Duke and Duchess of Sussex with girls at the @efa_morocco boarding house. Girls here are able to access education by staying in dormitories close to school. Many girls in Morocco are unable to continue their studies into secondary education because they cannot afford to travel to school. But @efa_morocco means they have a safe place to live during the week. Their Royal Highnesses met many of the supporters of @efa_morocco. This included the housemothers, who will care for up to 40 girls at a time in each house. The Duke and Duchess also met with a group of students on the roof of the original boarding house. Swipe to watch . Images 1: PA / 2 +3 @kensingtonroyal
A post shared by Kensington Palace (@kensingtonroyal) on
Prince Harry and Meghan Markle could have severed ties to Prince William and Kate Middleton without creating their own household. However, some might argue that the reason Queen Elizabeth gave them the green light on their own household has to do with their impact on the public.
It's no secret that Prince Harry and Meghan Markle have captivated people all across the world. And, they have proved that while they might not be the future king and queen consort, they are just as important and influential as Prince William and Kate Middleton.
Check out The Cheat Sheet on Facebook!
Source: Read Full Article