Months after announcing her engagement, Amy Johnson from Below Deck is married.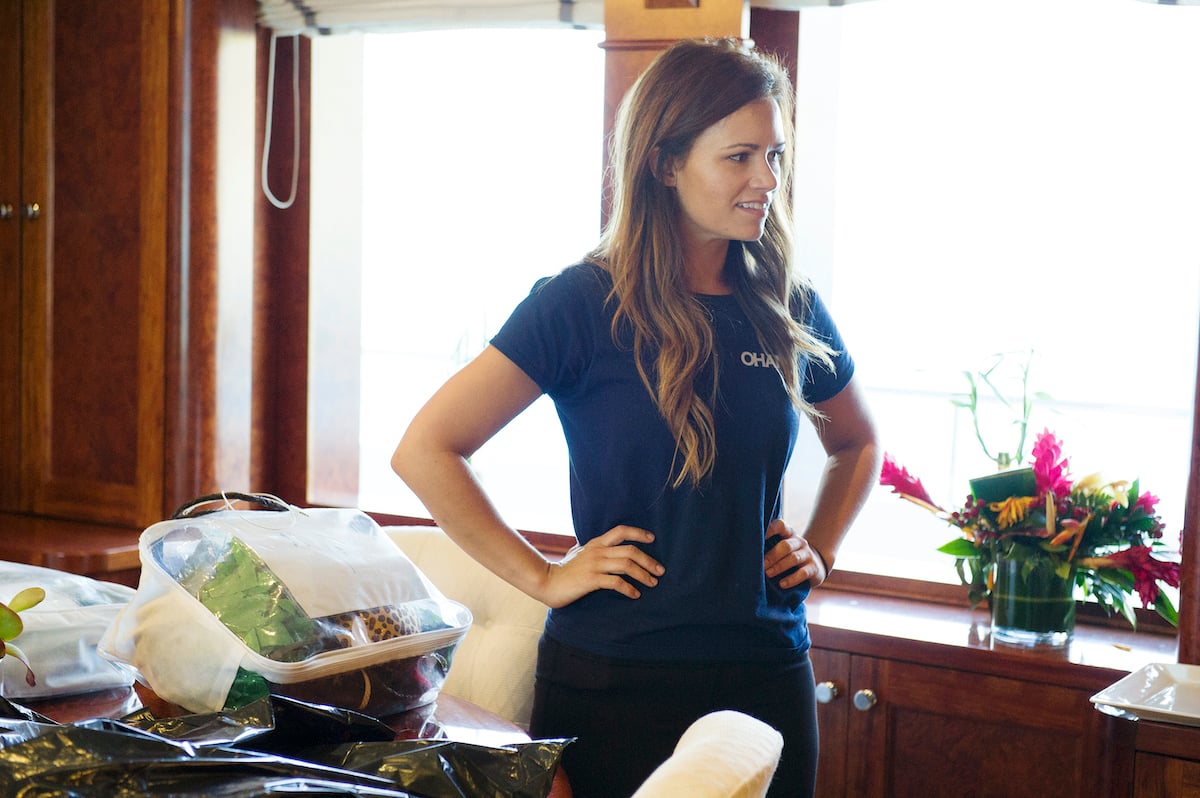 The former stew shared engagement photos on Instagram in July and recently posted a series of wedding photos to her Instagram story. The couple appeared to have a quiet ceremony with friends and family. Brother Kelley Johnson also shared photos on his Instagram story too. Plus, he shared on Twitter he acted as a photographer.
The bride looked stunning in her long white gown as the couple said "I do" in an outdoor ceremony. Johnson isn't the only Bravoleb to marry during the pandemic and find a way to still have the perfect ceremony. So who is Johnson's new husband and who else from the Bravo universe has recently tied the knot?
Amy Johnson and Ellis Lenthall said 'I do'
Johnson shared engagement photos of (then) boyfriend Ellis Lenthall getting down on one knee to propose. "It all feels like a dream," she captioned the series of images. "Easiest 'YES' of all time!!! I can not wait to be your MRS!!"
Lenthall is a sales executive for Jo-Kell, Inc in Virginia. He's worked at the company for the past seven years. Johnson gushed about Lenthall last year when she was in New York for the Below Deck 100th episode celebration.
"My man," Johnson said. "He's amazing, he's a man! And he's from North Carolina, I mean I have so many great words to say about him."
Bravolebs who recently got married
Stassi Schroeder, formerly from Vanderpump Rules recently surprised Instagram followers she she shared a video of her wedding. "Today would've been our wedding day," she shared on Instagram. "We went and did it anyway. Married sept 2020. Hopefully Italian dream wedding oct 2021."
Schroeder, who is pregnant, was fired from the series. She ended her final season at odds with former close friend Kristen Doute, who was also fired. However, the former friends came together when they found themselves on the outside of the show. In fact, Doute attended Schroeder's nuptials. "I was invited to the wedding after all!" she captioned her Instagram image with the bride.  #FromDarkToClark." Schroeder replied, "I just choked laughing."
Lauren Wirkus from Summer House also married during the pandemic. She too had a small gathering and married boyfriend David Raih in California this summer. "Planning a wedding in four months during 'normal' times was going to be stressful and we were prepared for that and then a global pandemic struck," she shared on Instagram.
"In deciding whether to keep our plans in tact we knew we had to focus on one thing and one thing only and that was the outcome to be married no matter what!! Our day did look a lot different than we imagined but one thing is certain love conquers all and we achieved that great outcome we both focused on from the very beginning!"
Kelly Dodd from The Real Housewives of Orange County recently celebrated her bridal shower and jetted off to marry Rick Leventhal.
Other Bravolebs continue to wait until the pandemic is over to have their wedding. Amanda Batula and Kyle Cooke from Summer House planned a fall wedding but instead went on a dinner date. Lala Kent and Randall Emmett from Vanderpump Rules also put their wedding on hold.
Source: Read Full Article