Greg Grippo and Katie Thurston made headlines after August 2's episode of "The Bachelorette" following their explosive fight. To summarize, Katie met the 28-year-old's family and best friend during his hometown date — and though everything went smoothly, with the leading lady even telling Greg's mom that she wanted to "pursue a relationship" with her son in the coming weeks, things took a turn for the worst.
During the evening portion of their date, the two had a chat about the night where Greg revealed he was "in love" with Katie and hinted that he's ready to propose at the end of their journey. However, like most "Bachelor" and "Bachelorette" leads, she did not vocalize her feelings in return. This caught Greg by surprise and the next day, he showed up to Katie's hotel room looking for clarity. Unfortunately, that's not what happened.
"It was never about a rose for me this week. I was never asking you to confess your love to me," he told her (via Life&Style). "All I was asking for was Katie." The argument spiraled from there and Greg said he had reached his breaking point. He walked out and Katie was left crying on the bathroom floor. The scene was one of the most talked-about moments of the season so far and now, fans have a very interesting theory about Greg. Scroll ahead to find out why they're convinced he wasn't actually on the show for "the right reasons" and that the fight worked in his favor.
People think Greg staged his fight because he wanted to quit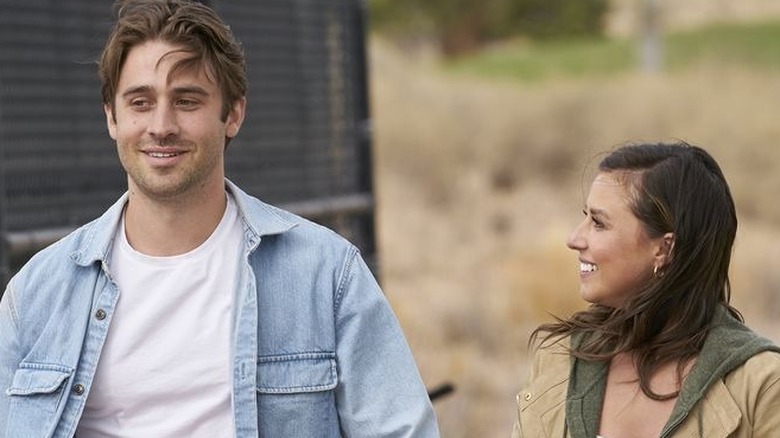 Greg Grippo and Katie Thurston's breakup had some mixed reactions, including one from "The Bachelorette" lead herself. Just hours after the episode, Katie shared an Instagram Story about "gaslighting" from an account that defined it as a "form of emotional abuse or psychological manipulation involving distorting the truth in order to confuse or instill doubt in another person to the point they question their own sanity or reality."
Many fans on social media were outraged by Greg's behavior with some questioning his intentions altogether. In fact, people are convinced that Greg, who is an aspiring actor, sabotaged himself on purpose and staged the entire fight with Katie so he could quit the show. "My theory: Greg got further than he expected/wanted and pushed the eject button real quick," one person tweeted. Another added, "I knew #greggrippo was acting after his terrible monologue. I'm a casting director and have seen hundreds of actors indicate their way through a monologue. He was faking."
This isn't the first time he's been accused of going on the show to pursue fame. An insider claimed to The Sun in June that "Greg is an actor" and "he is absolutely lying about his career and intentions on the show. He's always wanted to pursue an on-camera career."
Source: Read Full Article