Michael Jessen and Juliana Custodio raised plenty of eyebrows on Season 7 of "90 Day Fiance" — and it wasn't about their age gap.
Michael and his ex-wife Sarah seemed close, and when Juliana came into the picture, both women were also on good terms, which is usually a rarity for the series. However, Juliana didn't have the smoothest journey to the United States, as her visa was reportedly turned down twice for "illicit intentions," according to Screenrant. Fans will remember when the couple went to a mediator to discuss a prenup, but the meeting didn't go over so well. Juliana ended up in tears as she said, "Men don't control me." The prenup seemed to be a minor blip, as TLC cameras captured their wedding officiated by Sarah. That's one way to keep it in the family, right?
Fans might be wondering if Michael and Julia are still together after the cameras stopped rolling. Keep reading for more details.
Michael and Juliana are more in love than ever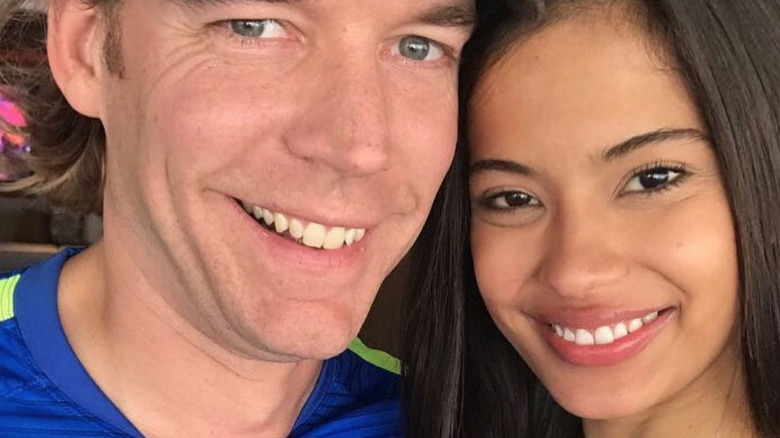 One look at Michael Jessen and Juliana Custodio's Instagram accounts is all the evidence you need to see that they are indeed still together — and very much in love.
The pair recently celebrated his son Max's middle school graduation, along with his ex-wife Sarah and her new man. In May, Juliana traveled back to Brazil after two years away from her family, but Michael made sure to post a montage of photos to emphasize just how much he missed his wife. Juliana seemed to fall right into family life in Connecticut as she helped prepare the Easter meal, and it's clear her passion for food matches perfectly with Michael's career in wine. They celebrated their first wedding anniversary in October 2020 and he penned a heartfelt message on Instagram: "Time passes so quickly with you and I never take a single second for granted. You are my love, my guiding light, and my dearest friend in life. It has been an amazing journey with you and it is only just the beginning."
As for Juliana, it seems she's forever living on cloud nine. She's still close to Sarah and it appears they enjoy getting together for family game nights. Her relationship with Michael looks stronger than ever, as she wrote on Instagram in December 2020, "I just wanna say, thank you for be in my life, and make me laugh, happy all the time. Love you baby."
Source: Read Full Article