Size is certainly a concern when picking out a grill. While you'll probably want a larger model for your backyard, it tends to be the opposite for camping or on-the-go cooking. That's where the BBQ Tool Box from Suck UK comes in. Not only is it small and efficient, but it hides in plain sight to look like the metal toolbox that's probably in your garage right now.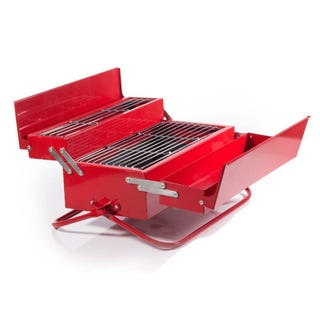 The portable grill comes in at about 16 x 8 x 9 inches and has legs on the bottom. It has a total of 15 x 8 inches of stainless steel area to cook up some hot dogs, burgers, and more. There's a removable fuel tray for your charcoal and it has an adjustable vent to control the flow of oxygen over the hot coals, as detailed on the brand's website.
When folded up, the item looks like a typical toolbox, which is made with high temperature-resistant red paint, that would store your hammer and screwdriver. However, once you unfold it, there are three sections — one is for grilling, one is a warming rack, and the last is a storage area where you can keep your tongs. It's ideal for those who love camping, grilling, tailgating, or just the outdoors and may need it on the road. It's available on Amazon for $113.98 and has an average of 3.9 out of 5 stars.
"It's brilliantly designed, very efficient, highly functional married with slick! It stores away in my one-bedroom apartment in a heartbeat," one buyer wrote. "A little smaller than it seems to look in the pictures but still a great product. My dad seemed to love it," wrote another.
If you're not ready to commit to a portable grill that will cost you multiple Benjamins, the BBQ Tool Box is wallet-friendly, easy to store, and ideal for whipping something up for you and a couple friends. Just make sure you hand-wash the pieces to keep it looking good for seasons to come.
Source: Read Full Article