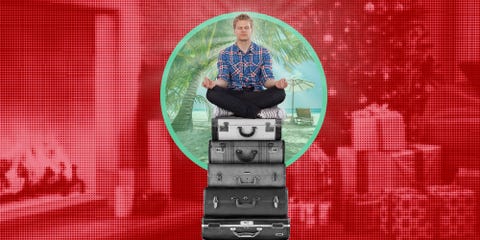 Getty
The stress of traveling during the holidays is now something of an expectation rather than the result of bad luck. Crowded airports, surprise blizzards, and braving the line for a latte with the rest of the dawn patrol travelers are just a few of the seasonal pleasures that await those taking to the skies during the holidays.
However, going home for the holidays (or a very distant tropical beach) doesn't need to be maddening, and we've got an expert to show us the way. If you play your cards right (ahem, credit cards in this case) and finally figure out all those rewards systems, you might even come out on top.
Gilbert Ott, of travel blog God Save the Points, is no stranger to swanky airport lounges and first class cabins. When it comes to making the most of the benefits airlines offer to frequent travelers, he's something of a master. This holiday season he's crisscrossing the globe with his Capital One® Venture® card, and if you spot him at the airport he'll even give you his first class upgrade. But if you don't happen to be on the same travel itinerary, you can still benefit from his wisdom. Read up on his top eight travel tips below.
1. Let technology do your flight shopping browsing for you.
Travel stress can start right away when you book your flights and pay over budget or more than you should. Ott suggests getting a good idea of what your dates and destinations normally cost first. Then, set up a price tracking tool, such as the one Google offers with Google Flights.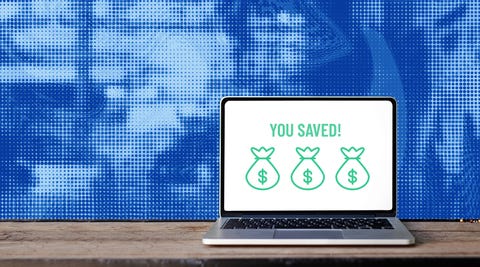 Getty
"Set them for multiple days, wherever you have flexibility, and watch with anxious excitement to see when and if they drop," Ott explains. "They email you right into your inbox with changes. Of course, I'd say blogs like mine help highlight cool deals too, but that sounds greedy," he adds with a laugh.
In terms of when you should book your flights, Ott says it depends on whether you're flying domestic or international. For international, the best prices generally appear 150 to 60 days away from travel, while domestic prices are lowest 150 to 21 days out.
2. Try to adjust your schedule to avoid traveling at peak holiday times.
Sometimes the best way to deal with stressful holiday travel is to nip it in the bud by flying when everyone else is still at work. "Wherever possible, try to put those vacation days to use so that you can come back a day late, leave a day early, or both," Ott says.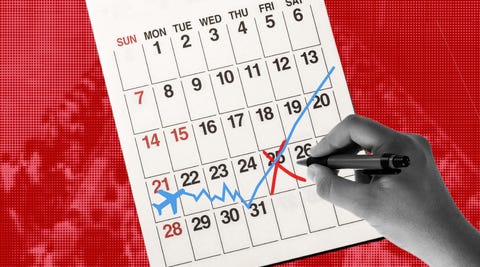 Getty
3. Tend to your reservation carefully, then allow for plenty of time on the day of travel.
Surprises should really be left for opening presents. You don't want to find out that you actually booked your flight for Monday morning and not Sunday night, or that you're in fact flying into San Juan when your family is in San Jose. To avoid such unpleasant surprises, Ott suggests checking on your reservations early and often. "My favorite tip is gardening your reservations," he says. "It works just as it sounds. Check on them, check on them again, double confirm everything."
When you're certain you have your departure time and airport codes correct (we've all gone wrong here at least once right?) be sure to give yourself extra time to make your flights. Airports are jam-packed during the holidays, and at this time of year there are even more rookie travelers than usual, all of whom seem to wear high-laced boots and belts and pack an unbelievable number of liquids.
"For air travel, getting TSA PreCheck or Global Entry is a major time-saver," Ott says. "The Capital One® Venture® card provides up to $100 statement credit for TSA PreCheck or Global Entry!"
4. Prepare for the worse by packing the essentials in your carry-on.
Whether your bag gets lost or you get stranded on the tarmac, all you've got on you is what you're carrying. That's why Ott recommends making sure everything you need to stay comfortable, nourished, and entertained in never more than arm's reach away.
"I am meticulous with my carry-on. I've always got a change of clothes, I've always got wireless headphones, and I always have a power bank, because who wants to run out of juice?" Ott says.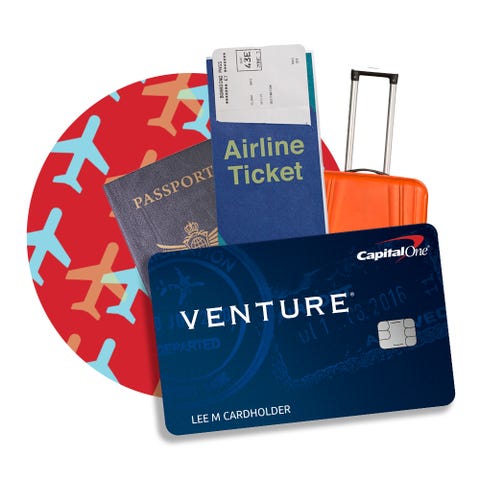 Getty
5. The best way to score an upgrade is to plan for it.
For most travelers, the hoping and wishing for a mystical upgrade starts when you approach the line at security. Dreaming of that first class cabin won't get you any closer to the front of the plane, so Ott says the best move is to be proactive and book it immediately.
"Don't wait, hope, and pray at the airport," Ott says. "Collect miles, collect credit card points (like Venture® Miles), and learn the ins-and-outs that give you the best chance to book a ticket and immediately cash in points to upgrade."
But the real bonus comes when you can assure an upgrade when you're still shopping for flights. "With some airlines, you can confirm that an upgrade is available using miles before you even book, which means that you can pay for economy and fly business class, with months of lead time to get excited. I've outlined a few of the best opportunities here."
6. Demystify points, status and rewards and start making use of them.
If you ever fly anywhere, getting points, rewards, and status is essential. Not only will you gain access to the comforts of business class (no airplane food jokes exist about their menu), but you'll save money and get access to better flights.
According to Ott, "it's easier to attain than people would ever think, if they really try to focus on flying within one airline alliance. The big misconception is that you need to stick with one airline, when really, you just need to stick to one group."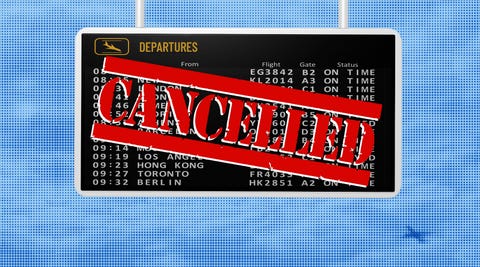 Getty
7. Delays are inevitable. Do a quick study on what the airline owes you in the event of a travel hiccup will go a long way.
Even the savviest of travelers can't control the weather. Flights get cancelled and airports become makeshift backpackers' hostels, but with some research, you can make the situation manageable. "The key I find is to know your actual rights—like what an airline owes you, versus what they're willing to do," Ott says. Generally, the best thing to do is to book your own hotel room and save your receipts to plead your case for reimbursement later. "It's no fun waiting at the airport for hours only to find out that the airline had 50 hotel rooms to give, and you were #51 in line."
If your airline is grounded for some reason, there may be hope elsewhere in the terminal. Most airlines have inter-airline partners, "which means even if your airline isn't flying, they may be legally required to endorse your ticket over to any airline that is flying where you need to go," Ott explains.
8. Last but certainly not least, be kind.
The holidays are a stressful time of year for everyone, and when travel gets delayed, it's not just you whose plans are disrupted. Be kind to your fellow travelers and the airline employees helping us get to where we're going. "Never yell at the people behind the desks or on the phones," Ott says. "It gets you nothing, and they didn't cause your problem. If you want them to help, get them on your side."
At the end of the day, we all just want to get home to the people we love.
Capital One does not provide, endorse or guarantee any third-party product, service, information or recommendation listed above. The third parties listed are not affiliated with Capital One and are solely responsible for their products and services. All trademarks are the property of their respective owners.
Source: Read Full Article