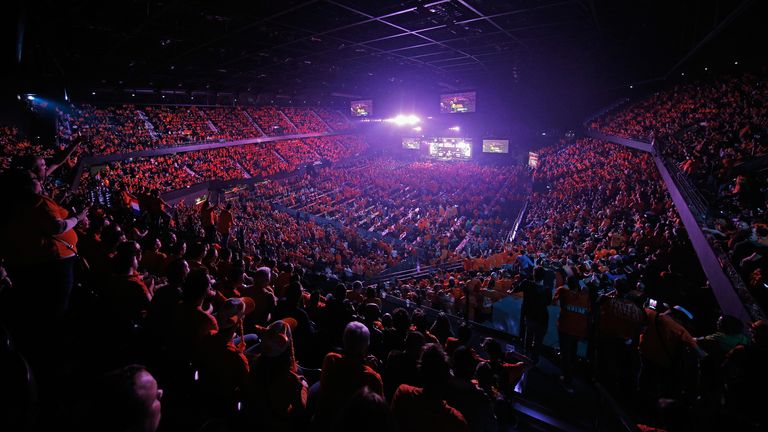 The PDC has announced a provisional rescheduled programme for the 2020 Premier League, with the Rotterdam double-header set to host the Play-Offs in September.
On Thursday it was announced that the Premier League nights scheduled for Rotterdam on March 25 and 26 at the Ahoy had been postponed due to regulations introduced in the Netherlands following the coronavirus pandemic.
Play continued with Night Six in Liverpool on Thursday evening and now the PDC has confirmed that the season will continue into September.
Coronavirus: Latest updates from across sport
PL, EFL, FAWSL postponed until April 3; England games off
After an uncertain week thanks to everyone who came along tonight in Liverpool – all but one leg was played and hopefully you were well entertained!
We'll keep you updated as the situation develops but please wait for official announcements on our channels rather than rumours.
Subject to no further changes being required to the schedule, the Rotterdam double-header will now take place on Wednesday, September 9 and Thursday, September 10. More significantly it will be the culmination of this year's competition.
It means the 16th night will take place on September 9, with the top four in the competition moving on to the following night when the Ahoy will host the rescheduled Play-Offs and the winner will be crowned.
The O2 remains in the schedule and will host Night 15 on May 21, the last round before the currently scheduled break until September when the competition is hoping to conclude in September.
Duzza stays top as MVG edges Price
PL Darts 2020: Results, fixtures, schedule
As things stand the Premier League is due to continue with Night Seven in Newcastle next Thursday, before moving to Sheffield for Night Eight and Belfast for Night Nine and the conclusion of the opening phase.
One player will be relegated in Belfast and the remaining eight players will move on the second phase of the competition.
Source: Read Full Article