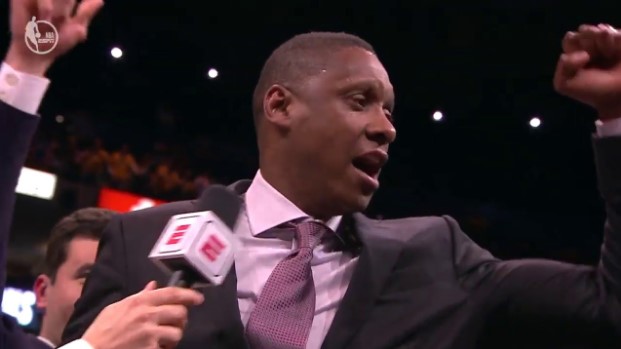 Released police bodycam footage appears to confirm that Toronto Raptors president Masai Ujiri was the victim of an unprovoked assault by an Oakland Alameda County Sheriff's Deputy the night the Raptors won the NBA title. Photo by: YouTube.com screenshot (Bleacher Report).
All along, Masai Ujiri was telling the truth.
The witnesses, who verified his version of events, were also speaking the truth. 
His credential wasn't the issue. Clearly, after watching police bodycam footage released last week by his legal team, the only thing Toronto Raptors president Ujiri was guilty of the night his team won last season's NBA Championship was celebrating while black.
Finally, 14 months after the initial confrontation between Ujiri and Oakland Alameda County Sheriff's deputy Alan Strickland, it's Strickland's own bodycam that is confirming the fact that he was never being honest about what transpired at courtside that fateful.
The Camera Doesn't Lie
Here's what the video footage shows to the world:
As the clock was winding down to zero and the Raptors were defeating the hometown Golden State Warriors to bring the NBA title to Canada for the first time, a jubilant Ujiri was headed to join his players on the court for the post-game celebration. While pulling his credential from his pocket to show to courtside security, Ujiri is aggressively struck with a two-handed shove from Strickland, sending him stumbling several feet backward.
As Ujiri regained his balance and once more began moving forward, Strickland forcefully shoves him a second time, again sending the Raptors president stumbling backward. 
At this point, other security officers intervened and Ujjri was permitted to enter the basketball court.
Strickland's Version Falls Apart
Strickland alleges that Ujiri was the one who initiated the contact. He claims that the Raptors president struck him simultaneously with both fists. There's no evidence whatsoever in the released video footage to support this claim. 
In a $75,000 lawsuit he filed against Ujiri, Strickland claims that he was left with injuries to his "head, body … [and] nervous system." 
Police made similar allegations while investigating whether to charge Ujiri with assault shortly after the June 2019 incident. Charges were never lied. The case was dropped in October.
Regardless, even in the face of the lack of evidence to support Strickland's claim and the fact that his own bodycam betrayed his story, his superiors are doubling down and continuing to back their deputy.
"We 100 per cent stand by [the] original statement that was released that Mr. Ujiri is the aggressor in this incident," a sheriff's office spokesperson told Toronto television station CP24.
Ironically, had Strickland never filed suit against Ujiri, it's unlikely that his bodycam footage would have ever been made public. Ujiri has filed a countersuit against Strickland.
"The video sadly demonstrates how horribly I was treated by a law enforcement officer last year in the midst of my team, the Toronto Raptors, winning its first world championship," Ujiri said in a statement. "It was an exhilarating moment of achievement for our organization, for our players, for our city, for our country, and for me personally, given my long-tenured professional journey in the NBA. 
"Yet, unfortunately, I was reminded in that moment that despite all of my hard work and success, there are some people, including those who are supposed to protect us, who will always and only see me as something that is unworthy of respectful engagement. And, there's only one indisputable reason why that is the case – because I am Black.
Warriors President Rick Welts took to Twitter to issue a public apology to Ujiri.
"While we had no role in hiring or managing security at our old arena, it happened at a Warriors game and for that I apologize," Welts said in the statement. "You rose above it which doesn't surprise me or anyone who knows you."
Raptors Bubbling With Excitement
Last year, Toronto celebrated the Raptors' NBA championship. Photo by: Andrew Scheer (Wikimedia).
Off to a 3-0 lead in their NBA first-round playoff series with the Brooklyn Nets, the Raptors look poised to make another postseason run. Toronto is listed at odds of +950 at OnlineSportsBetting to repeat as NBA champions.
Perhaps this time, Ujiri will get to celebrate without incident. And best of all, he can relax in the knowledge that no matter how far the Raptors go in the NBA bubble in Orlando, they won't have to go back to Oakland.