Talk about attention deficit disorder.
The noise of last Saturday's grand final crowd was still faintly echoing through the empty stands and the dressing rooms at the MCG had barely been swept clean when the game itself seemed like ancient history. People were suddenly transfixed on the AFL trade negotiations.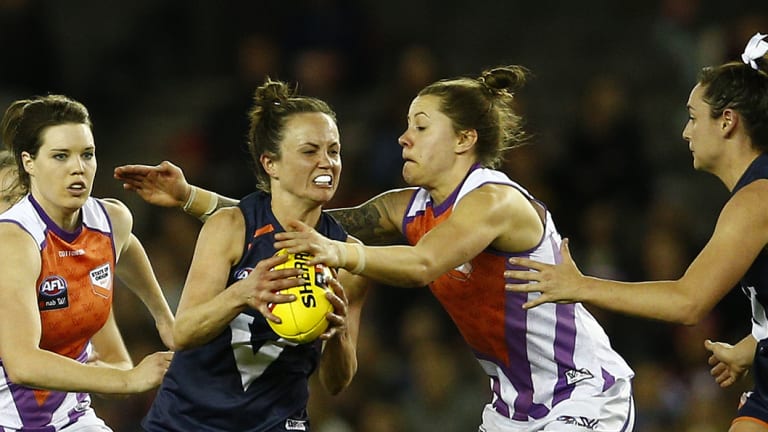 Coming soon: AFLW.Credit:Daniel Pockett
In the weeks ahead there's also the draft, the rookie draft, free-agency discussions and soon enough there will be news of training camps, the AFLX, the AFLW and the preseason. Season 2019 is due to commence on 21 March.
With the season now seemingly 12 months long, it's time to ask: How can we miss the footy if it never goes away?
It's the same with cricket which, when I used to play, was a summer sport. Not any more. The Australian women's team started their season on AFL grand final day. The men's team plays a Test match commencing this weekend. It seems like only yesterday we had the Ashes series and the ill-fated tour of South Africa. But in case you missed it, since then there were T20s and ODIs in the UK and Zimbabwe. And squeezed in were the Big Bash and the Indian Premier League.
These sports are reflecting our lives that seem more crowded than ever. Last week I saw the first Christmas decorations up in a major department store in the city. It's now routine for hot cross buns to be on sale in supermarkets before New Year's Eve when just a few years ago they were strictly reserved for Good Friday.
A generation ago when people travelled overseas their friends and family would send them letters through the local Post Restante. You could be out of contact for months. Today our smartphones keep us endlessly connected.
That's not necessarily a bad thing, but the trouble is we are living in a world where there's not just too much information – it's also superficial and it's endless. Through social media but especially Twitter we are drowning in the shallows. Like footy and cricket being with us all year, the 24-hour news cycle results only in a permanent state of fatigue.
Marketing people need to learn that less really can be more. And we all need to disconnect occasionally; to put our devices in the bottom drawer and go out for a walk and connect with the world in the old-fashioned way.
I think we need a new set of rules to live our lives by. I'd like to hear no mention of Christmas until at least after the Melbourne Cup. Football should stay out of the spotlight until Australia Day. And hot cross buns should only be sold in the week before Easter.
Because how can we miss anything if it never goes away?
Duncan Fine is a lawyer and Age columnist.
Source: Read Full Article