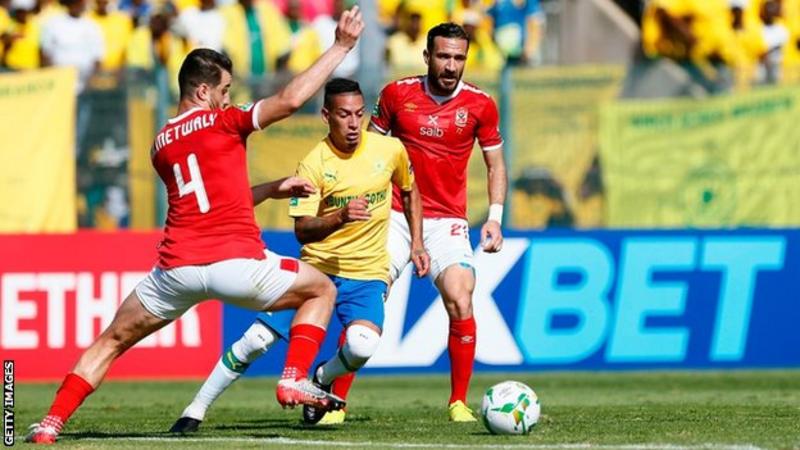 Record eight-time African champions Al Ahly of Egypt are in talks with their playing staff over possible salary cuts.
Egyptian football is financially suffering after the sport was suspended in mid-March on account of the coronavirus pandemic.
The lack of games has reduced the income for teams, so sparking calls that staff take salary cuts in order to help clubs at this difficult time.
Al Ahly's directors have been involved in preliminary talks with their players over the issue.
"We have a board meeting next week so we will have a better view then," Al Ahly director Khaled Mortagy told BBC Sport Africa.
Ahly – who have been crowned African champions a record eight times, with their last title coming in 2013 – were leading the league table prior to the league's suspension.
At only the halfway stage of the competition, the Cairo giants were 16 points ahead of their nearest rivals, second-placed Arab Contractors.
Contractors have already announced cuts to players' wages, as have Pyramids FC.
While Contractors said this was to ensure that all their staff receive some sort of monthly wage, Pyramids said it was using some of the money saved to donate medical equipment.
"Financial support is the least we can offer in these circumstances," said Pyramids' Abdalla El Said on social media. "We are going to help the country cope with coronavirus."
Meanwhile, both Egypt's Sports Ministry and FA – which has suspended all football until the end of the month – are keen for the country's wealthier clubs to financially help out those who are struggling in the lower divisions.
Many are struggling to pay the salaries of players and staff.
Source: Read Full Article