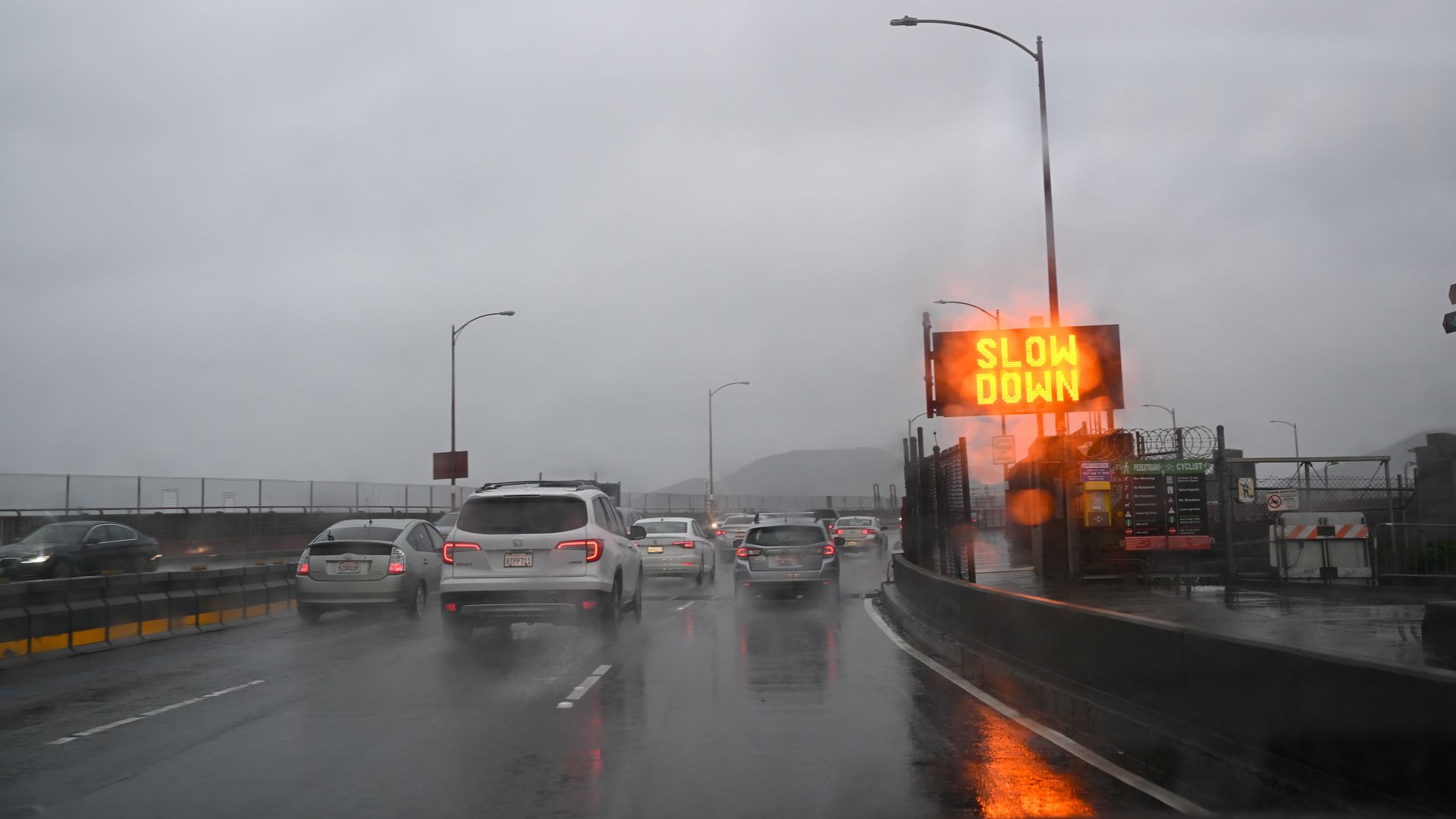 The scene on the Golden Gate Bridge during heavy rain in San Francisco, California , on Thursday. Photo: Tayfun Coskun/Anadolu Agency via Getty Images
Northern and Central California is hit by another powerful atmospheric river — as the National Weather Service warns of "copious amounts of heavy snow" in the mountains and potential flooding from "significant rainfall" across the state.
The big picture: California Gov. Gavin Newsom requested President Biden declare an emergency in response to the latest storm and several earlier ones that lashed the state with heavy rains and snow, and which have continued to impact communities well after they dissipated. And forecasters warn more atmospheric rivers are on the way.
Newsom has added 21 additional counties to California's state of emergency in response to the ongoing storms.
Threat level: This winter storm "will produce copious amounts of heavy snow to the high terrain of northern and central California and significant rainfall and flood threats across much of California, as well as into far western Nevada," the NWS warns. The Sierra Nevada region was at high risk of excessive rainfall Friday.
The latest storm has arrived as communities in the San Bernardino Mountains are still reeling from earlier snowstorms that have killed at least 12 people since Feb. 23, per the Los Angeles Times.
"Because this system is overall warmer than previous atmospheric rivers, rainfall at higher-elevations may contribute to rapid snowmelt, which may further exacerbate the potential for scattered to numerous flooding instances downstream," per a weather service forecast discussion at 1am Friday ET.
Of note: The storm was already impacting communities by Thursday evening, with the Contra Costa County Fire Protection District reporting that one person was hospitalized in critical condition after a four-vehicle crash that appeared to be weather-related.
The canopy over pumps at a gas station in South Lake Tahoe fell and caught fire as rains and snow began to fall in the area, KABC-TV reported.
The UC Berkeley Central Sierra Snow Lab, which has already recorded its fifth-snowiest year, reported that snow was "coming down hard" on Thursday night.
Context: Atmospheric rivers are potent because narrow currents in the air can carry vast amounts of water vapor thousands of miles.
A "pineapple express" is a strong atmospheric river in which "moisture builds up in the tropical Pacific around Hawaii and can wallop the U.S. and Canada's West Coasts with heavy rainfall and snow," per NOAA.
Climate change is adding even more moisture to atmospheric rivers, enabling them to dump higher rain and snow totals, Axios' Andrew Freedman notes.
Source: Read Full Article